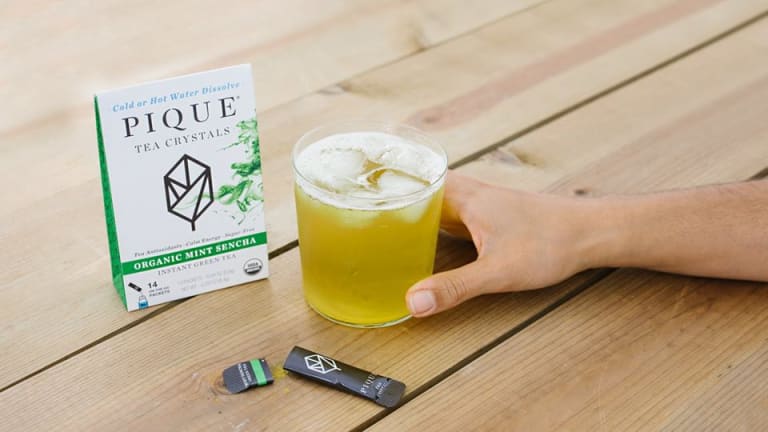 Six Iced Tea Recipes You Must Try
Healthy Tea Recipes to help you live your best mom life
Iced tea recipes are becoming so trendy! To celebrate National Tea Day (April 21st), I'm sharing a video with a few fun tea recipes. Plus tea has health benefits.
Get 20% off Pique Tea gut health bundles and free shipping in the US now.
Tea is awesome for so many reasons. In its purest form, it's calorie free and still loaded with taste. That's why we write about tea all the time, like how to host a proper tea party. There are so many brands to try and enjoy. From old-school English Breakfast to fruity teas to our all-time favorite green tea, there's a flavor to suit every taste (yes, even coffee lovers can find a tea to sip). To help you think out of the box the next time you are ready to enjoy some tea, here's a fresh recipe. 
Lemon & Honey Green Iced Tea
Ingredients 
Directions Boil water. Pour boiling water into pitcher with honey. Add tea bags to water and steep in a container that can stand high heat and chilling. Add sliced lemons. The rounds will pop up to the top. It's quite pretty--you might even want to take a photo Once the tea has cooled a bit, add mint leaves. Bring to to room temp or cooler and add mint leaves. Serve over ice. Enjoy! 
Adult Arnold Palmer Cocktail
If you're looking for a seriously simple drink to serve at your next gathering, it doesn't get much easier than this...and the flavors taste SO good together!
Mint Iced Tea With Blueberry-Lemonade Cubes
Coconut Matcha Smoothie 
All you need is water, coco milk, coco oil (or ghee, for that extra creamy consistency), Matcha Green + ice for a high fat, high antioxidant meal. Blend together and enjoy. I love Pique Tea Crystals for this healthy recipe.
Earl Grey Ginger Spritzer 
Earl Gray team plus sugar-free ginger beer. It's a perfect refreshing drink ideal for anyone who doesn't want alcohol.
Health Benefits of Tea
Read all about the Gut Health Benefits of Tea here. Pique Tea is no ordinary tea. Pique tea has figured out how to help tea drinkers get the most from tea. And if you're ready to give your gut a healthy boost, grab this limited-time offer now! 
Don't worry, we'll also be celebrating National Iced Tea Day, June 10th. More recipes to come soon. Cheers! Get creative with your iced tea drinking this spring and summer. Add different fruits and fresh herbs from your garden. I find growing a little mint can liven up just about any iced tea recipe from ordinary to extraordinary.
MORE FOOD IDEAS FROM MOMTRENDS
PIN IT!
Be sure to follow our Pinterest page for tea lovers to get more inspiration: Follow our board tea lovers on Pinterest.
This is not a sponsored post.