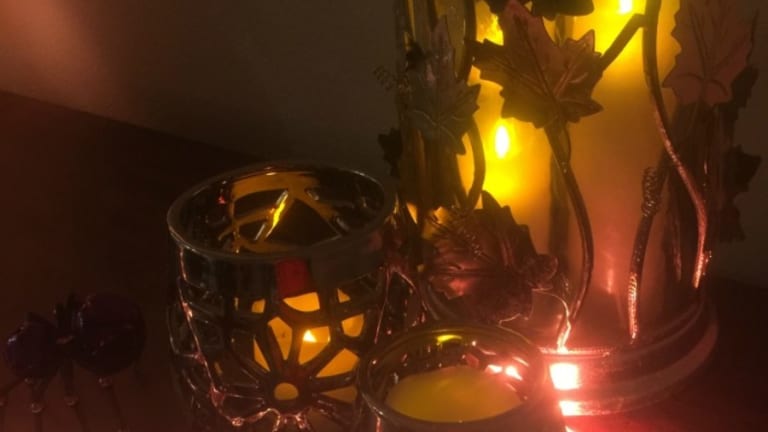 Easy Halloween Decorations with Philips Hue
Come find out how the Philips Hue connected lighting system can help you decorate a seriously spooky house for Halloween!
We're a holiday obsessed family. Thanks to my mom, my sister and I were raised amongst loads of creative holiday displays. Nobody can whip a house into shape for the holidays like my mama...nobody. That being said, I try to tap into those holiday decorating genes whenever I can. I may not be able to beat her, but I can sure try to come close. Haha! And Halloween is no exception. So, I was so excited when I learned about the Philips Hue Connected Lighting System. As soon as I saw these innovative products, I saw immediate Halloween potential. I mean what Halloween fan doesn't love spooky lighting?! And the genius thing about these products is that they are safe and can be used year after year.
Related: The scariest Halloween mantel around
Now like I said, I'm not the natural decorating expert that my mom is, so when I work on displays of my own I like to keep things simple. My family is having a little party this weekend, so I thought I would create a fun little setup on the buffet console. Now just throwing a pumpkin up there and calling it a day wasn't an option, but spending hours on decorating wasn't either. So, I decided to start with a fun, yet easy Halloween pumpkin DIY...
I simply cleaned and cut off the top of my pumpkin like you normally would when you carve one. Then I punched holes in a random pattern into my pumpkin. I wanted something I could use beyond Halloween right on into November so I didn't go with a scary face and opted to top it with fresh flowers. Then I carved a hole into the back of the pumpkin for a cord so I could use my Philips Hue Go portable light instead of a candle. While I love the flickering light of a candle, with my Philips Hue Go I can show off dynamic lighting effects like different colors! I'm talking countless color options you guys...
Next I wrapped the flexible Philips Hue Lightstrip Plus around my Halloween lighting display, along with some fun decorative elements to add a little extra oomph. I am seriously obsessed with this product. Think of all the things you can wrap it around! The orange lighting setting was perfect for me in this case, but I'll definitely be experimenting with more hues for the next holiday!

Now you want the Philips Hue White and Color Ambiance Starter Kit to go along with this lighting because it comes with a bridge that allows you to wirelessly control your lighting. Each and every product I mentioned can connect to it and you can run them all from an app right from your smartphone. Plus, it comes with these incredible lightbulbs that you plug into your light fixture of choice. In my case, I used the lamp on my buffet with my White and Color Ambiance and it produced the most lovely shade of orange that bounced off my wall and went perfectly with the Lightstrip Plus! You can even download the Hue Halloween app to coordinate spooky sounds with your lighting. How cool is that?! And the Philips Hue Motion Sensor will turn your lighting set up on and off automatically. So, you don't have to worry about it being on when nobody's around to enjoy it!
The great things about all these products is that they have potential for each and every holiday. You can bet my Christmas is going to be all lit up! And frankly, why not transform your everyday lighting into a special experience? Make movie night at home with your honey even more romantic with a little ambiance...You can purchase your own at Amazon,
Apple Store, Bed Bath & Beyond, Best Buy, Home Depot and MeetHue.com
WANT MORE HALLOWEEN TRENDS FROM MOMTRENDS?
PIN IT!
Be sure to follow Momtrends on Pinterest and for more spooky inspiration follow our Halloween and Thanksgiving Boards here. 
Disclosure: This is a sponsored post. The opinions are ours and not representative of Philips Hue.