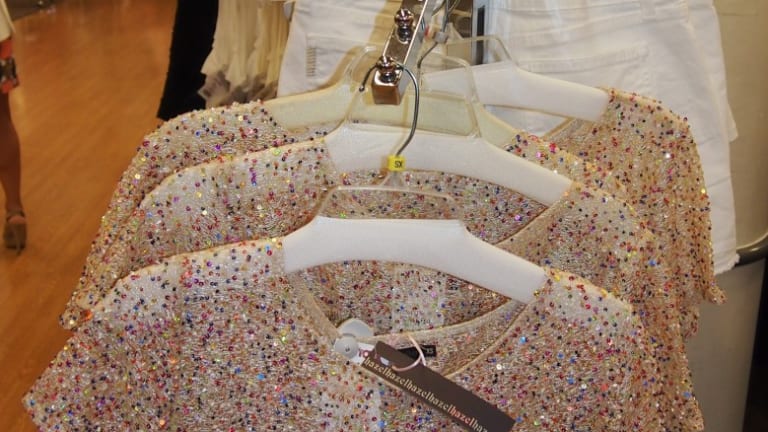 Publish date:
Summer Fashions For Less
Are you going to shop over Memorial weekend? You just might want to stop in one of these stores.
Are you going to shop over Memorial weekend? You just might want to stop in one of these stores.
Looks smart and travel smart--that's my motto for summer. A few weeks ago I was treated to a summer event with T.J.Maxx and Marshall's that was all about looking great this summer. Are you going to shop over Memorial weekend? You just might want to stop in one of these stores.
Related: Packing made easy cool getaway travel system
Each week more than 10,000 new items arrive in every store. You can expect discounts of 20-60%. I admit I'm not much of a bargain hunter. I don't like to dig through messy racks, so I was thrilled to see the stores were well organized and styled to inspire summer shopping. Isn't this a great look:
As I see it, these stores are about looking for inspired deals. Here's what I loved on my visit: Gucci wedges and a sparkly top from C&C

Lessons I've Learned Traveling to Sebasco Resort Maine
When you think of a summer getaway to Maine, it's likely you are envisioning something akin to the Sebasco Harbor Resort. Tucked along Maine's rocky coastline, this family-style resort has been hosting families for nearly 100 years. If you're ready to travel, take a look at the ...read more
Five Tips To For a Girl's First Leg Shave
Do you remember your first time shaving? Mine wasn't pretty. I snuck my dad's razor and shaved my legs dry. It wasn't pretty. Get your daughter ready for this rite of passage with the right tools and a quick education. We've got five tips to help you navigate your daughter's ...read more
Why You Should Add Wild Blueberries to Your Diet
Do your New Year's goals involve healthier eating? Adding more fruits and vegetables to your diet? Or even adding tasty new recipes to your repertoire? We've got five reasons for you to add wild blueberries to your diet. Our friends from the Wild Blueberry Association have ...read more
Style gurus Lilliana Vazquez and Pamela Pekerman led us through the stores in the Union Square area highlighting their picks for summer. Pamela loved all the bags and shoes (a girl after my own heart) and Lilliana had put together some swell outfits for just about every summer occasion.
Travel tips: TIPS TO BE A SMART AND STYLISH TRAVELER
Don't let baggage restrictions affect your travel wardrobe. Purchase lightweight luggage to ensure you can pack more of your favorite fashionable frocks.
Increased security at airports has made organization key while traveling. Purchase travel accessories like messenger bags and travel document organizers. This will help keep you organized and hands-free so you're able to tote additional items like luggage, snacks, books and strollers.
To avoid an unintended bag swap at the airport, look for luggage in different prints and colors so your piece is easy to spot while still being stylish.
For more fun visit www.marshallsonline.com and www.tjmaxx.com
MORE FASHION FUN FOR MOMS
PIN IT!
Use Pinterest to save your favorite fashion posts. Be sure to follow our Mom Fashion Pinterest board here.
Momtrends was not paid for this post. We did win a tote bag and receive a gift bag.