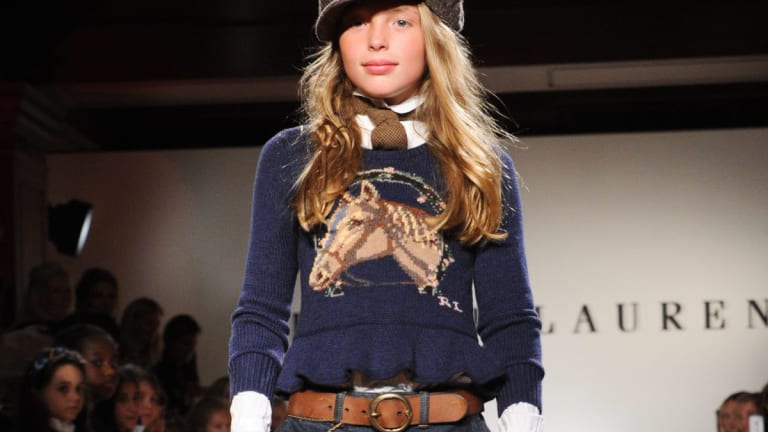 Ralph Lauren Girls Fashion Show
My daughter was thrilled with her first fashionista event
Fashion week is in full swing here in NYC. This week we kicked our coverage off at the Ralph Lauren corporate headquarters with a very special event--Ralph Lauren's first love girls fashion show. My daughter and I got decked out in our finest Ralph Lauren fall clothing and headed to midtown for this amazing after school event.
Ralph Lauren teamed up with SAKS Fifth Avenue for this special afternoon of fashion. They invited little girls (and their doting moms) to experience an exclusive look at the 2011 Fall and Holiday Collections at the most fantastic setting.
My little fashionista had a front-row seat to see the 34 looks walk the runway. When I say she was mesmerized it is an understatement. The headquarters are gloriously outfitted in mahogany, plaid and sculptures--quite a setting. The Fall 2011 looks were all in the modern equestrian feel. Check out some of our favorite looks.
For holiday the clothing was all sweetly glamorous. There was shearling, denim and plenty of plaid ruffly dresses in red, cream and black. The show stopper was this little African American model holding a Yorkie.
At the end Ralph surprised the fashionable crowd (notable socialites included: Amanda Brooks, Blair Husain, Deborah Roberts, Lauren Dupont, Nathalie Kaplan, Stephanie Winston-Wolkoff, and Veronica M Beard) walking the runway with yet another super cutie. And of course the crowd went wild.
The event was a smashing success. My daughter was thrilled with her first fashionista event--she loved chatting up all the other little girls at the event and I reveled in seeing Ralph in all his glory. The collection embodied everything he does best--creating clothes with a youthful spirit that are timeless, elegant and immensely appealing. When I asked my daughter what she need for fall she said..."Everything!" That's the magic of Ralph Lauren while the clothes seem classically familiar, each season he adds fresh touches (motorcycle boots, touches of fur, unexpected sequins) that make us want to whip out the Amex and add to our closet.
The Ralph Lauren Girls Fashion Show will be available to a global audience beginning September 22nd on RalphLauren.com.
Momtrends was not paid for this post. We did get a gift bag at the end of the event. Photos courtesy Ralph Lauren: Billy Farrell Agency - Joe Schildhorn/BFAnyc.com