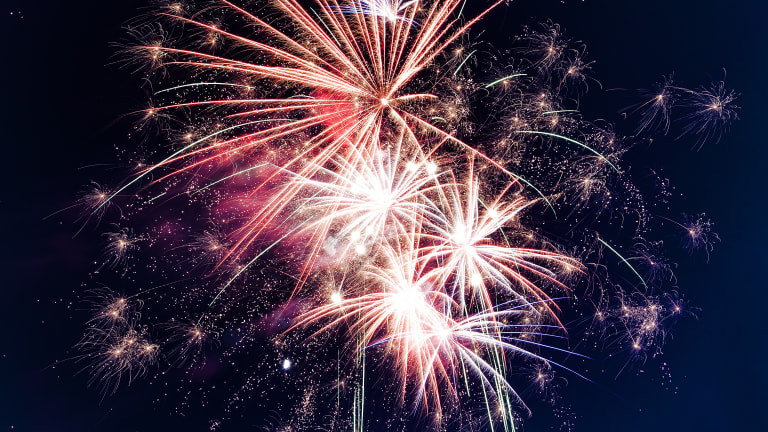 Macy's 4th of July Fireworks
Each summer Macy's lights up the sky in New York City to celebration our nation's birth. Here's how to watch.
The theme of this year's show is "Together, We Look Up." Macy's is hosting the event in "the hope of a brighter future for everyone, everywhere." This year's Macy's 4th of July fireworks will honor the frontline workers keeping us safe. 
Related: Firework popsicle recipe
Macy's 4th of July Fireworks
Each year, Macy's moves the display around to share the experience with different parts of NYC. To allow New Yorkers to experience this year's Macy's 4th of July Fireworks safely without creating crowds, the annual spectacle has been reimagined as a series of smaller unannounced displays in every borough of New York City.
Together, we celebrate the strength of the American spirit in New York City and across the country. And we'll do it safely.
The first July 4th fireworks show happened in 1976, the year Macy's partnered with the Walt Disney Company to celebrate the nation's Bicentennial. The event became an annual tradition.
Macy's Mini Fireworks Shows
From Monday, June 29 through Saturday, July 4, Macy's Fireworks displays will launch unannounced on select evenings across New York City. Each 5-minute display will feature Macy's signature pyrotechnic scale with thousands of shells reaching heights up to 1,000 feet. 
Each show is brief and will be over before residents can gather at its source. The displays will be launched from one or two land or water based locations over the course of the week-long celebration covering every borough of New York City.
How to Watch the Macy's Fireworks
While the fireworks will be set in NYC, the whole world can watch. The entire scope of the week-long shows, as well as a live finale, will be presented nationally on NBC's two-hour entertainment special. Watch it live on NBC on Saturday, July 4th from 8-10pm EST
Get more details here https://www.macys.com/social/fireworks/
More 4th of July Ideas from Momtrends
Pin it!
Use Pinterest to save your favorite ideas for summer fun. Be sure to follow our 4th-of-July board for more inspiration.
 Momtrends was not paid for this post.