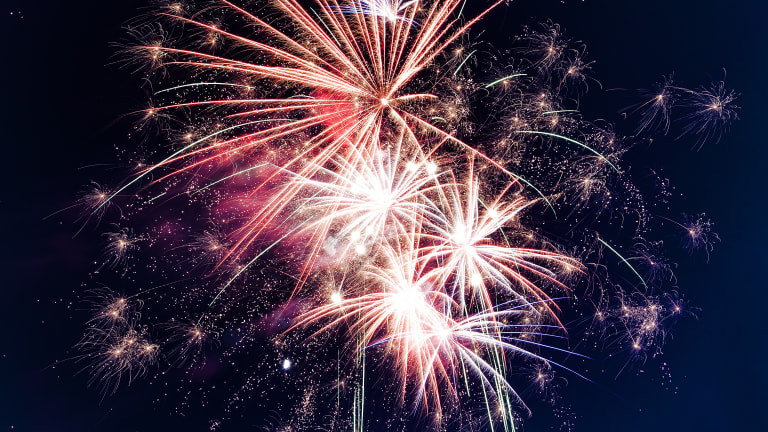 Macy's 4th of July Fireworks
Each summer Macy's lights up the sky in New York City to celebration our nation's birth. Here's how to watch.
This year marks the 46th year of the Macy's 4th of July Fireworks in New York City. It takes 50 pyrotechnicians and nearly 100,000 pounds of steel mortars to make sure the dazzling lights launch without a hitch. Here are the details for watching at home or in New York City.
Related: Firework popsicle recipe
Macy's 4th of July Fireworks
Each year, Macy's moves the display around to share the experience with different parts of NYC. The Fireworks display will be launched from barges along the East River in Manhattan. Elevated public viewing areas along the FDR Drive & locations in Queens & Brooklyn.
The first July 4th fireworks show happened in 1976, the year Macy's partnered with the Walt Disney Company to celebrate the nation's Bicentennial. The event became an annual tradition.
Macy's 4th of July Fireworks is a free public event. Tickets are not for sale. Macy's works closely with local agencies to designate more than two miles of public viewing space that provides spectators with a front-row view. These locations, entry points & security details are available in the "Where To Watch" section of the website.
Musical Notes
If you are watching from home, you'll be treated to a musical performance along with the fireworks display. 
Ray Chew is this year's musical director. He's left his mark on everything from Showtime at the Apollo,
American Idol & Dancing With the Stars to the 65th Primetime
Emmy Awards and Macy's Thanksgiving Day Parade. This year,
he brings his golden touch to this patriotic show.
Performances include The United StatesArmy Field Band& Soldiers' Chorus. Since its formation in 1946, the Field Band has performed for audiences all over the world, earning them the title, "The Musical Ambassadors of the Army." 
There will also be music from the Young People'sChorus ofNew York City. Founded in 1988 by artistic director Francisco J. Núñez, this multicultural youth chorus has been renowned worldwide for its superb virtuosity, brilliant showmanship and innovative model of diversity. They'll bring their beautiful blend of voices to this year's score.
About the Fireworks
Keep your eyes open for some of this year's showpiece elements: Whistling Jellyfish, Little Snakes, Blinking Smiling Face, Swimming Chrysanthemums & more. There will be approximately 1,920 shells and effects per minute.
Expect a rapid-fire succession of blasts to go off from each of the East River barges, creating a two-hour spectacular with round after round of rocking entertainment.
How to Watch the Macy's Fireworks
While the fireworks will be set in NYC, the whole world can watch. Peacock is your streaming destination for the Macy's 4th of July Fireworks Spectacular. Watch it LIVE Mon. 7/4 at 8pm ET/5pm PT. 
Get more details here https://www.macys.com/social/fireworks/
More 4th of July Ideas from Momtrends
Pin it!
Use Pinterest to save your favorite ideas for summer fun. Be sure to follow our 4th-of-July board for more inspiration.
 Momtrends was not paid for this post.