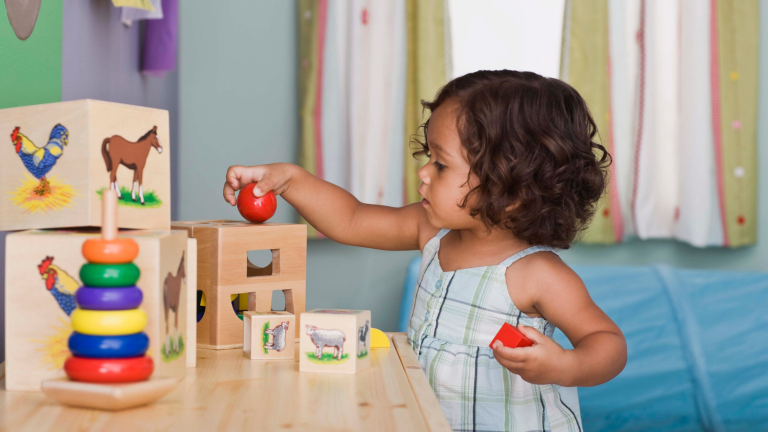 Holiday Gift Buying: Safety Tips and Age-Appropriate Toys for Kids
10 tips to help you buy the best toys this holiday season
The holiday buying season is back and this year we are following a few tips from the Toy Industry Association to ensure that the gifts we get our kids are safe and age-appropriate. 
Age Guide to the Best Toys
Let's start with age-appropriate gifts for our kids. Here are some guidelines from the Toy Industry Association to help you.
Birth to Six Months

During the first six months of life, babies can't grasp objects with their hands, so they do best with toys that make noise or feature high-contrast, black-and-white or brightly colored images. Once they can reach for objects, they'll love toys that are textured and safe for their mouths. Make sure that stuffed toys have embroidered or secured eyes and noses for younger children and seams that can withstand an older child's play. Avoid toys with strings, straps or cords 12 inches or longer for children younger than 18 months of age.
Six Months to 12 Months

At this age babies are mastering motor skills - like sitting up - where they can enjoy toys they can bang, drop, stack, put in and take out, and open and shut. When movement starts like crawling, cruising or walking babies will enjoy toys that move along with them as well as cause and effect toys.
One to Two Years Old
Children are true explorers their second year of life where they need toys for physical play as well as toys that encourage experimentation. Imaginative and educational toys are great during this time as toddler try to imitate adults.
Two to Three Years Old

Older toddlers love testing their physical skills-- jumping, climbing and throwing--so toys for active play are ideal. This age group also possesses good hand and finger coordination and enjoys toys like basic arts and crafts, puppets, blocks and simple puzzles.
Three to Six Years Old

During this time, children begin to play with each other. Preschoolers and kindergartners are masters of make-believe. They like to act out grown-up roles and enjoy costumes and props to help them bring their imagination to life. It is quite common for children this age to develop attachments to toys, expressing feelings to a special doll or teddy bear. Materials for arts and crafts are also popular with this age group, which enjoys creating things with their hands.
Six to Nine Years Old

School-age children enjoy play that requires strategy and skill. Toys like board games, tabletop sports, marbles and kites are favorites. Grade-schoolers also enjoy exploring different kinds of grown-up worlds and like fashion and career dolls and action figures.
Nine to Twelve Years Old

Preteens begin to develop hobbies and enjoy crafts, model kits, magic sets, advanced construction sets, science kits and sophisticated jigsaw puzzles. Active play finds its expression in team sports. Painting, sculpting, ceramics and other art projects are also big with this age group.
In terms of keeping things safe, Joan Lawrence, vice-president of standards and government affairs at the Toy Industry Association established these 
10 tips to help you buy the best toys this holiday season
Check and follow age guidance and other safety information on packaging (age grading is based mostly on safety and not on how smart a child may be, so remember to read and heed age guidance).
Avoid toys with small parts (or pieces that separate or can be broken off) for children under age three (3) and children who mouth toys.
Inspect toys at the store, looking for sturdy parts that can stand up to the rigors of your child's play.
Read instructions for assembly and use. Complete and return warranty cards (which are also used if a recall is issued). Keep product literature on hand in case of future questions.
Remove and discard all packaging from a toy before giving it to a baby or small child.
Choose a safe storage place for toys. Separate toys for older and younger children to ensure that younger children cannot access toys that are too old and potentially unsafe for them. Enlist the assistance of older kids to keep their toys apart from those of younger siblings.
Check toys at least every three months to determine their safety. Make any repairs immediately or discard damaged toys.
Shop at a retailer you know and trust. Exercise caution when buying toys at flea markets, second-hand / thrift stores, etc. as these vendors may not be monitoring for recalled products. Second-hand and vintage products should be carefully inspected for wear-and-tear, breakage, sharp edges, etc.
Consider placing vintage or collectible toys out of the reach of children as they may not comply with the latest safety standards.
Supervise children when they play and set good examples of safe play. Remind caregivers, including grandparents, of play-related safety concerns.
For additional information, please visit www.toyassociation.org
Momtrends was not paid for this post.