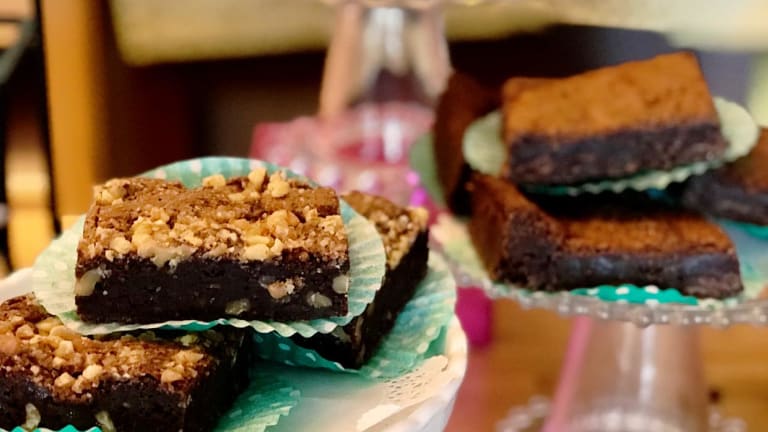 Delicious Treats from Harvard Sweet Boutique
Harvard Sweet Boutique is a gourmet Boston bakery that hand makes custom cakes, bakery items, gourmet cookies, and more.
I love that my daughter has taken to eating raw kale (a four-year process), but as much as she loves raw veggies she loves her sweets even more. I'm also a fan of both worlds and love discovering new treats. I recently surprised my girls (and sugar-loving husband) with a delicious combination of treats from the gourmet all-natural dessert company, Harvard Sweet Boutique.
Related: Kimpton Boston review
This included mouth-watering artisan brownies, decadent cookies and incredible toffee. Having tried many treats in the past, I loved how delicate and flavor the treats are with some of my favorites being the peanut butter chocolate chunk cookie, the oatmeal raisin cookie and the tasty toffee. All of the treats are made by hand using "exceptional ingredients, including rich European chocolate with the highest cocoa butter content, pure double-strength vanilla extracts, the finest flours, premium grade nuts, and fresh Grade A butter."
I also loved how organized their website was where you could find sweets based on type, occasion, bestsellers, gift ideas and price so that you can find the perfect treat or gift idea. You can even discover treats for those that have specific dietary needs such as low-carbohydrate and gluten-free treats! They also have a fun Cookie of the Month Club where you can receive new brownie, cookie or assorted gifts that can be great gift ideas or a special treat to enjoy at home.
I also admired the beautiful packaging that featured bright bows, delicate paper tissue, and modern boxes that add to the wonder of opening these boxes.
Sweet, special and unique treats, the Harvard Sweet Boutique is all about the experience of enjoying and passing along high-quality and delicious treats for memorable gifts or treats for you and your family to savor.
MORE TRAVEL IDEAS FROM MOMTRENDS
PIN IT!
Use Pinterest to save your favorite family travel destinations to help inspire your next trip. Be sure to follow our Travel with Kids board here.
Momtrends was not paid for this post. We were given samples.