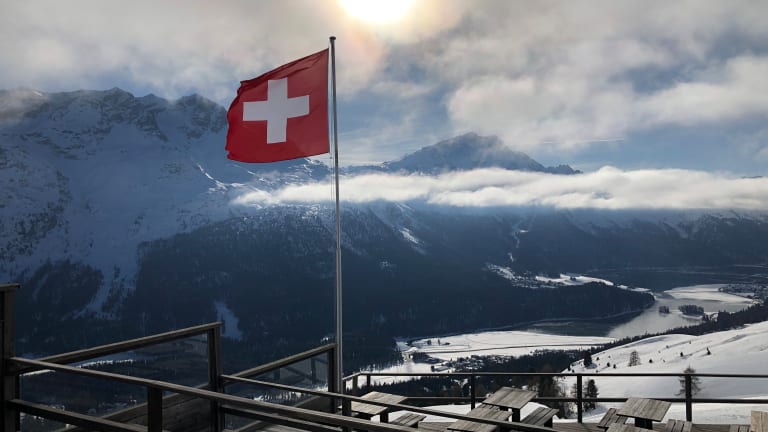 Why Skiing in Europe is Sublime: St. Moritz Switzerland Winter Getaway
Food, fun and spectacular views, these are the things that make skiing at St. Moritz so much fun
It's always good to go into a new experience with little or no expectations. Mr.Momtrends did his best not to oversell skiing in Europe before our trip there. He just said, "You'll see. It's just different." Right he was. I will do my best to not compare St. Moritz to anything in the US or detract from how awesome it is to ski in the United States. Having a blank slate, I was absolutely thrilled with my strip to ski St. Moritz.
The History of Corviglia
A few mountains that provide winter playgrounds for St. Moritz's tony crowd. The closest mountain, Corviglia, was where we focused our skiing. And it's a great pick for your family or for a grown-up getaway. Switzerland touts Corviglia as the birthplace of alpine winter sports. The relatively small town has hosted two Winter Olympic Games and five Alpine Ski World Championships.
Corviglia's elevation is 8,156'. It's located on the eastern slopes of Piz Nair, overlooking St. Moritz in the canton of Graubünden. Few people will struggle with the elevation here thanks to the relatively slow elevation.
Getting Started at Corviglia
There are a few base areas to start your day. I highly suggest having a plan on how you will end the day as it can be a bit tricky navigating the multiple bases. We started our day from the SUVRETTA lift, a short drive from the Giardino resort. There's a ski school nearby, but this base area is on the small side. As for ski rentals, we did those back at the hotel at Ivo's ski shop.
A good concierge will be invaluable with planning your first trip to Corviglia. In addition to having multiple base areas and many rental shops to work with, ski school is also independently run. A well-informed hotel staff member can get you up and running as they all have relationships with specific vendors.
If you plan to do it on your own, start here.
Momtrends Tip: The crowd dresses to impress. This is not the place to wear your torn Patagonia. Step it up with some snazzy Rossignol apparel.
Skiing Corviglia
There are 24 lifts and 36 runs in all. Don't be fooled by these numbers, the runs are quite long and offer a nice bit of variety. We certainly weren't bored after two days of skiing. You won't find trees or many natural features, what you'll get is miles and miles of wide-open rolling runs, many of them groomed. If you like making pretty turns while enjoying breathtaking scenery, this mountain is for you.
The terrain offers plenty of steep challenges for skiers and riders and it's quite a nice spot for beginners. Here's the breakdown of the terrain: 
27% beginner
51% intermediate
22% difficult
Momtrends Tip: While black = expert in both the USA and Switzerland, there are no greens here. Beginners should stick to the red trails.
The mountain is efficiently set up with a high speed lift system that can service a lot of skiers in a short amount of time. The tram to Piz Nair (3057 m) offers stunning views and the fastest way up. Most of the other lifts have yellow weather shield on them (we call them bubbles) and mid-week, you'll find very few lift lines.
On Mountain Dining
I was completely charmed by the on-mountain dining in Switzerland. The hospitality we came to admire at our hotel was replicated thousands of feet up. Definitely plan to take a ski break or two to sample the food and beverages of the Swiss.
Glünetta
This sunny spot was hopping! Located at the base station of the Glüna chairlift, this restaurant has a huge outdoor deck and Apéro Bar. It's the best spot for people watching. Order the rösti (fried grated potatoes), raclette, and warm punch.
The Trutz
With plenty of indoor and outdoor seating, I adored the homey Trutz restaurant. It's located at an altitude of 2,211 meters above the chairlift mountain station Suvretta-Randolins, with stunning views of the lake. You can sit down and get table service or make it speedy (but why?) and go through the buffet line. I opted for dessert, Kaiserschmarrn, and glühwein to celebrate the end of a glorious ski day.
Fun Ski Features at Corviglia
There are two fun ski features at Corviglia that can make your feel like you are on the World Cup tour. First there's the Longines Speed Check is a blast. Scan your pass and then whoosh! Go as fast as you can down the steep, straight line plummet. I hit 45mph (yikes!), and I'm certain I set no records.
Located on piste no. 15, (yeah, they don't use names like Sidewinder and Nose Dive) you'll get a personal radar photo, which you can download that evening free of charge. To get your photo, you'll need to scan the QR code on your lift pass.
If GS racing is more of your thing, give it a go at the Audi World Cup course located at the start of piste no. 5. Begin your run at a starting hut used in World Cup races. A display shows you the day's current fastest time: your challenge is to beat it. And then you're off, through the light beam and down the 400-meter Giant Slalom course, with cameras beside the piste automatically filming your entire run. Your personal video complete with greeting message from Lara Gut is ready for download immediately afterwards. My fastest time was 39.5. I was pretty pumped to break 40 seconds!
Food, fun and spectacular views, these are the things that make skiing at St. Moritz so much fun. If you like a chic crowd and pristine grooming, this is the spot for you!
Want more adventure? Be sure to leave time in your schedule to get to a Swizz sledding experience. Mr. Momtrends and I loved our day the Preda to Bergün sledding track.
MORE SKI FEATURES FROM MOMTRENDS
PIN IT!
Use pinterest to save your favorite family travel features. Be sure to follow our Ski Moms Pinterest Board.
Momtrends was not paid for this post.