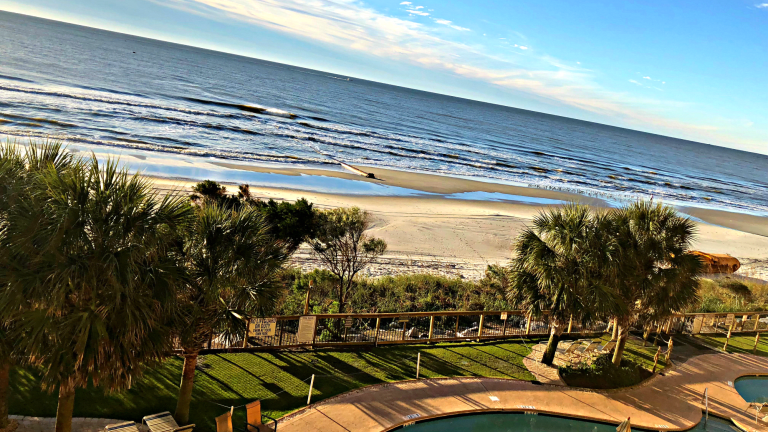 Where to Stay with Kids in Myrtle Beach
Are you looking to plan a low-key, laidback kinda family vacay in the near future? Well, I suggest that you look no further than Myrtle Beach. If you're going to take my advice and are willing to consider adding this family friendly destination to your vacation schedule, you're going to want to know where to stay with kids in Myrtle Beach. I recently went for a few days with my baby girl and my mom and we had such a lovely time. And while I'll get into what to do with kids in a later post, today we're going to focus on the hotel because, I don't know about you, but I'm at place in life where I want more than just a plae to lie down when I'm booking hotels. I want properties that really make sense for families and that's just what we got from the Island Vista resort!
Use Expedia to plan your next beach vacation
The Island Vista Resort in Myrtle Beach
First off, the Island Vista resort is an oceanfront resort which is a must have when planning a Myrtle Beach getaway. Not only does it provide serene views which you can soak in while sipping on your morning coffee, but an oceanfront hotel provides built in entertainment. Give my kid a few beach toys and seemingly endless expanse of sand and she's good for hours. In fact, we visited the Island Vista in November and it was somewhat chilly. So, water fun wasn't on the agenda. That being said, my daughter was plenty entertained by the beach sans water. Just a little something to keep in mind when you're planning your vacays. Visiting in the off season can be loads of fun. And you just might discover things to do that you might have overlooked were you spending all your time in the water!
What to Do
Now the Island Vista does offer several pools and hot tubs, as well as an indoor water play area. We happily took advantage of those hot tubs, let me tell you. They were relaxing for my mom and me and they satisfied my kiddo who would be willing to swim in twenty degree weather if we let her. And let's be real. Is there anything more blissful than sitting in blissfully warm water while listening to waves gently lap on the shore. Sigh. No. The answer you're looking for is no. And not for nothing, but it's a great way to soak away all that holiday stress. Do you feel a winter getaway coming on? I thought you would!
The Room
Of course we can't talk about a hotel without talking about the room. Like I mentioned before, these accommodations are perfect for families. Our room came complete with a bedroom and sitting area along with a full kitchen so we were able to have plenty of cold drinks and snacks on hand. And a murphy bed that was conveniently located in the living area meant we each had our own slipping situation which was clutch for this mama who wasn't keen on being kicked all night by my wild child. Haha! Oh and I can't forget the balcony. There is no better place to take in the ocean. I found myself getting up early just so I could catch the sunrise!
What to Eat
And, finally, let's talk food. We had a full agenda so we ate out most meals as we wanted to experience as much of Myrtle Beach as possible. That being said, I understand that breakfast can be one of those meals that's easier to enjoy at your hotel. And you definitely won't be disappointed with the Island Vista breakfast, BUt if you don't want to have breakfast at the hotel every day, I recommend you visit an insanely good breakfast joint that's right down the road. Johnny D's is famous for its waffles and Benedicts with very good reason.
What feels like a traditional diner is anything but traditional when you open the menu. Sure you'll find pancakes and eggs, but you'll also find things like coconut banana French waffles and Jambalaya omelettes. My pork belly Benedict was BEYOND delicious. The chef was kind enough to provide her recommendations and she suggested I switch out the English muffin for a biscuit and it was a game changer. You need to work Johnny D's into your agenda, trust me!
Now that you've seen where to stay with kids in Myrtle Beach, why not check out our tips for
This is not a sponsored post. Accommodations and some meals and activities were provided.