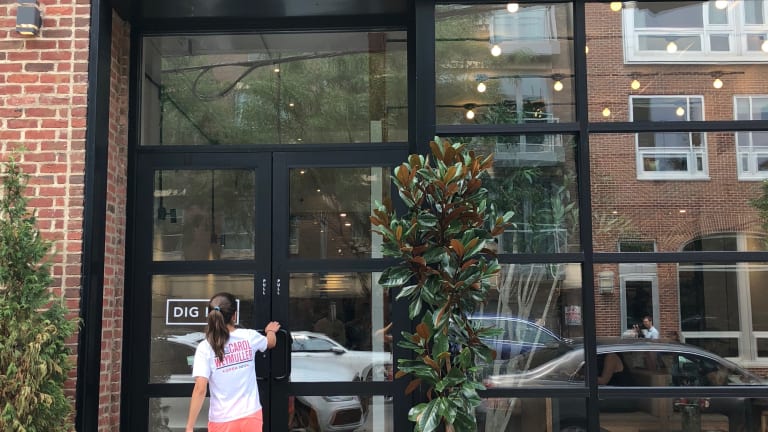 Where to Eat with Kids in NYC
Testing out Dig Inn a new fast casual concept
When I tell you we are picky about the foods we give the kids, I'm really making the understatement of the year. At Momtrends HQ, Mr. Momtrends and I are known as the sugar police. I admit I have been known to rant about hidden sugars and the evils of white bread on more than one occasion. When it comes to telling you where to eat with kids in NYC, I'm usually not the "fun" resource. But now that Dig Inn is on my radar, I can advise folks on where to go without compromise. Dig Inn is a spot that's lively, tasty and meets my high standards.
Where to Eat with Kids in NYC
Dig Inn is a NYC chain of locally farm-sourced restaurants. They are fast and casual, feel free to bring the kiddos or a co-worker, and all about the food. 
The restaurants were founded by Adam Eskin back in 2011. NYC had (and still has) a ton of spots where you quickly get a healthy made-to-order salad. A nice option for an office lunch, but not so tempting to bring home to the kids. We also have tons of small restaurants embracing the farm to table movement. The problem with those is most are pricey and don't get the food out quickly. Dig Inn combines the speed of a Chipotle, with the charm of the hip restaurants on Brooklyn's Smith Street. 
Since 2011, the concept has grown. Now they've expanded all over the city and into my home turf, Brooklyn. While I've passed them many times, I haven't made time to pop in. 
This week, I've had my 13 year old home with me so she can do some volunteering. We decided to test out Dig Inn. I wanted her take on the food to see if kids will really "dig" it.
I'm proud to say my kids are pretty adventurous eaters. And thanks to our mission to get them to read labels and focus on a Mediterranean diet (we eat a ton of fish), they are healthy eaters too. In our family, we focus on lean proteins (heavy on the fish), greens, fresh fruit and whole grains. Don't worry, the kids eat plenty of sugar at friends houses and at school. But what we can control and influence, WE DO! 
For the most part, you're going to find whole foods on the menu. There's not much that's processed; at Dig Inn it's flavorful, colorful and tempting as can be.
The Dig Inn Experience
Dig Inn is set up like a traditional made -to-order salad bar. You start with the "base" quinoa, brown rice or greens. Then you add a protein, then you add the sides. They call the selections "seasonal American food," I call it delish.
The choices are mostly plant-based. The veggies are roasted and look beautiful. Dig Inn says they try to source from local farmers whenever they can, and it shows. Everything looks and tastes extremely fresh.
You can get your order to stay in, or have it packed to go. It's great for a healthy meal on days when you don't have time to make lunch or dinner. There's an easy app too, where you can pre-order and pick up. When it comes to pricing, expect to pay about $15 per person.
Momtrends Review Dig Inn Williamsburg
We made a visit to one of the newest locations, a trendy street in Williamsburg, Brooklyn. The restaurant was buzzing with activity. We got in line and made some snap decisions on what to eat. It was fun to fill our bowls with all the gorgeous selections of veggies. 
I got greens + sweet potatoes + roasted squash + grilled steak. My daughter had brown rice + steak + sweet potatoes + broccoli. We both had lemonade (mine was an Arnold Palmer). Our orders were ready in a flash (the line moves, very, very fast) and we found a seat in the open dine-in space. Momtrends Tip: for picky eaters, I'm told the mac and cheese is fabulous here.
I loved the decor: loads of natural light, light wood and fresh flowers (they looked like they were from the local farmer's market). Our table could have been cleaner (I had to wipe it down after the folks who sat there before us). But here's the thing, it is a busy space, so I'm not surprised the staff didn't have tons of free time to police the tables. As we dined, a friendly Dig Inn team member did come through the dining area to wipe down tables and tidy up.
The food was delicious. Hearty and filling and extremely flavorful. My daughter and I both thought the sweet potato was the best thing we tasted. If you have time to dine in, we found it relaxing and fun. My daughter thought it would be a great option for nights when Mr. Momtrends and I can't cook or we have a sitter. Momtrends bottom line: this is a great family spot to get reliably healthy food fast! 
Bathroom note: they were clean and roomy. I always judge a restaurant by the bathrooms and this one passed with flying colors.
Green mama note: The restaurants have lots of eco-friendly touches. Everything that can, gets recycled and they have cute reusable totes for carry out. 
Head here to get the Dig Inn app and find a location near you. https://www.diginn.com/
Pin it and Try It!
Use pinterest to plan your next meal in NYC
Where Else to Eat in NYC with Kids
For more ideas on kid-friendly dining in NYC, check out this post.
This Where to Eat with Kids in NYC feature is not sponsored. We were given credit on our Dig Inn app.