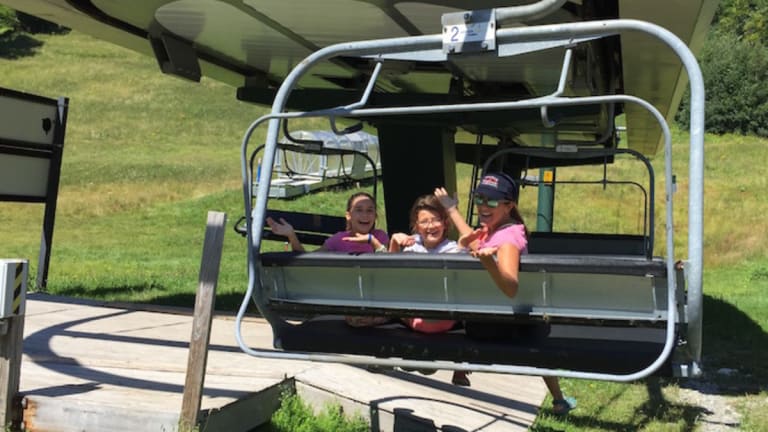 What to Do in Stowe Vermont
Plan a fun fall family getaway to Stowe Vermont
Of course most of us think about skiing when we think of planning a trip to Vermont. But when you wonder what to do in Stowe Vermont, don't forget about the summer fun! We recently visited Stowe for a summer getaway and found a ton to do. Read more about TopNotch Resort here.
Ghost Tour
For older kids the Stowe at Night, Lantern Tour is a fun outing. Colloquially it's known as the "Ghost Tour." The tour runs nightly and loops through the main area of Stowe. Meet your guide, Sean, in front of Stowe's visitor's center.
Sean gives each family a traditional lantern (yes, kids, real fire) and then you're off. Sean mixes in local history with a smattering of the supernatural. It's great fun to hear about the early settlers and the tough lives they lived.
It won't keep the kids up with nightmares, but it will spark some great conversations about the supernatural.
Fees are $10 for adults and $5 for kids 10-18. Under 10 is free. To book, email Newf1Ted@aol.com or call 802-244-1173. Bookings are pretty informal, but you should call ahead. 
Hiking in Vermont
Mount Mansfield is the highest mountain in Vermont with a summit that peaks at 4,393 feet above sea level. You can find out more about hiking in Mt. Mansfield here http://www.vtstateparks.com/htm/underhill.htm.
The mountain is also home base for Stowe Resort. During the summer, it's great launch pad for summer adventures. There are numerous hikes on the mountain. We hiked the trail to Sterling Pond. You can get details on the 2+ mile hike here
I suggest asking your concierge or a local for some suggestions. With kids, it's hard to gauge the skill level required of a hike just by reading about it. Sterling Pond was plenty tough for our girls 11 & 8.
Stowe Mountain TreeTop Adventure
Stowe Mountain is almost as bustling in the summer as the winter. Get a coffee at the Beanery before you start your day. From here you can go off on a ton of hikes or try zip-lining or the ropes course.
We spent half a day at the Stowe Tree Top experience. It includes six loops, they get progressively harder and the course finishes with a huge zip-line to the end. In all, there are 68 elements to try. This experience is for kids 7 and up.
Register in the Stowe base area called Spruce Peak. Be sure to get there 30 minutes early to pay and register. There was quite a line on the day we visited. You'll pay here and get your harness. Our family got a brief overview on how to put on the gear. They did not check the height requirements on our visit. This ended up being a big deal since I paid for a pass but wasn't able to use it because my youngest didn't meet the height requirement.
Once you have all your gear, hop on the gondola with your guide. The gondola will take you over the parking lots to Mt. Mansfield. It's a short walk to the courses from there.
NOTE: Be sure to check height requirements. My daughter didn't meet the requirement to go off the yellow course. Parents must supervise kids on the yellow course from the ground, so unfortunately, I was not able to enjoy the ropes course. I had to coach and watch from the ground. Sadly, I didn't get a refund, I got a pass for another visit.
Littler kids, like our 8yo will start with the Yellow Course. It's got 13 elements and was REALLY challenging for our youngest daughter. I'm going to be honest--she cried a few times and needed a LOT of encouragement to get through. It ended up being OK that I couldn't climb because she needed so much help.
Our older daughter LOVED the challenging courses. She made it all the way through the blacks (the hardest) which many adults can't handle. She's a thrill-seeker and gave the course rave reviews.
Reserve your spot with a credit cared by calling 802-253-3420 or email adventure@stowe.com. You 100% need reservations. This fills up fast and sells out. Be sure to bring closed-toe shoes.
Get more info about summer adventures at Stowe (they even have a summer camp!) here www.stowe.com/activities/adventure-center/ TreeTop Adventure Course is $65 Per Person. The Kids Explorer pass is for the Yellow Course ONLY and is for ages 7-12 only, $42 Per Person.
Ben & Jerry's Ice Cream Tour
For ice cream lovers, plan a half-day to go to the Ben & Jerry's factory store in Waterbury (just before you get to Stowe). You'll learn the history of the founders and the story of their passion for social activism.
On the way to the main building, stop in the Ice Cream Graveyard to see which samples didn't make the cut. Some will surprise you. The failure of Dastardly Mash did not impress us. That name wasn't destined for the annals of ice cream history.
You can take a 30-minute tour to see the factory works, we just did a self-guided tour (free) reading all the signs around the property. We were mostly there to eat ice cream.
During the summer months, there can be quite a line for ice cream--be prepared. We waited in line for about 30-minutes. For little ones, let them run around the playground after the cone to run off some of the sugar.
Location: 1281 Waterbury-Stowe Road, Route 100 Waterbury, VT 05676 866-258-6877
For more information: www.benjerry.com/waterbury
Cabot Store
For cheese lovers, plan on a stop at the Cabot Cheese Annex Store on your way to Stowe (or on your way home, or both). It's a great place to stock up on travel snacks and try some delicious local cheeses.
There are a ton of samples and the store has a lot more than just cheese--you could make a full picnic here. I loved the Private Stock Cheddar and Mr.Momtrends bought pounds of the Horseradish Cheddar. Don't forget to snap your cow photo!
Location: 2657 Waterbury-Stowe Road Waterbury Center, VT 05677
For more information visit https://www.cabotcheese.coop/cabot-annex-store
Let me know if I missed anything and be sure to comment if you've tried any of these suggestions.
Where to Eat in Stowe Vermont with Kids
Idlytyme Brewing Company: This place has a cute garden and outdoor space. There's even corn hole (the unofficial sport of Vermont). Yes, it s microbrew place, but it's also 100% family-friendly. Get a flight of beer to share with your partner.  1859 Mountain Rd, Stowe, VT 05672 https://idletymebrewing.com/
Cold Hollow Cider Donuts: This place has awesome donuts (naturally), but there's also a sweet cafe with some delish breakfast sandwiches and salads. Shop for Vermont products here. 3600 Waterbury Stowe Rd, Waterbury Center, VT 05677 https://www.coldhollow.com/cider-donuts.html
McCarthy's Restaurant: This family diner is a perfect place to get a hearty breakfast. You'll see plenty of locals here and the restaurant is loaded with character. 454 Mountain Rd, Stowe, VT 05672 http://www.mccarthysrestaurantstowe.com/
More of Momtrends in Vermont
PIN IT!
Use pinterest to plan your fall escapes.
This What to Do in Stowe Vermont feature is not a sponsored post.