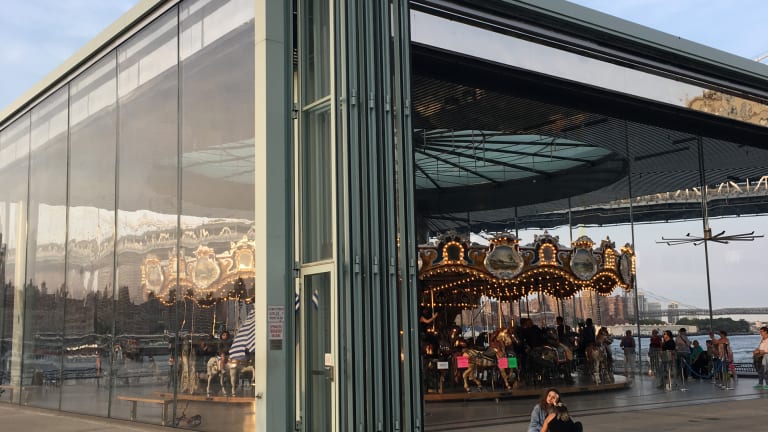 What to Do in DUMBO Brooklyn
Plan the Perfect Day in New York City's Best Borough
DUMBO Brooklyn is a trendy New York City neighborhood full of lofts, cool restaurants and great shopping. It's also home to some of the most iconic (and photographed) views in all of NYC. For many tourists, DUMBO is becoming a must-see destination. As a local Brooklyn mom, I want to share my favorite things about my neighborhood and help visitors figure out what to do in DUMBO Brooklyn.
Related: Where to eat in DUMBO Brooklyn.
I've lived here for twelve years and raised two kiddos here. We're blessed with amazing views and some terrific wide-open spaces. In the past few years shopping has finally gotten better and the food choices have exploded. I hope you'll come explore and fall in love with DUMBO.
What to Do in DUMBO Brooklyn
It's a great place to visit with kids of all ages. The sidewalks can get a bit crowded for strollers (on weekends only), maybe consider a backpack or carrier for your tot (plus we have cobblestone streets). All the seasons are wonderful. November is nice because it's cool, not cold and not terribly crowded. August is when the locals leave for the beach or the country and the hoards of tourists roam the streets - be warned!
No matter when you come, be prepared to be charmed. And yes, it's really, really photogenic. The iconic shot is right outside my front door, Please be careful shooting the Manhattan Bridge here. The streets are still open to traffic and I've seen some near misses!
Plan the Perfect Day in DUMBO Brooklyn
8am climb out of the A/C subway stop at City Hall and get ready to walk over the Brooklyn Bridge. Head here for a detailed post on what to do and see along the way.
Check out our Brooklyn Bridge Video
10am Head down the stairs and keep going downhill until you pass under the bridge and arrive on Water Street. Here you'll spot the views of the Manhattan Bridge and figure out why DUMBO got the name. The tiny loft community is bordered by bridges. The acronym means Down Under the Manhattan Bridge Overpass. Now you know. Get your pictures of the iconic streets and bridges before things get busy.
11am Take a spin on Jane's Carousel. The earlier the better for this vintage carousel. Read more about it here.
Noon: Time for some retail therapy or some action. From the carousel, head south under the Manhattan Bridge. The newly renovated park will take you by a new outdoor rock climbing area. Called The Cliffs, his is a must-see for teens and tweens. 
Momtrends Tip: Fill out your forms for climbing BEFORE you arrive.
If shopping is more of your cardio, you can check out a few of my favorites like Front General Store for homegoods and fashion or Thea Grant for vintage jewelry and awesome accessories (126A Front Street).
2pm From there, walk along Front Street you'll pass by the pricey but colorful Scotch and Soda. For me, that spot is mostly for window shopping. Take a right along Main Street towards the Empire stores. West Elm has an enormous outpost here - it's a fun spot for home furnishings. 
4pm Don't miss the murals. Eight walls in DUMBO have amazing street art and are perfect for photos. Walk along Washington Street to start your tour, head to the York Street F station and then turn onto Jay Street loop back on Prospect Street and you'll see some of my favorites.
5pm Get a little smarter by spending time at the Brooklyn Historical Society's DUMBO outpost. Waterfront is an exhibition and multimedia experience for all ages that brings to life to the vibrant history of Brooklyn's coastline through stories of workers, artists, industries, activists, families, neighborhoods, and ecosystems. 
Momtrends tip: The roof of Empire Stores can be accessed from the stair. You'll get great views and a breeze up here. 
6pm Grab an outdoor table at Gran Electrica. This Mexican restaurant has my favorite margarita in all of NYC. Arrive early to get an outside table. It is kid-friendly before 8 or so. Then the adult crowd starts enjoying the excellent cocktails. 
7:30pm Treat the kids to ice cream at Brooklyn Ice Cream Factory on the Fulton Pier. It's worth the wait in line!
8pm Take the water taxi back home. Get the schedule here. 
NYC Ferry in DUMBO
NYC Ferry operated by City Experiences aims to provide a new, affordable way to travel between waterfront communities throughout New York City. Riders will queue and board on the wooden pier, Fulton Ferry Landing. For the time being, ticket vending machines will remain unmoved from their previous location. The newly reoriented ferry landing will allow two ferries to dock at once, will be fully ADA-accessible at all times, and will have a dedicated queuing area for riders. Each adult on-way ticket is $2.75. Children under the height of 44 inches can ride for free when accompanied by an adult.
NYC Ferry tickets can be purchased on the NYC Ferry app to redeem the ticket, at ticket machines readily available at each landings or on the www.ferry.nyc website can only be redeemed through our App, available for download in the App store.
More Places to Eat i
More NYC Ideas from Momtrends
Pin it and Plan it!
Use Pinterest to save your favorite travel ideas. Be sure to follow our New York City Mama board here. Let me know if you come to Brooklyn and try these ideas. 
This What to Do in DUMBO Brooklyn feature is not sponsored