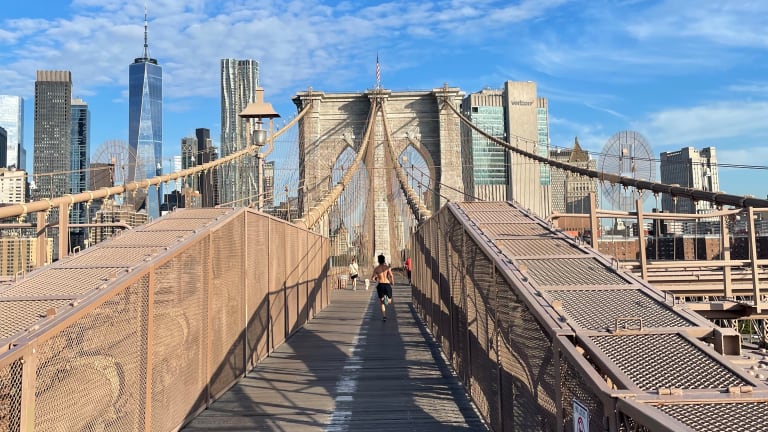 Walk the Brooklyn Bridge
How to make this iconic New York City experience awesome for you and your family.
One of the iconic things to do while in NYC is to walk the Brooklyn Bridge. The walk will take about 45 minutes (depending on how little your kids are) and you won't soon forget it! Get the scoop on how to make this experience awesome for you and your family.
Related: Where to eat in DUMBO Brooklyn.
This family-friendly jaunt is perfect for the stroller set. An object or beauty, the bridge was opened in 1883 and it's been bustling ever since. There's a dedicated walkway for pedestrians, try to keep to the non-bicycle side. As we show you, all you'll need is a good pair of sneakers and about an hour for this free, fun and educational excursion.
Here's a video talking you through the journey.
Tips for walking the Brooklyn Bridge:
One of my first recommendations is to pick your side wisely. If you want to walk TOWARDS Manhattan, take the A/C to the High Street Brooklyn Bridge stop. Head through the park, up the stairs and get onto the bridge. I recommend starting in Manhattan and ending in DUMBO.
Try to go to the bathroom before heading out on this adventure. There aren't any port-a-pots on the bridge.
Dress in layers. It can be cooler on the bridge with big wind gusts. But once you warm up from walking, you might want to shed a layer.
Watch for scooters. They might not be looking out for kids who dart out from the pedestrian lane. Be alert at all times. I don't recommend headphones. Thankfully the cyclists have moved to separate lane.
Go at off-peak hours. Before 9 and after 6 are idea. Plus, you'll have amazing light for your photos.
Wear comfy shoes. This is not the place for high heels. The bridge has a mix of concrete and then wooden slats. Flats are the best pick.
Insider Tips to Navigating the Brooklyn Bridge
I wouldn't recommend taking City Bikes over the bridge. It's really narrow in the cyclist lane. Better to rent a bike in DUMBO and ride along Pier 6. You might also want to bring a bottle of water. There are vendor on the bridge, but they might also charge you $3 for a bottle.
Stop of souvenirs along the way or at the base of the Bridge in on the Brooklyn side. There's a photographer named Leo who has an art set-up at the base of the stairs that lead to DUMBO. If you miss the stairs to DUMBO, you'll end up in Downtown Brooklyn, not a catastrophe, but also not as pretty at DUMBO.
For the most part, the bridge is stroller friendly. Be prepared for the two flights of stairs that lead down to DUMBO. I think a sling or baby carrier is better for the walk. Wear comfortable clothes and get ready for fun!
More Brooklyn Bridge Tips for Families
Photo Tip: There are large areas at the base of the two top spans. This is the safest place to stop and shoot a photo. Try to make it midway across to get the iconic photo of downtown NYC and the Freedom Tower
Getting there: Take the 6 Train to Brooklyn Bridge City Hall walk to to top of the stairs and look for the bridge. For more information on NYC subways visit www.mta.info 
Getting home: Take the A/C to High Street in Brooklyn.
Once you're in DUMBO be sure to head to Jane's Carousel for a ride. We also love Jacques Torres for a sweet treat and Almodine for the best croissants outside of Paris. And if you look around you might spot me! DUMBO is my home town!
Fun Facts About the Bridge
While many kids know the stories about the elephants walking over the bridge, and about the architect, not many know that a woman was instrumental to the bridge's completion.
Roebling, the chief engineer of the Brooklyn Bridge, fell ill, it was his wife, Emily Warren Roebling, who stepped in — managing, liaising and politicking between city officials, workers, and her husband's bedside to see the world's first steel-wire suspension bridge to completion.
More Momtrends Picks for the Big Apple
What to do in DUMBO, Brooklyn: Ideas for the perfect family-friendly day in this trendy neighborhood.
Visiting the Newly Renovated Empire State Building in NYC, this iconic building got a big refresh and is a terrific play to see the city from up above.
Bryant Park, plan your day in this open air park that's loaded with activities that are FREE!
PIN IT AND PLAN IT!
Use Pinterest to save your favorite travel ideas. Be sure to follow our New York City Mama board here. Let me know if you come to Brooklyn and try these ideas.
This is not a sponsored post.