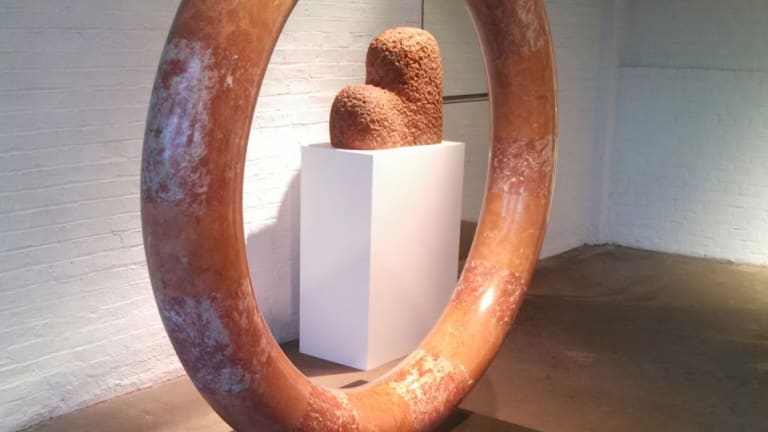 Visit the Noguchi Museum with Kids
This museum aims to get the stroller set excited about sculpture.
Young kids are perfect for the Noguchi Museum in Long Island City, New York. This museum aims to get the stroller set excited about sculpture. It's small in scale compared to some of the iconic NYC museums, but it's a perfect way to open your family's eyes to sculpture and art.
Related: What to Do in DUMBO Brooklyn
About the Noguchi Museum
The Museum features an indoor/outdoor sculpture garden and two floors of exhibition space in a converted factory building. Since its founding, it has served as an international hub for Noguchi research and appreciation.
Created by Isamu Noguchi (1904-1988), The Noguchi Museum opened in 1985 and is filled with stone, metal, wood, and clay sculptures. The building is the height of city cool--the 13 galleries are housed in a converted factory building. Open outdoor space is carved into the museum and offers a spot for reflection and an ideal setting for Noguchi's major granite and basalt sculptures. Forget about fussy, musty museums, the fluid sculptures are a natural draw for kids, they gravitate to the abstract shapes and the wide open spaces of the building. Plus they've spaced everything out to give parents room to move.
Noguchi was an American artist and landscape architect whose artistic career spanned six decades, from the 1920s onward. He's best known for making modern furniture, including the iconic Noguchi table which remains in production today. 
In addition to housing the artist's archives and the catalogue of his work, the Museum exhibits a comprehensive selection of sculpture, models for public projects and gardens, dance sets, and his Akari lanterns.
Learning Programs
When you visit with kids be sure to get the free activity guides at the Museum entrance. Guides are available in English, Spanish, and Japanese. Guides can also be downloaded and printed.
For locals, there are programs for just about every age. The Noguchi Museum offers programming for families with children ages 1 through 11. Programs are led by museum educators and combine gallery experiences, conversation, and art-making activities. Select programs are also offered in Japanese.
Please note: While the sculptures look very durable, our hands and fingertips contain oils that leave a dirty residue, which causes damage to the art. Attendants at the front desk will give your child a sticker to remind them to look with their eyes and never with their hands.
Noguchi Programs for Teens
The Noguchi Museum's Teen Advisory Board [TAB] is a paid internship for high school students. Each year, TAB interns plan projects that promote dialogue and inclusivity at the Museum.
Making Your Mark [MYM] is a free summer art program for rising junior and senior high school students in New York City. Participants will meet at The Noguchi Museum for all sessions, and are expected to attend all fifteen sessions. All art materials will be provided. Participants will receive a $300 stipend for participation, and all students will have the option to receive a MetroCard.
Plan Your Visit
The Noguchi Museum is located at 9-01 33rd Road (at Vernon Boulevard), Long Island City, New York. It is open Wednesday–Friday, 10 am–5 pm; Saturday and Sunday, 11 am– 6 pm. General admission is $10; $5 for senior citizens and students with a valid ID. New York City public high-school students, children under 12, and Museum members are admitted free of charge. Admission is free on the first Friday of every month. Public tours in English are available daily at 2 pm, and in Japanese on the first Friday and second Sunday of every month. 718-204-7088 or
Noguchi Museum
32-37 Vernon Boulevard
Long Island City, NY 11106
For more information visit http://www.noguchi.org/
MORE NYC IDEAS FROM MOMTRENDS
PIN IT AND PLAN IT!
Use Pinterest to save your favorite travel ideas. Be sure to follow our New York City Mama board here. Let me know if you come to Brooklyn and try these ideas.