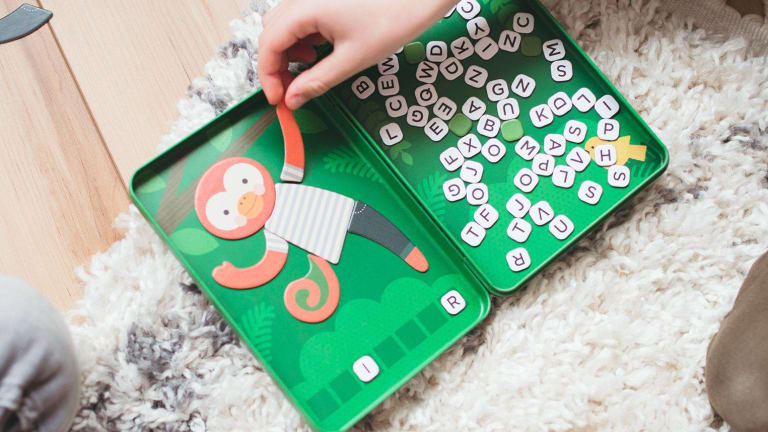 Unplugged travel toys perfect for your family trip
Three travel toys from Petit Collage don't require batteries or an outlet, just your imagination.
We're keen on the collection from from Petit Collage. Tasteful and timeless, they have toys we know won't get old after a few minutes. As we gear up for the holidays (or maybe a very safe road trip) here are my favorite unplugged travel toys for your next trip.
Related: 6 tips for vacationing with a mobile baby
Monkey Magnetic Game
Magnets are your friends. They save a ton of time, allowing kids to play rather than hunting for pieces. I like the Hang On Monkey Magnetic Travel Game because it's a fun way to create word play. It's got a bit of strategy and a bit of vocabulary building. The idea is to guess your friend's secret word before the image of the monkey is complete. Get the Monkey Magnet game here.
Littler Travelers Set
This dress up game is for kids ages 3 and up. Punch out over 25 magnetic pieces that can be mixed and matched to create multiple characters in this Little Travelers play scene. The set comes in a handy little tin with a fun background. Get your Little Travelers game here.
San Francisco Pop Out
While this set does take up a little more space than the first two, I love the idea of setting up a little "village" when your family is traveling. Simply press out the play pieces and match the numbers to create a playset that is durable enough for everyday play. It's ideal to turn a stuffy guest room into a playroom. Get the pop out here.
MORE TRAVEL FROM MOMTRENDS
PIN IT!
Use Pinterest to save your favorite family travel articles, and be sure to follow our Travel with Kids board.
Momtrends was not paid for this post.