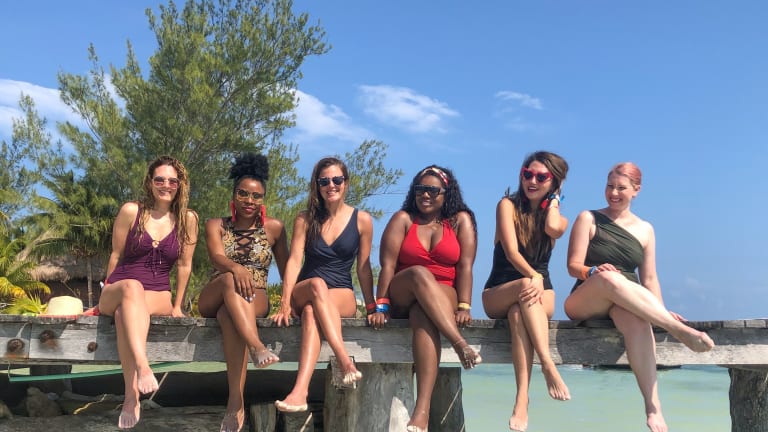 Top Mom Bloggers Head to Cancun for #InfluencerGetaway
Momtrends hosts a weekend of fun in the sun with top brands and the best mom style bloggers
For the second year in a row, Momtrends is hitting the beach to welcome summer. We gathered the top mom bloggers around and headed to Cancun for our annual #InfluencerGetaway. This blogger trip is an opportunity to create content that helps moms get ready for summer. We help them plan the perfect family getaway, score the perfect swimsuit and do some smart packing.
Check out the highlight video from our #InfluencerGetaway here: 
Meet the Bloggers at #InfluencerGetaway
Sandee Joseph: A NYC lifestyle blog by Sandee Joseph offering fashion & beauty inspo and home decor plus travel tips. Find out more about her here. 
Read Sanee's post here http://curvenvy.com/seadust-cancun-family-resort-best-family-destination-in-mexico/
Titilola Sogunro (aka Titi): One of Atlanta's top lifestyle bloggers, Titi writes about fashion, natural hair care & travel. Find out more about Titi here.
Read Titi's post here https://www.titispassion.com/2019/05/get-swimsuit-season-ready-with-amoressa-swimwear.html
Carly Brydon: One of the top LA lifestyle and fashion bloggers, Carly of Lipgloss and Crayons today. Advice on fashion, motherhood, education and more! Find out more about Carly here.
Read Carly's post here: https://lipglossandcrayons.com/seadust-cancun-family-resort/
Brianne Manz: In her blog, Stroller in the City, Brianne Manz gives readers a peek into her enviably stylish New York City life, which includes raising three kids in Manhattan.
Read Brianne's post here https://strollerinthecity.com/mexico-is-always-a-good-idea/
Stella Leo: This mom blogger is one to watch with her chic and effortless style. She's a NYC mom to a major mini-fashionista who loves celebrating life in a stylish way. Check out her blog https://stylishlystella.com/
Read Stella's post here https://stylishlystella.com/2019/05/does-trying-on-a-swimsuit-make-you-cringe-if-so-read-this/
Where we Stayed for #InfluencerGetaway
We were hosted by the lovely Seadust Resort Cancun. It's an all-inclusive property with a big wide beach and tons of activities. 
The gorgeous Seadust Resort in Cancun was the perfect spot for our trip. All the bloggers were treated to ocean-view rooms with hot tubs on the decks. The food was delicious (our favorite was the El Maguey authentic Mexican restaurant) and the setting was sublime. Whether you're traveling with the kids or girlfriends, this resort is an ideal spot for an active Mexican vacation.
Find out more about the Seadust Cancun Resort https://www.momtrends.com/travel-2/family-review-seadust-resort-cancun
The Perfect Suits for a #InfluencerGetaway
Packing for the perfect beach vacation doesn't have to stress you out. We worked with two swimwear brands to outfit our mom bloggers in style and confidence. 
First, up we have the beauties in MiracleSuit. Slipping on a MiracleSuit is like getting a boost of confidence in the form of lycra. The brand says you look 10 pounds slimmer in the 10 seconds it takes to slip on the suit.
Find out more about MiracleSuit swimsuits here https://www.momtrends.com/style-2/why-you-must-experience-miraclesuit-swimsuit-once
We also entrusted our blogging friends to the glamorous Amoressa swimsuits. Amoressa Swimwear is a high-end fashion line of figure-flattering swimsuits. The suits are sexy and refined. Each suit it engineered to make you feel sexy and strong. I love the sophisticated prints and the embellishments. 
Keeping Organized on Vacation with Mabel's Labels
Moms know a thing or two about staying organized. That's why savvy moms rely on labels and supplies from our favorite brand Mabel's Labels. Mabel's gave each of our bloggers these personalized travel kits. 
This travel combo includes labels designed specifically for suitcases, as well as a variety of others for toiletries, electronics, water bottles and everything else you take traveling.
Get your Travel Label Pack from Mabel's here.
Get More from Momtrends
Want to know more about what we do here at Momtrends? Check out how to work with us.
This Top Mom Bloggers Head to Cancun for #InfluencerGetaway post isn't sponsored. It's a recap of our time in Cancun.