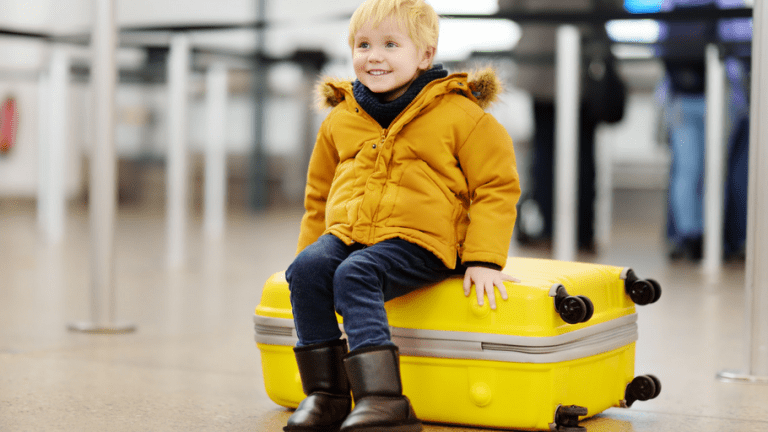 The Challenges (and Rewards) of Flying With Children
Have Kids, Will Travel... Some Tips to Make It Easier!
Summer is right around the corner, and we've got big plans to ... Of course, while incredibly rewarding, traveling with kids is also immensely challenging--especially if it entails a long-haul flight. The air pressure, potential turbulence, and the necessity to remain seated for long stretches of time add up to one meltdown-worthy experience (and that's just for the parents- ha!). 
My husband and I have gone on a few air-travel trips with our children, but, thus far, we've kept the flight time to a minimum-- a hop skip and jump to Florida here or a jet-set trip to visit the in-laws in Kentucky there... Easy, breezy, quick, and relatively painless. We'll brave the flight to Hawaii one day... but not just yet. 
Still, there was that one time that we sat on the tarmack for two hours before we even took off. That was rough, and it definitely took some creative thinking, a whole lot of bribery, and #allthesnacks to get us to landing time tear-free. (Okay, I may have shed a few.)
You know who else is familiar with air-travel challenges: cabin crew experts. In fact, Emirates Airlines recently unveiled new survey data revealing the challenges of flying with children, and, what's more, offered helpful solution froms their very own in-flight team.
And it looks like I might as well increase our flight distance now; as waiting a few years won't matter much. Emirates found that while kids do get better at flying as they get older, many kids across all ages still get antsy within the first two hours of a long-haul flight. Not surprisingly, 70% of travelers say that kids under 2 get antsy in the first two hours of the flight; but 57% and 32%, respectively, also note that children ages 3 to 5 and then 6 - 10 are uncomfortable before hour four. 
Keeping kids busy on the ground can be tricky, let alone tens of thousands of feet up in the air. The number one way to keep kids occupied during a long flight, according to travelers? No shock, here: electronics! People say devices keep kids occupied across all age groups. Fifty-seven percent of travelers with kids under five years old use devices to play movies, TV shows and games; and that statistic skyrockets as kids get older, with 96 percent of travelers with children ages 6 to 10 handing off tablets, phones, gadgets, and gizmos.
No matter how much you prepare or how many movies you load into your iPad, kids are energetic being that need stimulation, activity, and exercise. The travel pros at Emirates recognizes this as a universal fact (statistics aside!), and they're always eager to help with some tips, tricks, and hacks.
Emirates Cabin Crew Tops Tips for Traveling with Children this Vacation Season
For parents flying with babies, try to choose a flight that is as close as possible to their bedtime. This can help them sleep for a large part of the flight. Also, make sure you have sweets or a bottle of milk for babies/toddlers to suck on during take-off or descent, as they may have difficulty equalizing their ear pressure and feel uncomfortable.
For small children, keep one new toy aside to give them mid-flight to ensure they don't grow bored of the ones they already have. This will provide a fun, distracting surprise, and will keep them occupied longer than one of their old toys.
For kids of all ages, find ways to break up activities during the flight. Don't depend solely on games or videos - pack a small puzzle, coloring book or interactive toy in addition to devices or in-flight entertainment systems, and use time between shows or movies to try something different.
When kids are awake, take brief strolls when they are already in good moods. This will help them stretch and break up the time between activities in their seats, and help prevent a restless-child meltdown.
When going through an airport, bookend your kids with one parent upfront and one taking the rear (if possible) to ensure you don't lose any little stragglers along the way, and keep them moving quickly through checkpoints.
And while the Emirates crew didn't say it, I shamelessly will... When all else fails: use bribery. The flight might be not a walk in the park, but you'll forget all about the hardships once you're making family memories around the world. 
This is not a sponsored post. Thank you to the team at Emirates for providing tips.