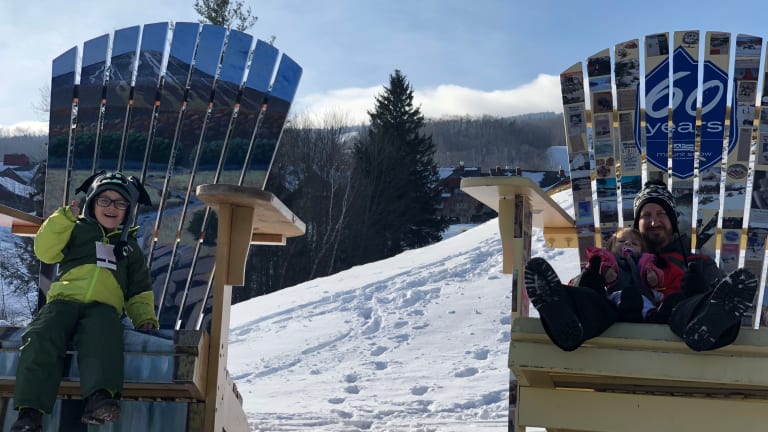 The Beginner's Guide to Mount Snow
Whether you plan to ski or ride, we'll help you smooth over the bumps of the getting on snow experience at this Vermont resort.
Thinking of teaching your kiddos to ski on the East Coast? Many families head to Vermont to start off the experience with smiles. One of the most beloved places is in Southern Vermont and we're excited to share our beginner's guide to Mount Snow. Whether you plan to ski or ride, we'll help you smooth over the bumps of the getting on snow experience. 
Getting Started with Snow Sports
We do a lot of ski coverage here at Momtrends. Nicole, our founder and CEO, is equal parts #MomBoss and #SkiMom; and she's a huge advocate of getting family's out and about and on the slopes together. So when I casually mentioned that my husband and I were hoping to get our five-year-old on up on skis for the first time this winter, her face lit up with excitement. I could instantly see the wheels turn. There was an excited glimmer in Nicole's eye—perhaps she could convert one more beach-loving Bahama mama into a bonafide powder-chasing ski mom. 
Not so fast… I was excited and eager, but I wasn't without some serious hesitations. Unlike my husband who grew up on skis, my first downhill experience was late in college. A boyfriend tried (and failed) to teach me the basics… and it wasn't pretty. Fast-forward a few years, and I found myself in Beaver Creek, CO, once again trying to take a non-lesson lesson from my now husband, then fiance. (And, yes, it's a small miracle we went through with the wedding after that epic downhill debacle.)
Suffice to say, with a few failed attempts and a handful of years under my belt, I assumed skiing was just not in the cards for me. Alas, after just two days (and one ACTUAL lesson) on the bunny hill at Mount Snow, I finally found my "ski legs," and I'm kinda hooked.
I'll break it all down soon, but first let me introduce you to Mount Snow ...
What to Know About Mount Snow 
Vermont's closest big mountain to the Northeast's metropolitan areas, Mount Snow is a resort destination located in the Green Mountains of Southern Vermont. A member of the Peak Resorts family, Mount Snow boasts four mountain faces of downhill skiing and snowboarding--86 Skiable Acres: 600 Total Miles of Trails, and 20 lifts. With convenient on-mountain activities, lodging and dining options, it's an ideal destination for avid skiers and amateurs alike. Mount Snow is now on the Epic Pass (read more about passes here). 
As a beginner, I was thrilled with the learning discovery center, which includes four magic carpet lifts, one rope tow and a fixed grip triple chairlift. There's adequate space to get comfortable, fall on your bum, and get back up again. 
LEARN at Mount Snow
Learning the fundamentals from a pro is key for the first-time kiddo on skis, so I happily sent my little guy off to Snow Camp at Mount Snow ski school (ages 4 - 6)—which runs daily from 9:30 to 3:30 pm. At the end of the day, I got a report card sharing his progress along with some suggestions and tips for practicing together.
I have to admit, I was worried that the long day would be too much for him as a young newbie, but when I tried to pick him up 30 minutes early, he was mad at me! He didn't want to miss a single second of the action!
Options for Childcare and Learning at Mount Snow
I anticipated that I'd have to check my toddler into childcare (which there is for the record), but was pleasantly surprised to learn that that cub camp begins at age 3. From 9:30 to 12:30, itty-bitty skiers (and boarders) "pizza" and "French-fry their way" up the teeniest tiniest slope. I caught a quick peek at the wee ones in action, riding the magic carpet and being guided and pulled on the snow, and let me just say, my heart exploded with pure joy. The tiny helmet, the mini goggles, and the amazing ambition of my baby girl--it took my breath away.
Yes, ski school was a huge hit and major success--for the most part. Full disclosure: On day two, my little one refused to go outside and spent her time coloring; but I'm told this is totally the norm for the youngest students--and especially for my stubborn-willed sassy little monster.
TIP: Get your kids' rentals through ski school if you can. We got them in advance, and the struggle was real. It was their fist time walking around in ski boots and the fitting, shoving, stretching, measuring, and waiting gave us a shaky start. Save yourself the hassle (and meltdowns), and let the instructors do this in their own expert way. Or bring plenty of candy bribes--either way works.
While the kids were learning from the pros, I took a 2.5 hour group lesson and was completely elated to finally see how this can make all the difference. My patient instructor started us in just one ski and got us used to the feeling of 'skating,' maneuvering, and turning. By the time I got my second ski on, I felt totally comfortable. 
PLAY AT MOUNT SNOW
When little legs ache and Mom and Dad need a break from carrying heavy gear, it's time for another, less advanced sport (if you can even call it that).
All the thrill minus the skill! We could't resist the opportunity to ride the super-long magic carpet lift to the eight-lane tubing park. We slipped, we slid, and we screamed with joy and, well, a little fear! This is a great afternoon activity to do as a family after a morning on skis! Of course, those who want even more of a physical challenge can try their hand, er, foot at snowshoeing. There are also daily snowmobile tours for anyone feeling the need for speed.
STAY IN MOUNT SNOW
Mount Snow owns and operates the 197-room Grand Summit Resort Hotel and the 92-room Snow Lake Lodge. Throughout the Mount Snow Valley, there is a variety of accommodations ranging from Vermont country inns to ski lodges and motels. The Mount Snow Valley has approximately 10,000 total beds available between all of the lodging properties--so go ahead and book that last minute mid-week February break getaway!
We had a spacious one-bedroom suite at the Grand Summit; perfect for more than comfortably housing a family of four for a long weeKend. With a king-size bed, a pull-out couch, and cozy kitchenette, we had everything we needed to make ourselves at home. 
I love the ability to make some meals in-room--especially when traveling with little ones. Not only does it save money, it's a convenient option when the kids are overtired and cranky. We made pancakes every morning and whipped up dinner each night. still, we stopped at the first-floor Vermont Country delicatessen each day for coffee, muffins, cookies, and hot chocolate. Speaking on convenience: the ski check outside the hotel door made getting on and off skis a breeze... and made it easier on Mama and Dad who had to constantly carry kids and cargo.
The adequate gym at the Grand Summit has everything you could need while away for the weekend. But the piece de resistance in the hotel was the awesome indoor-outdoor pool! My kids were incredulously excited that we could swim outdoors in the middle of January. This was by far our family's favorite apres destination--a cold beer (for the grownups at least) and a warm dip.
During the weekend evenings, the hotel turned into a major hangout. It felt like a giant and jubilant family party--everyone was sipping drinks in cozy chairs and gathering to recount their best runs of the day. 
Of course, as much as we wanted to partake in the festivities, my two littles needed rest and relaxation... another big day of adventure and learning ahead of us!
More Of Our Favorite Vermont Ski Experiences
PIN IT!
Use Pinterest to save your favorite family travel features. Be sure to follow our Ski Moms Pinterest Board.
This is not a sponsored post. Thank you to Mount Snow for hosting us and facilitating activities. All opinions are still our own.