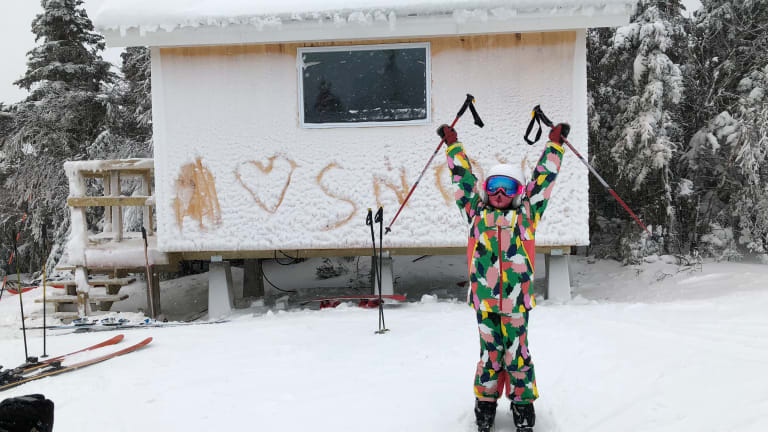 Sugarbush Ski Day
Plan a Perfect Snow Day with Your Kids
Vermont has so many great mountains, I'm lucky to have skied a lot of them. Recently, I spent time in Northern Vermont at Sugarbush Mountain. In our Sugarbush Ski Review we talked about planning your trip, now it's time to play in the snow and figure out how to make the most of your on-mountain time. Let's plan a perfect Sugarbush ski day.
Related: Seven ways to prepare your family for ski season during COVID
COVID Updates for Sugarbush
Sugarbush is working hard to make the ski and riding season happen. This week they rolled out the beginning plan for the 2020-21 season. Let's go through the plan by the numbers.
Download the app. The first thing you need to do is get the Sugarbush app. It's going to be your go-to resource for planning, as well as, health and safety information. 
Book your tickets. Lift Tickets will be on sale before the season gets under way and must be purchased ahead of your visit. The mountain is still figuring out how to manage Ikon Pass visits. Reservations will likely be required this season, but nothing is firmed up yet. To stay up to date on all the Alterra properties and your Ikon Pass, bookmark this page https://www.ikonpass.com/en/reservations
Get your gear. Ski and snowboard rentals must be reserved ahead of time. I'm going to suggest you get your gear BEFORE you get to the mountain. Consider this a season lease that will ship right to your door. 
Plan to ski together. No group lessons this year. Private lessons will be offered for individuals and small groups of family and friends. 
Consider tailgating. Sugarbush will be rolling out a new food ordering and dining reservations platform for all of our resort food and beverage outlets. Conveniently order food and drinks from your phone ahead of time for pick up or reserve a table for a sit-down meal at participating restaurants.
Book a Cabana. Sugarbush will have heated cabanas for rental at the base. It'll be safe place to warm up the family.
Manage your time. The lines will be longer for lifts as there will be limits to how many people can be safely seated. Also, this year. Sugarbush is not offering "Line Cutting Privileges" a pass that allows for priority access.
What's Happening in Vermont
It's important to check out Vermont State Travel Guidelines, our Sugarbush Health Protocols as well as our attestation requirements before you make the trip to the mountain. Head here to read our How to Safely Ski in Vermont this winter post to get up to speed on travel guidelines.
Getting Started on your Sugarbush Ski Day
Sugarbush is spread over three peaks: Lincoln, Castlerock and Mt. Ellen (with the highest elevation 2,600'). All in, there's close to 600 acres to ski and 111 trails.
Get your RFID card and your rentals in Lincoln Peak Village. From there, beginners are going to head to right to go to the school house lift or the village quad. It's a nice, small sheltered area where new skiers and boarders can master some skills out of the way of faster traffic. On the downside, there's not a ton of beginner terrain. First timers will be kept busy with the basics for a day or two, but this mountain is best suited to families with some experience.
We headed up Gate House for a warm up run down Hot Shot and Waterfall. The wide open trail had plenty of pitch and the snow quality was phenomenal. We put in a few laps off the speedy quad lift to get the feel for the snow. Then we met up with our mountain guide, John Egan. Egan is an icon, he's been in a ton of Warren Miller films and has a storied ski history.
He led us up Super Bravo. We warmed up at bit at Allyn's Lodge since it was a brisk (about 17-degree!) day. Allyn's has a HUGE fireplace and room to rest. If you don't want to lose a lot of time on snow, grab a bite on the hill. Fuel up at Glen House at Mt. Ellen or Allyn's Lodge on Lincoln Peak. 
With only two days to ski, we couldn't get to everything. Mr. Momtrends got to ski over at Mt. Ellen and loved it. He highly recommends an on-mountain snack of this egg sandwich with Cabot cheese.
John took us down Spring Fling and swung in and out of the trees. Glad skiing at Sugarbush is a treat. Since there aren't big crowds, you're sure to find some fresh powder stashes back there.
On our second day, we had a nice snowfall to work with. Our favorite turns were found off of the North Lynx Triple lift. The fluffy snow and iced trees along Birch Run made for spectacular scenery. Bottom line: Sugarbush makes incredible use of the scenery. Life is busy, getting metaphorically lost on this mountain is a great way to forget you are a grown-up and tap into the joys of snow you felt as a kid.
Ski Lessons: Never Stop Learning
Head to The Schoolhouse in Lincoln Park to get the kids into their lessons. For grown-ups, pop on over to The Farmhouse.
If you get the chance, I always recommend a ski lesson. No matter how good you get at skiing, there's always room to learn. Maybe you'll learn a new skill or maybe you'll discover a new favorite trail; either way, make the investment in getting a professional to show you the way.
Sugarbush has some special programs they run like the two Women's Discovery Camps. As your expand your skills and make new friends the kids will have fun too. For each day of the program, each Women's Discovery Camp participant receives either a half-price full-day kids program in The Schoolhouse children's center or a half-price companion all-mountain lift pass. In addition, they also have a ski camp just for those 65+ - they call it the "Boomer" camp. I call it an awesome idea.
My 10-year-old daughter and I spent half a day with John Egan (US Ski and Snowboard Hall of Fame 2016). John was the Chief Recreation Officer at Sugarbush Resort. He's also an inspirational speaker and leadership coach. But, mostly, he's a wealth of knowledge and a lot of fun.
Snowshoeing Sugarbush
If you need a break from skiing, consider a day in the woods on snowshoes. You and your kids can head off on a self-guided tour or you can book a guided tour. Either way, you can rent snowshoes at the Farmhouse at Lincoln Park.
We were treated to a tour led by Sam. Sam has spent a lot of time outdoors flying planes, sailing and doing a lot of skiing and hiking. He got us outfitted with snowshoes and ski poles at the base. From there, we headed up the Super Bravo lift (on foot) and then slipped on our snowshoes and hiked down Eagan Woods.
Along the way, Sam shared his skills as a naturalist. We learned about trees and critters and had a fabulous time slowing down and just chatting together. Plan your snowshoe adventure here.
Are you ready to plan your Sugarbush vacation? Get the rest of our advice on our main feature on Sugarbush here. 
MORE SKI FEATURES FROM MOMTRENDS
PIN IT!
Use Pinterest to save your favorite family travel features. Be sure to follow our Ski Moms Pinterest Board.
This is not a sponsored post. We were provided accommodations to facilitate this review.