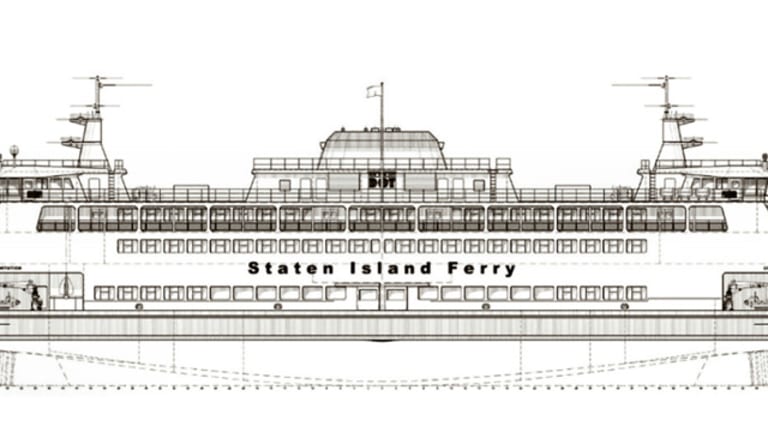 Family Fun With Staten Island Ferry Tours
Get one of the best views of the city for just a few dollars.
The best view of lower Manhattan won't cost you and your family a cent if you own a MetroCard. Simply stroll onto the Staten Island Ferry and leave your wallet shut (isn't that a relief!). Sit back and enjoy this 25-minute tour you won't soon forget. Park your stroller and peer out at the Statue of Liberty, the Verazzano Bridge and of course, Staten Island. On the return trip (you'll head back from the St. George Terminal), you'll get a majestic view of lower Manhattan and Wall Street (we dare you NOT to think of the Movie Working Girl when landing).
Related: NYC's Little Island Park
Hop on the Staten Island Ferry
All in, the boat covers 5 miles each way. Your kids will love the break from walking around, and you'll love the cool breezes. Feel free to bring snacks on board, and here's a little tip--the ferry sells beer (hey, it might have been a long day at the office). You will have to disembark at Staten Island--plan accordingly. Most likely, you'll not catch the immediate return, so spend a while strolling along the walkways of Staten Island. Try to avoid rush hour (these busy boats shuttle 70,000 passengers on an average day). From start to finish, set aside at least 3 hours for this journey.
The ferry is the only non-vehicular mode of transportation between Staten Island and Manhattan. NYC DOT operates and maintains the nine-vessel fleet as well as the St. George Ferry Terminal on Staten Island, Whitehall Ferry Terminal in Manhattan, the City Island and Hart Island Facilities, The Battery Maritime Building and all floating dock building equipment. 
More about the Ferry
The Staten Island Ferry is run by the City of New York for one pragmatic reason: To transport Staten Islanders to and from Manhattan. Yet, the 5-mile, 25-minute ride also provides a majestic view of New York Harbor.
You'll see the skyscrapers and bridges of Lower Manhattan receding as you pull away and coming into focus again as you return. A typical weekday schedule involves the use of four boats to transport approximately 70,000 passengers daily (117 daily trips). During the day, between rush hours, boats are regularly fueled, and maintenance work is performed. Terminals are cleaned around the clock and routine terminal maintenance is performed on the day shift. On weekends, three boats are used (96 trips each Saturday and 96 trips each Sunday). About 40,404 trips are made annually.
For more information visit:
Staten Island Ferry Departure from Lower Manhattan The Whitehall Ferry Terminal 1 South Street, and is accessible from the 1, 4, 5, N, R, W, J, M, Z subway lines Cost: Free www.siferry.com
MORE NYC CENTRIC THINGS TO DO
PIN IT!
Use Pinterest to save your favorite NYC outings. Be sure to follow our New York City board here.