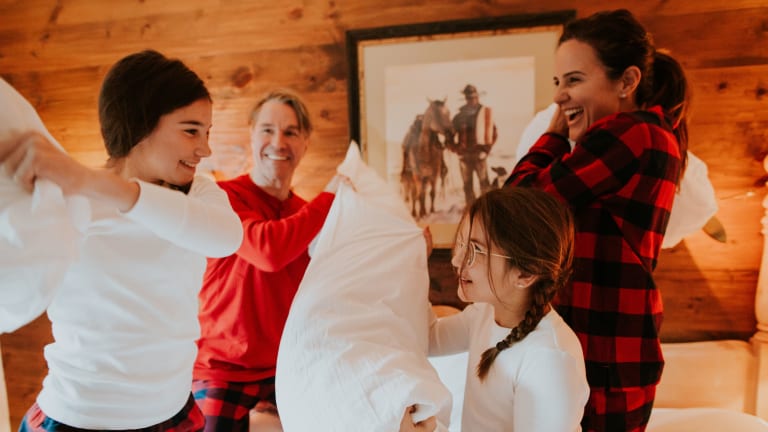 Sonnenalp Vail Luxury Family Vacation
Check out what's new at the Kid's Club at this awesome Vail resort.
Sonnenalp has been helping families make memories in the mountains for more than 40 years. This holiday, let the team at this exclusive family resort take the pressure off Mom and Dad and allow everyone to be a lot more merry. Holiday breaks can be great, but they can also be stressful. Picking a resort that will take care of everyone in the family is essential - that's where the Sonnenalp, Vail luxury family vacation comes in. 
Book the Sonnenalp, Vail on Expedia here.
Sonnenalp Vail Luxury Family Vacation
Nestled into the Center Village of Vail, the Sonnenalp is the prime location for all Vail has to offer; once you arrive from Denver or Eagle airport, you'll barely need your car. Everything you need for a perfect winter family vacation is at your fingertips. 
I've talked about the spacious rooms (unlike most resorts, this one has a wide offering of two bedroom suites) and the gracious atmosphere. All the pleasures adults appreciate. But you know what kids appreciate? Space to play and friends to play with.
Parenting Is Easier with Sonnenalp Kids' Club
Let's say Mom and Dad want to have a cocktail or enjoy a spa treatment or simply read a book out by the hot tub, that's where the Sonnenalp Kids' Club can help a parent out. The Kids' Club offers structured activities and adventures for kids led by a cheerful and energetic team. 
Kara Hasbrouck- Schmidt is the Guest Activities Supervisor and she dreams up the plans for the kids. Kara has 13 years of teaching experience and worked as an Elementary School Art teacher.  
Each week Sonnenalp publishes a list of activities.  Some activities are free (included with hotel stay) and others have a small fee. Activities are drop off and fully supervised.
Let's take a look at what's coming up over Christmas break: There's the Christmas Movie and Dinner (from 5-8:00) and most afternoons over at the Kids' Club Play & S'mores 4-6pm. It's a perfect place for the kids to safely play and meet other children in a playful setting. The Kids' Club is a dedicated room full of toys and art supplies, located at the hotel. 
Book your spot by calling the concierge at 970-479-5429. Kara also puts together other activities, like guided hikes aimed to get the kids active and moving outside of the hotel.
Parenting is Easier at Sonnenalp 
To show you just how much better life can be in the mountains, I put together this fun video highlight reel:
Skiing and Boarding are Easier at Sonnenalp
A winter trip to Vail usually includes time on the mountain. And Sonnenalp is prepped and ready to make family ski and boarding maximum fun. At check in, send your snow sports gear off to the Ski Concierge. 
The next morning when you're ready to take on the slopes, stroll through Vail Village to the Gondola. You won't need to lug anything, just bring your sense of adventure and the kids. The Ski Concierge is a one-stop experience. The Sonnenalp Ski Concierge at Bridge Street Skihaus boasts top-of-the-line rentals for ski and snowboard equipment. Pick up or update your gear with a full selection of outerwear. If you bring your own skis, the team can arrange for tuning, repairs and waxing. 
Once you have your gear sorted, it's easy to layer up and get going. Sonnealp's location is steps away from Gondola One. After you've finished for the day, unload at the Ski Concierge and they'll take care of sorting and drying everything. And any parent who loves snow sports knows the power of a good bribe. The cookies at the Concierge room are just the thing to end a day!
Family Dining Is Sublime at Sonnenalp
Speaking of cookies, there's a ton of good food to Indulge in at the Sonnenalp. Our favorite meal might be the Ludwig's breakfast. It's set up with stations that appeal to even the pickiest eater. My top picks include the quiche and the smoked salmon. The kids can't resist the French toast and we all agree that the European bread selection can't be beat. 
Momtrends tip: Don't miss out on the hot cocoa with whipped cream
For dinner, we always plan two meals at the hotel. On our first night we usually visit the Bully Ranch. It's a casual restaurant perfect for kids, but with food adults appreciate. Our girls love the burgers, I am smitten with the tortilla soup and the fajitas. Arrive early, Bully doesn't accept reservations and there can be a longish wait after 6:30pm for a table.
Our more elegant meal is planned at the Swiss Chalet. It's a traditional menu and you cannot skip the cheese fondue. Don't worry about calories, it's vacation. The kids and grown-ups will love the shared experience of dipping into the savory Alper Fondue with herbs. Be sure to book your table in advance, this restaurant fills up.
Momtrends Tip: Ask your server to add green apples, they were delicious dipped in the cheese.
Life Is Easier at the Sonnenalp
This was our third stay at the Sonnenalp and I must say it just keeps getting better. I think one of the main differences is the resort is still family owned and operated. The Faessler's have privately held the resort for five generations. We discover new delights every time we visit (room 435 was amazing by the way). Mr. Momtrends and I have a dreamy vision of taking our grandkids here some day. No rush girls, but the Sonnenalp is one of those treasured destinations where generations meet to make memories.
Plan your trip to the Sonnenalp, Vail https://sonnenalp.com/kids-club/ 20 Vail Road Vail, Colorado, 81657 phone 866-284-4411
MORE SKI FEATURES FROM MOMTRENDS
PIN IT!
Use Pinterest to save your favorite family travel features. Be sure to follow our Ski Moms Pinterest Board.
This Sonnenalp Vail Luxury Family Vacation feature is not sponsored. Our stay was hosted but many of our experiences were paid for by Momtrends.