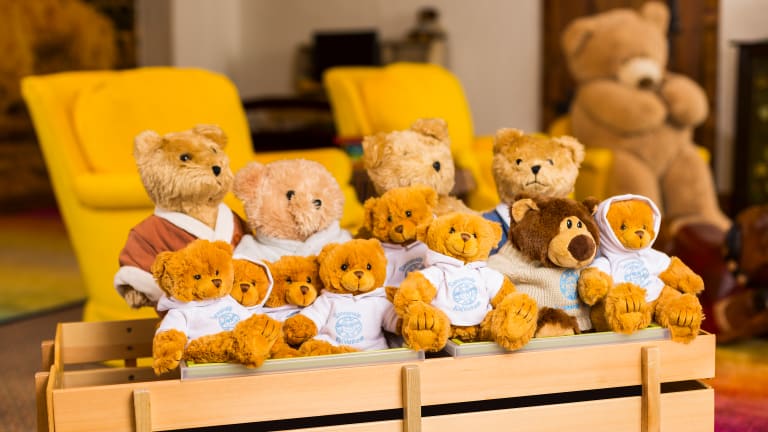 Publish date:
Sonnenalp Kids Club
Vail Family Memories Start Here
Vail Family Memories Start Here
Let's start by saying I know you love your kids. I want to get passed the mom guilt that we all experience. I'm just going to say it: It's OK to travel and NOT spend every second with with your precious offspring. Resort offerings like the Sonnenalp Kids Club are meant to help moms out. So let go of the guilt and get ready to have your best Vail vacation ever!
I'm a pretty seasoned family traveler. We've hauled our girls (now 12 and 9) to 22 different countries and 25 different states. I've seen some pretty epic meltdowns over our journeys (one particular flight from Johannesburg to Cape Town will go down in infamy). When I give travel advice to parents, it's not from a place of superiority, it's a form of self-preservation.
Fact: Resorts with a kids' club simply make life better.
For the past three years, we've made the Sonnenalp Resort in Vail our home away from home for Thanksgiving vacation. It's a way to recapture the true joy of the holiday season.
All the family programming is a HUGE part of why we pick this resort. It's not just a winter getaway, it's a year-round mountain haven for busy families who want family time that won't leave mom more exhausted than she was before the vacation.
Sonnealp Kids Programming
Let's talk about the biggest draw to the resort: all the programs for kids. Yes, you can ski at Vail (and Sonnenalp's ski valet and luxe skier's lounge make it super convenient to get the kids up and out to ski school), but it's all the little things back at the resort that make the difference.
Moms deserve time for a sublime facial or a glass of wine and a romantic dinner with their partner. Of course we want snuggles, snowball fights and ice skating, but a great vacation is all about balance. Sonnenalp Kids Club gives you that balance. 
Did I mention it's free?
The Kids Club is offered at no additional cost. You'll only have fees for things where dinner is provided or if it's an off-resort excursion like the gondola ride. Get all the details on the Sonnenalp website here https://sonnenalp.com/kids-club/
It's wonderful! Every day is an adventure. Simply contact Kara, the Guest Activities Coordinator and reserve your child's spot. In a typical December week, children can enjoy an ornament making arts-and-craft time, s'mores by a campfire, tubing off the Vail gondola, and a movie night with pizza party.
Summer programming includes hiking and trips to the local playground. When my kids go to the Sonnenalp Kids Club I can completely relax. I know the girls are safe, having a good time and making new friends. Everyone wins!
Take a look at some of the weekly programming. 
While some activities take place in and around Vail Village, a lot of the programming happens in the cheerful kids' space. It's clean and full of creative playthings and room to move around. Kids Club is open to children 3 years of age (must be potty trained) up to 12 years.

Yell Less, Love More
A mom's day is often filled with challenges ranging from fussy toddlers to troublesome teens. The everyday stressors associated with being a parent can become overwhelming, especially for moms of little children. Let's be honest…we all have been there. How many times have you ...read more
Sleep hack to give moms a more restful night
Looking for a life hack to get better sleep? Here's my go-to sleep hack to give moms a more restful night: get better pillows. Thanks to perimenopause, my sleep has been interrupted and I was finding it hard to get back to sleep after my 3am wake-up. I lowered the temperature in ...read more
Our Best Brow Tips
If you've been on TikTok at all in the past couple of years, you know that full brows are where it's at. Sure, the 90s are back, but thankfully, the kids left that decade's overplucked brows trend good and buried. Now even if you don't have the naturally full brows you once did, ...read more
On our last visit, the Thanksgiving crafts were going full force. Kids were popping in and out for supervised crafting while adults were able to linger over second helpings at Ludwig's resuarant.
As my girls have gotten older, they still want to join in the fun. The small group atmosphere and luxury setting makes this experience happy for even the pickiest tweens!
When the girls have free time, they can also pop into the game room. It's right next door to the Kids Club space.
Are you starting to understand why I find this spot so relaxing? Skiing can be tiring, having a home base like this WITH CHILDCARE makes all the difference. It's like traveling with a nanny!
What about the rooms?
Read more about the rooms here, but know they are spacious and perfectly appointed with all a family can need. In addition to the play spaces, the resort is a dream for family time. There's just so much room to move around at this resort! 
Sonnenalp has a perfect layout for our needs. When I crave grown-up time, I can schedule a spa treatment, take a yoga class, or relax in the solarium. I look at the Kids Club schedule, sign them up and then book my "me time." 
When I want to play with the kids, I can set up the chess board in the library, jump into the huge indoor/outdoor heated pool or take them to hear live music in the lounge. Well behaved kids are welcomed everywhere.
From thoughtful programming, to exquisite decor to instagram worthy food, this resort is a gem. Momtrends Tip: Ordering hot chocolate at breakfast is a must!
This is a resort where kids dress well, enjoy a bit of supervised spoiling and have the time of their lives. Trust me, after booking a Sonnenalp stay it you'll join an exclusive club that keeps returning year after year. This is the Vail resort where family traditions are made.
This is not a sponsored post. We were given resort lodging to help facilitate this feature on the Sonnenalp Kids Club.