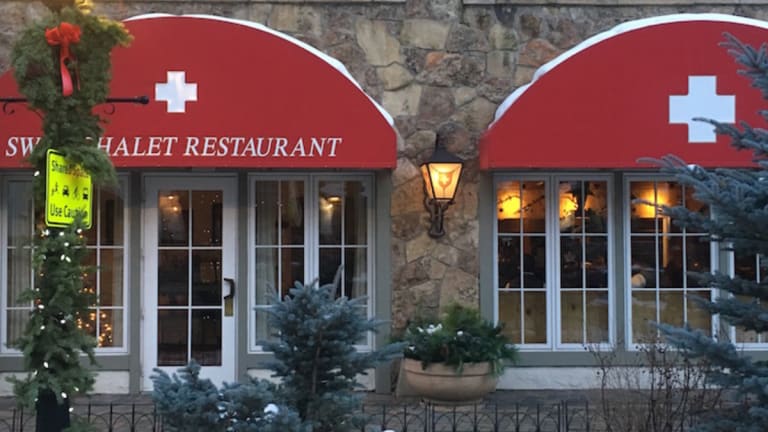 Sonnenalp Family Travel Vail
Leave the planning of your next family ski vacation to the Sonnenalp resort in Vail where luxury is a top priority.
Sonnenalp is all about making family memories. Here's the thing. Time is precious. We all wish we had more of it--especially when the kids are little and want to travel with us.
Book the Sonnenalp, Vail on Expedia here.
We ski a lot. And we have it down to a science on how to pull off a rewarding, action-packed trip. Most of the time this involves a ski trip where Mr. Momtrends and I clock some serious mountain time with the girls, but I leave feeling less than invigorated after a week of playing house in a condo, schlepping skis and cooking. At the luxurious Sonnenalp resort in Vail, I can let go of handling the details like keeping track of ski gear, meal planning and mapping out activities. Travel bliss happens when mom can relax and let someone else sweat the small stuff.
That's right. You can create a ski vacation that is equal parts relaxation and exhilaration.
Let's start with the location. Sonnenalp is located about 10 minutes from Gondola One in Vail Village. It's on a pedestrian square in Vail where families can stroll and take in all Vail has to offer: fine dining, shopping and aprés ski activities.
The hotel is the perfect size (112 luxury suites and 15 hotel rooms). Large enough to have world class amenities, small enough to get personal service. And service is key. The resort is family owned and operated--and guests feel that. There's nothing corporate or sterile. It's elegant and warm.
The Sonnenalp is nestled on Gore Creek; the views from our window not only showed the creek and mountain but the outdoor pool. Our duplex room was on the top floor of the resort. We loved having so much space to spread out and stash our ski gear. Once we unpacked we were able to ease right into vacation mode.
Our suite had two huge bedrooms and three baths. Plus, this gorgeous living space with gas fireplace. A great spot to curl up with a book. The rooms were flooded with natural light and we had three balconies. The only thing it was missing was a coffee/tea maker. At night when I wanted to sip camomile tea, I was sad to find out I had to go to the spa/pool area to make a cup.

Sonnenalp Activities and Facilities
The staff is exceptional at making guests feel welcome. It's classic European service--not obsequious or overbearing. It's subtle, attentive and gracious. Take the robes at the spa. I took my little one for a swim on the first day at the glorious indoor/outdoor pool. We put our suits on in the locker room and got ready for a dip. A lovely gent came over with the perfect sized Frette robe for my daughter. How cute are the girls in the robes.
Oh and the facilities are divine. I took a great yoga class one morning--the perfect spot to undo stiff muscles from skiing. The gym area is modern, bright and well-equipped. When we were there the German national ski team was also at the hotel. They got in some fierce workouts! For me it was a quick run on the treadmill and then a signature massage at the spa. The locker room also has a steam room and sauna.
We spent lots of time in the pool--both indoors and out. Are there kids out there who don't love pools? Mine can swim for hours. That means I can actually read a book or magazine and sip a tea while they frolic. Pools rock.
Sonnenalp Kids Club
For smaller kids, the Kids Club at Sonnenalp is a safe, fun, spot to play and make new friends. Each week the Sonnenalp team dreams up activities for the kids. From movies, to crafts to rock climbing, the friendly staff will attend to your kids for a few hours so you can luxuriate in that spa appointment or take a few runs down those back bowls. When we went to pick my daughter up she said, "No, I'm not ready to go yet," That's the sign of a good club!
Speaking of taking care of kids, there's nothing fun about getting kids into ski gear. Sonnenalp takes the aggravation out of the process by providing a ski concierge right at the base. Check in at the Ski Haus by the Vail Village base and head downstairs. The Sonnenalp team will give you a basket for your shoes and a warm, comfy place to change into boots and helmets.
There are plenty of places to rent skis in Vail. It is also served by the Ski Butler service which will bring all your gear right to your condo or hotel.
At the end of the day, stash your skis and poles outside, then tromp down to the changing area and ditch your helmet and boots. Refuel with a warm cookie and some cappuccino.
Dining at the Sonnenalp
Of course you can't just eat cookies all week. Sonnenalp has many world-class options. We had dinner with the kids at Bully Ranch. It's a casual restaurant with a western feel. High praise for the kids menu--there was grilled mahi mahi on it with steamed vegetables. Hurrah for providing non-fried options. The room was bustling and full of families. The perfect spot for a post-ski meal.
Breakfast is served in Ludwig's. It's a serious spread--a true German feast. All the breads and baked goods are so tempting. There's also cured meats, cheese and tons of the traditional breakfast dishes like eggs, hash browns and blintzes. Don't miss the granola or the multi-grain bread. We fueled up for the big days on the slopes. The room is flooded with sunshine, this was our favorite spot in the entire hotel to take in the views.
For grown-ups, I suggest a dinner at the Swiss Chalet. The menu has traditional fondue and raclette. The food was so comforting and decadent. On a snowy night, I can't think of anything more perfect.
This hotel is for all the weary parents out there. You work hard, you want to make a special vacation. Leave the planning and details to Sonnenalp. They are in the business of turning your ski trip into a vacation.
Book the Sonnenalp, Vail on Expedia here.
MORE SKI FEATURES FROM MOMTRENDS
PIN IT!
Use Pinterest to save your favorite family travel features. Be sure to follow our Ski Moms Pinterest Board.
This is not a sponsored post. We were given access to the hotel to facilitate our review.