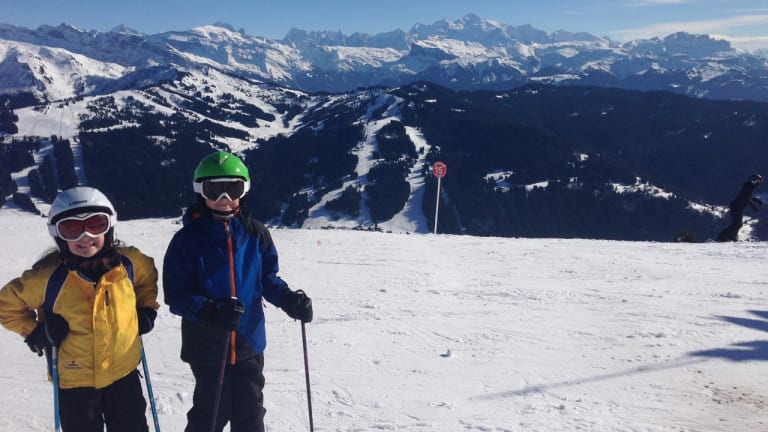 Skiing in Europe with Kids
Charming slopes away just across the pond
I've always wanted to go skiing in Europe. It's definitely on my travel bucket list. When we were were putting together our 2017/18 Family Ski Guide, I reached out to some friends to try to get the scoop on what makes European trips so awesome.
I was able to connect with Katja Gaskell a writer for both Globetotting and Twist Travel and she put together this great piece. Thanks Katja!
Use Expedia to plan your next trip to Europe.
Ski the Difference in Europe
There are many reasons why I love skiing in Europe but one of my favorite things are the resorts. More often than not, European ski resorts have evolved from centuries-old mountain villages nestled between towering peaks. This means that many of the ski resorts are full of character and charm; traditional wooden chalets draped in piles of fresh snow, streets lined with hundreds of sparkling fairy lights, and crepe stands doing a roaring trade in freshly made French pancakes liberally spread with Nutella. Of course, not every European ski resort is an idyllic chocolate-box village, but if aesthetics matter, there are plenty of pretty ones to choose from.
The other main reason why I love to ski in Europe is that there are many resorts that are perfect for families with excellent ski schools, gentle beginner slopes and a family-friendly feel. Some of the more popular ones include the Austrian town of Wengen, which can only be reached by cog railway, or the French Alpine village of Morzine, whose old streets are postcard-perfect. 
Also in France is the high-altitude resort of Avoriaz, a purpose-built ski village with a traffic-free centre. This means that you and your luggage are transported to your accommodation by horse-drawn sleigh (or snowcat if you prefer, but who doesn't love a horse-drawn sleigh in the snow?!). Family favorite Alpbach is also one of the prettiest villages in Austria and Saas Fee in Switzerland is a car-free village that has two terrain parks making it a good option for families with both older and younger kids.
Where to Ski Europe
The wonderful thing about skiing in Europe, however, is how many countries actually boast a ski resort. France, Switzerland and Austria may be the most well-known but Europe has so much more to offer with family-friendly ski destinations in countries including Norway, Sweden and even Slovenia - the Eastern European resort of Kranjska Gora was recently named the best value family ski resort in Europe. These lesser known resorts are particularly good for families as the slopes are much less crowded – plus, a ski holiday can often save you dollars.

And then there's the food. Once you've finished on the slopes, indulge in the local speciality from Tartiflette in France, a dish of potatoes, bacon and onion topped with a rich, creamy sauce to Raclette in Switzerland, melted cheese that is eaten with potatoes and cured meats. In Austria, the favourite post-ski dish is Tiroler gröstl, made up of fried potatoes (are you sensing a theme here?), onions and meat, topped with a fried egg. And it's no surprise that in Italy you get really good pizza!
Of course, it's not all powder and sunshine in Europe; the snow is not as reliable as in America, ski lift queues can be chaotic and you won't find any speed monitors patrolling the slopes. But, if you're after diverse skiing, a picture-perfect setting and a family-friendly atmosphere, then Europe has a lot to offer. As they say in France, bon ski!
Know your slopes!
Green run – beginner
Blue run – intermediate
Red run – high intermediate to advanced (single diamond)
Black run – expert (equivalent of a double black diamond run) 
2017/18 Family Ski Guide
Get more ideas on where to ski and what to bring with our 2017/18 Ski Guide here
Pin it! Save this to your Travel Bucket List Board
This Skiing in Europe with Kids Feature is not sponsored.