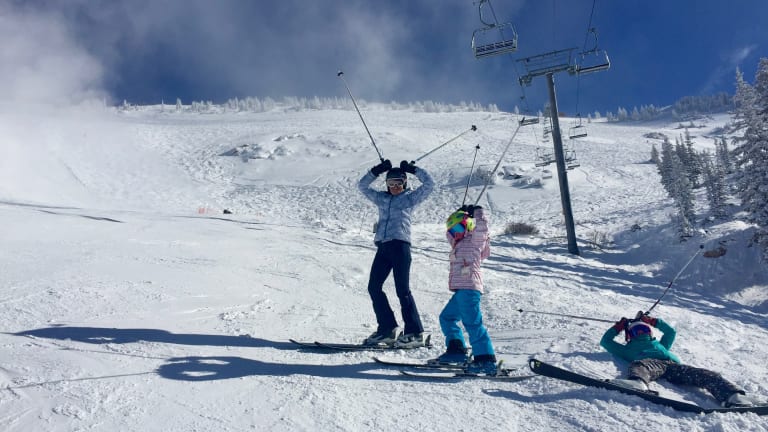 Ski Utah is Your Ticket to Winter Fun
Passport Program winter fun for your 5th and 6th graders!
Some people dread the middle school years, but I'm here with some good news. These years can be the best. The key is to figure out how to stay connected to your kids. Our family bonds over skiing. Those lifts can be the perfect time to start a meaty conversation or to giggle over powder day fails.  
The Ski Utah Passport Program is your ticket to winter fun for your 5th and 6th graders! Middle school is the perfect time to teach your kids to ski. Why? Because the snow is better there and this state knows how to make families feel at home. It's not an accident that we started our girls on skis in Utah. 
Why pick Ski Utah?
It's a great place to learn, with wide-open runs and nature's perfect powdery snow. That photo above was from Snowbird on a powder day. Though you can't see it in the picture, I was laughing so hard I almost wet myself. My tween daughter (who is the strongest skier in the family) got suck in the powder. I was trying to dig her out and was in hysterics. Here on the East Coast, we get what you call "firm" snow or "bullet proof powder" in other words, ICE. It's a real treat to remember that falling doesn't have to hurt and in fact can be really fun. 
Thankfully powder is only a few hours away from city life. Living in NYC, I'm a direct flight away from 10 resorts that are within an hour of the airport, so it's easy to try different mountains. Thanks to the Ski Utah Passport program the mountains are more affordable and accessible than ever. 
The Passport was started years ago by the Utah Ski and Snowboard Association.This group is a non-profit trade organization founded in 1975 with the aim of promoting Utah's ski and snowboard industry. Ski Utah represents 14 resorts across Utah. I've teamed up with them over the years to share my love of the sport and help get more families out on snow.  They put together 10 reasons why you need to Ski Utah -- https://www.skiutah.com/explore/snow. Here's one fun fact that all the New Yorkers should embrace...it doesn't always have to be icy.
Sign up for Ski Utah's 5th and 6th Grade Passport Program 
Are you ready for some powder with the kids? It's easier than ever to participate. The program is completely digital this year, making it easier than ever for families who live outside of Utah to participate. For families that live in New York or New Jersey, you get the same deal that locals do. In fact, the program is available to any 5th and 6th graders in the world! 
How to Use the Ski Utah Passport
https://www.skiutah.com/passes/passports/fifth-grade-passport-faq/
Here's how it works:
1. Register online at Ski Utah
https://www.skiutah.com/skiutahpassport/registration/register
2. When you get to Utah, head to the resort window, give the name and birthday of your kids, and they are ready to go! 
When you get from the Ski Utah's 5th and 6th Grade Passport Program 
5th graders get 3 days (39 days total) and 6th graders get 1 day (13 days totally) at 13 Utah resorts for $45.
In addition to the Ski Utah Passport, you'll get exclusive Ski Utah Deals and Discounts. For example at Park City Mountain: Buy one Alpine Coaster ticket and receive the second one at equal or lesser value for FREE.
For a full list of the passport deals head here:
https://www.skiutah.com/blog/authors/kathy/ski-utah-passport-program
Now I'm not going to knock a Disney vacation, I get it there is an attractiveness to a place where animated characters entertain you. But don't discount the power of an unplugged vacation where you can teach your kids something new.
When you play in the snow together your family is bound to get closer. This winter, make time for a snow day with your kids in Utah. The memories are waiting and the passport makes it easier than ever to start.
Compensation was provided by Ski Utah via Momtrends. The opinions expressed herein are those of the author and are not indicative of the opinions ofSki Utah or Momtrends.