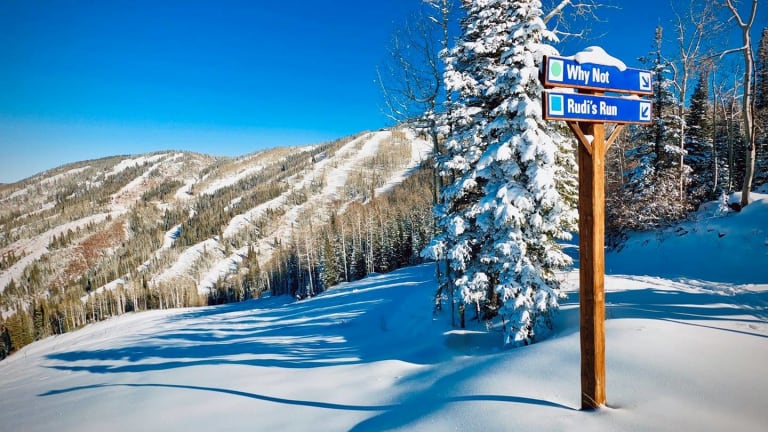 Ski Steamboat for Family Fun
Plan your family ski holiday to an authentic western town full of surprises and winter magic.
Families love skiing Steamboat. When I announced my trip on social media, I was impressed by the responses from the Momtrends community. You guys know this mountain and love it. 
One of the first things you'll notice about Steamboat is that it's an authentic western town. Folks wear boots and cowboy hats without irony. You'll spot ranch after ranch on your drive in from the airport and you won't get city sass or attitude anywhere. The vibe is one of friendly independence. Folks are happy to help if you need it, but just as happy to let you explore on your own.
The resort has a down-to-earth feel. Nothing too fancy or stuffy. This is about having a great time outdoors and getting in some great skiing. There's no need to show off when your resort is blessed with pristine powder and a gorgeous setting—you can let the mountain do the PR for you!
Getting there to Steamboat

Hayden Airport is adorably small—with four gates in all. It's also pretty darn close to the mountain. Unless you're renting a condo, there's little reason to rent a car. Most of the hotels offer free shuttles into town and to the ski hill. Hayden is about 30 minutes from Downtown and 45 minutes from the resort. If you can skip the car, book a shuttle ahead of time with Go Alpine.
Steamboat  Snow Report

There was a big dump of powder right before my arrival at Steamboat. With 24" of fresh snow, I would be hard-pressed to find anything to criticize about the ski conditions. Steamboat has a top-notch grounds crew—so even when snow isn't falling, they know how to manage what they have to give skier the best possible outings.
No one loves a gondola more than I do. They're fast, warm and a good way to chat with locals who can give you tips. Plus when run well, they can move massive amounts of people up the mountain. Your day will likely begin and end in Gondola square. It's nice to have a central location for the day's activities and kudos to Steamboat for providing all the red wagons to haul kids and ski gear.
Steamboat Ski School

Western friendliness is the name of the game at Steamboat SnowSportsSchool. There's nothing forced or artificial about the smiles and warmth exuded from the professionals. It all starts with gear rental—that's made super easy at Steamboat. There's tons of storage options too—taking much of the schlepping out of the equation. Families gather in Gondola Square to start the day. The staff quickly sorts kids by ages and ability and gets them off in the snow. For more information about ski school click here or call 970.871.5373
Why not consider a private. One of the many perks of my job is gaining access to the best ski guides in the nation. Steamboat matched me up with Laura Sjoblom. With more than a dozen years of experience, Laura gave me one of my most enjoyable days on skis ever. We came up with an early plan—to get me out of my comfort zone—and then tweaked it throughout the day. Laura was full of local anecdotes (like tapping the head of with our ski poles to bring us luck) and tips (I'm still working on keeping my hands forward Laura—I promise to keep working on it!). For you to secure her skill for the day, it'll cost around $750. But here's the deal—she's part coach, part guide, part historian and part friend (and birds like her--check out the one eating from her hand!). Laura loves working with families. Once she's booked for the day, she can split the time up with different sub groups. For example, she can start the day with a family ski session then after lunch if mom wants to head to the spa, she can spend the afternoon finding jumps and trees that the kiddos want to ski.
Favorite Runs at Steamboat

Laura got me ALL over the mountain. Some of my favorite runs were on the backside. I like the short but sassy Hot Cakes (all the runs off of Morningside have a breakfast theme) and my favorite was Twilight. Prior to this trip I have a habit of staying OUT of the trees. I am fearful of a run-in with a pine that I know I'm not going to win. Twilight got me out of this rut. Trees afford a quiet run that's challenging but not cause for concern. On Twilight the run starts with evergreens and then transitions to Aspens. Pure delight.
Steamboat Mountain Statistics

Steamboat has a bunch of peaks: Mount Werner, Sunshine Peak, Storm Peak, Thunderhead Peak, Pioneer Ridge, and Christie Peak with a total of 2,965 acres. Deservedly, they are known for producing amazing powder and the annual snowfall last year was 349". Trail Classification: 14% Beginner 42% Intermediate 44% Advanced.
Steamboat Spa

Show me a mom who doesn't love a trip to a spa and I'll show you a woman I'll probably never be BFFs with. Ski moms buckle boots, wipe noses, carry skis and do a lot of lugging of gear. Not to mention those of us who love to take on the moguls! In my book a massage is a MUST for any family ski trip. It's really irresponsible of me to NOT check out the spas. Sadly, I can't give high marks the day spa at the Sheraton. While Rae, my masseuse was adequate, the space was over crowded with two huge massage tables in a room that barely fit one, no relaxation room, no steam room and no robes. It was one of the more disappointing spa appointments I've ever had.
Steamboat Après Ski 
If conditions are on your side, and they were on my visit (35 and sunny at 4pm) head to The Bear River Bar & Grill--on outdoor bar where you can enjoy live music and a cocktail. I was thrilled to see so many parents enjoying a beer (responsibly) and the tunes. Little tykes played in the snow as mom and dad got some chillax time.
Steamboat Lodging
I stayed at both the Steamboat Grand and the Sheraton on my visit. While the Sheraton is a tad closer to the mountain and more modern in feel, I liked the western feel of the Grand. It's more modest in many ways, but fit in better aesthetically with the Steamboat vibe. For families, the best bet will always be a condo—it gives you space to spread out and freedom to tackle a few meals on your own (a new natural grocery store opened up in town and is a great spot to stock up on breakfast supplies and snacks).
Steamboat Dining
Downtown Steamboat has a wealth of restaurants and local shops. Get a few recommendations from your concierge and take a free shuttle into town.
For updated Asian try the Mahogany Grill. I had a very tasty tuna tartar appetizer and a yummy elk dish. They're known for offering sides of special dipping sauces that range from piquant to citrusy. Experiment!
On mountain, there's the new Four Points mid-mountain dinging. Amen for an alternative to fried foods. For a more luxe lunch, stop into Hazie's at the top of the Gondola. I opted for the soup and salad bar and refueled with a tasty potato leek soup and green salad. Try the warm cider there. You'll get gorgeous views of the valley and excellent service.
TIP: During peak weeks, be sure to book reservations for lunch and dinner—the choice times book up early. Call 970.871.5150 or head to www.Steamboat.com/dining
Steamboat Off the Hill
In addition to dining and spa treatments, there's a cool resource in town called the Old Town Hot Springs. Packed with heated outdoor pools this is a great place to head right after a long flight or when you want to give tired legs a break from skiing. There's a lap pool, full gym and a babysitting service—in case you've got tots and want to take a break. For bigger kids, there are awesome 225 ft. outdoor water slides and an "aquatic climbing wall." I was happy to just soak in the tub while snow fell gently around me. It was a great way to acclimate to Steamboat. Oh, and there's a full shower facility too.
The springs have been around for more than 100 years. Don't miss a soak in the mineral hot spring purported to have healing powers. Find them at 136 Lincoln Avenue (the main street in town) or head to www.oldtownhotsprings.com for details.
During my visit, Steamboat Springs was celebrating the 102nd Winter Carnival. This February event is an ideal time for families to visit Steamboat. The local hill, Howelsen, has races for all ages. Did you know Steamboat has produced more than 88 Olympian Skiers? This festival is a celebration of the outdoors and a lot of fun for kids. I'm told one of the most popular events is the race through downtown where young tikes on skis get pulled by horses. Sorry I missed the instagram opportunities on that one!
If you take a Day Off from Skiing
More ideas of what to do with the kiddos.
MORE FUN IN THE MOUNTAINS
PIN IT!
Use Pinterest to save your favorite family travel features. Be sure to follow our Ski Moms Pinterest Board.
Momtrends was not paid for this trip. Travel accommodations were made to facilitate coverage of the report.