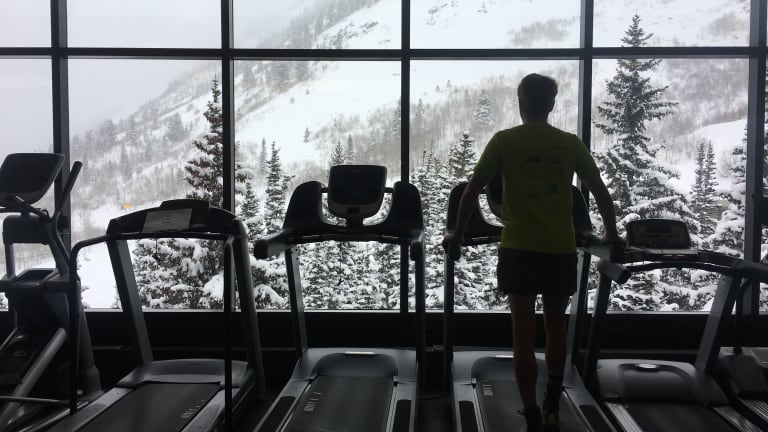 Ski Prep Checklist
Keep your family healthy and safe on the snow
President's weekend is traditionally a HUGE weekend for family ski break.  February is the perfect time to make the most of winter and head to the snow. To prep yourself and your family for an awesome ski vacation in Utah or wherever you ski, we've gone right to the source.
Linda Scholl is a DPT with University of Utah Health and a mom of two active kids. She currently assists with patient-student related activities in musculoskeletal evaluation and teaches a ski conditioning class. We worked with Doctor Scholl to put together this ski prep checklist.
Prep before you go
Skiing is a weight bearing exercise. Your best bet? Running is similar to the type of impact you are going to take on while skiing. Work in a little running up and down hills/stairs before you head off on vacation. Other great snow-prep exercises include lunges and squat jumps.
Check your gear
Make sure your equipment is mountain-ready. Take your ski gear in for a pre-season tuning. Be sure your "DIN" setting (the industry-adopted scale of release force settings for ski bindings) is correct and that your gear meets all the current safety standards. Get a good helmet too! Dr. Scholl says, "50% of head injuries can be prevented by wearing a helmet." Check out our review of Pret Helmets here.
Know your altitude
Many skiers visit from sea-level locations. Do a little research before you fly. While you can't really prepare for altitude without a barometric chamber, you can be aware of the symptoms (headache, nausea and fatigue) and take it easy the first day, both physically and on your alcohol consumption. Be sure to hydrate with lots of water! Doctor Scholl says while skiing, "Listen to your body and know when you need to set limits." Click here for more on altitude sickness 
Morning Warmup
"Taking the skis from the car to the mountain's base doesn't constitute a warmup," says Doctor Scholl. Before you have your boots on it's a good idea to think about what motions your body is going to make while skiing. Try some forward/back leg swings to loosen up hips, stretch the thighs and add a few torso twists too.
Manage the Day
Dr. Scholl says, "If you are skiing with kids, listen to them. If it's time for hot chocolate, get a hot chocolate." And be aware that they have faster metabolisms. Every two hours they might need a snack. Fun factor is a must for the little ones to develop the life-long love of skiing!
Apres Ski Recovery
Good news! Dr. Scholl says that hot tubs are fine. "Use it as your stretching session, stretch out your quads, hamstrings and calves in the hot tub. Use it as a place to rejuvenate." Get more of Dr.Scholl's tips here on Four Easy Ways to Prevent Ski Injuries.
With our checklist and some help from the snow gods, it's going to be a healthy and happy ski season. If something does happen, know that University of Utah Health Hospitals and Clinics are there for you and your family. Head here for more information https://healthcare.utah.edu/
2017/18 Family Ski Guide
Pin it and Print it! Ski Prep Checklist
Here's an easy printable graphic for you to pin and use!
This Ski Prep Checklist post is sponsored by the University of Utah Health Hospitals and Clinics.