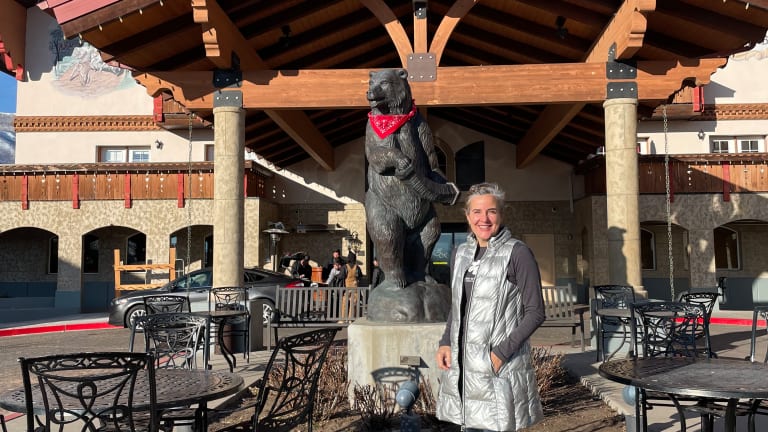 Ski Family Alpine Fun at Zermatt Family Resort
Located in Midway, Utah, this affordable Swiss-themed lodge offers families room to spread out and play in style.
I'm always looking for ways to make travel easier on families. On my ski adventures, I'm looking for value as well as luxury. It's easy to plan a trip with unlimited budgets, the work comes in when you are trying to balance fun while not tapping into the college fund. The Zermatt Resort in Midway, Utah offers families a terrific and well-priced option as a home base for winter or summer family vacations.
Relate: Visit Salt Lake City Winter Olympic Venues
Zermatt Family Resort in Midway, Utah
The Zermatt resort is modeled after European destinations. When you pull in, you'll feel like you are entering an Alpine village. It's a sprawling property made up of a hotel, villas, homes and different activity centers. All if the spaces are surrounded by farmland and mountains. In fact, the back of the resort has a goat hill as well as a cattle farm. 
Getting there is a breeze. We drove in after a day of skiing at Snowbasin. It's even easier if you are coming from the airport or Park City. Driving to Midway from Park City is an easy 20-minute commute. 
Lots of families feel priced out of Park City. And it's understandable. Lodging can easily run $1000/night there. And the parking can be tricky. If Park City is too pricy or too busy for your family, you really should consider Midway. You won't be sacrificing charm or access to great food and activities. When you add a short commute, you can not only save money, but you can also explore an entirely different environment.
Midway is a sprawling community. Farms and enormous homes are spread across the valley. The main street of Midway is a 5-minute drive from the hotel. This area is dotted with mom-and-pop shops and an up-and-coming food scene. There isn't a chain store in sight! If you want a Starbucks or fast food, nearby Heber is the "big city", here you'll find all the fast food and big box stores. 
Prior to this trip, I'd never heard of Midway, know that I know what it has to offer, I think it's a tremendous resource and option for ski families.
Lodging at Zermatt
First things first, the Zermatt Resort is 100% family friendly. It's set up as a home base for exploring Utah. Guest can pick from 300 traditional rooms or efficiency apartments. The property is well-cared for and well-staffed. 
If you are coming for only a night or two, the hotel might work. We loved the convenient access to the spa, gym and restaurants.When I checked online, rooms started at $215 per night. Our room had two double beds, a desk, a large bathroom, and a small area to make snacks and beverages. We had a microwave, mini fridge, and coffee maker. The room allowed us plenty of space to spread out our ski gear. The décor is a tad dated but had its charm. I loved all the whimsical light fixtures with bears and other Tyrolian touches. 
Laundry is available in the Chalet building and there is soap available for purchase from a vending machine. It was $2.50 per load, and I was able to use my credit card.
Check out Our Video Tour Here
Since the resort is going for old-world alpine, I really didn't mind that the rooms were rather basic. I think many families want a clean, nice option that is a step up from chain hotels, but much more budget-friendly than the Montage. It just goes to show you there really is a place for everyone in the Salt Lake City area.
For longer trips with the kids, look into the villas. Zermatt Villas are the perfect choice for families. With features like walk-out patios, full kitchen and upgraded amenities — including jetted tub, separate showers and fireplace — you'll find yourself relaxing the moment you step through the door of your Chateau Villa. You'll have to plan a little early to nab one of these, some are owner occupied and these are the premiere offerings for families.
Zermatt has invested money in keeping the property attractive. The lobby recently got a big refresh. The space has new attractive furniture and a light welcoming feel.
The website is loaded with information about rates and activities. Zermatt Resort, 435.657.0180, 784 W Resort Dr. Midway, UT 84049
What to Do at the Zermatt Resort
The indoor pool and spa are the big attractions in the winter. Kids can swim through a tunnel that connects the indoor and outdoor spaces and there's a big waterfall feature. On our visit, the hot tub was not working, it's located outside. The pool is large enough to accommodate a crowd and there were amble lounge chairs to set up a home base. 
I like to stretch before (and sometimes after) a ski day. The resort's gym was in great shape--it's spacious, well-lit and CLEAN. It is outfitted with all the latest equipment and had plenty of space to spread out. I used the elliptical machine and was treated to amazing mountain views. Each locker room has a sauna and steam room too. Everything was extremely clean and the staff while sparse at times, was extremely friendly.
For the grown-ups, I highly recommend the spa. I treated my winter-weary nails to an express manicure so I could check out the services. I started my treatment in a cozy relaxation room done up in deep burgundy hues and a pretty fireplace. My esthetician was prompt and took me downstairs to the treatment area. It was immaculate and my manicure quality was excellent. Spa treatments also include facials and massages—I'll have to save that for the next visit.
In the winter, the big attractions are the slopes. Ski families can book the shuttle to take them to the nearby resorts. (Sundance is probably closest at 25 minutes). If you have a pass and your own gear, you can opt to use the Jordanelle gondola parking lot to access Deer Valley in about 15 minutes). The shuttle is a big deal a and a huge time saver. On our ski day at Deer Valley, all of the day parking lots were full and skiers had to park at the nearby schools and then shuttle to the base area. Taking a shuttle saves a LOT of aggravation. The shuttle books up fast, so be sure to call ahead to reserve your spot.
In the summer the resort offers guests a huge mini golf course, and outdoor carousel for the kids, tennis and more.
Book your trip Zermattresort.com
Where to Eat
here are two full-service restaurants and a bakery. The bakery serves Starbucks coffee and is the perfect "grab and go" option for breakfast. All the goodies are baked on site—don't miss the apple strudel. Yum!
The Zermatt has a chop house on property. And there is a bar in the lobby, head up the stairs and you'll see it tucked behind a lounge space. In addition to the bakery, we had a lovely breakfast at the Chop Haus. We didn't get the chance to sample the dinner menu. We opted to head to Main Street to explore the local dining scene.
Dinner at Midway Mercantile is a must. Again, book ahead as they fill up quickly. I had a delicious trout in a tangy Asian sauce. The space is family friendly and bustling with professional service. The food is upscale while not being fussy. Midway Merchantile, 99 E Main St, Midway, UT 84049
Make time for breakfast at the quirky coffee shop in town. It used to be a garage repair shop and now is the ultimate breakfast spot. I had a perfect cappuccino and a delectable carrot muffin. The quiche is a can't miss. I love the spinach and bacon version. During our short wait for our order, we took in all the vintage décor. The place is covered from floor to ceiling in memorabilia. The same goes for the outside. You'll want to get an Instagram photo or two! Fill'er Up Coffee Station, 201 E Main St, Midway, UT 84049
For a special meal, try to book a sitter and secure a table at The Lakehouse at Deer Creek. This is the place for a date night. Start with a custom cocktail as you take in the fireplace and peruse the menu. Chef Tamara Stanger has made a name for herself in Utah for her heritage cuisine. She's studied the food of the past and interpreted it for the present. You'll find plenty of foraged spices that are used in surprising combinations. I loved the rabbit lasagna that had sage in it. And the spicy squash starter was delightfully piquant. Save space for the lauded pies. You won't be disappointed. The Lakehouse at Deer Creek, 5317 US-189 S, Heber City, UT 84032
What to do in Heber valley
In addition to the nearby ski slopes, there are plenty of wintery activities you can do right in Heber. For a special treat, plan a visit to the Ice Castles. This manmade winter wonderland is a place to fire up your imagination. Kids were zipping through the maze of ice sculptures and sliding down the ice chutes. You can warm up by the fire pits or get a cocoa as you take in the colorful settings. There are also sleigh and carriage rides available right from the venue. Ice Castles, 2002 Soldier Hollow Ln, Midway, UT 84049
While alpine skiing is the on the top on many families' list, I highly encourage you to head to the Soldier Hollow center to try cross country skiing. Your family can take a cross-country ski lesson at a real Olympic venue. This spot was home to the biathlon and Nordic skiing events at the 2002 Salt Lake City Olympic Games, and it continues to be a site for international competition. Like many Salt Lake Olympic venues, the community has benefitted from the hosting. Now Heber Valley has a spot that welcomes beginners and brings in busloads of kids to take part in the sport.
In addition to the skinny skis, Soldier Hollow has an incredible tubing hill. Book a two-hour session and get ready to fly down the groomed tubing hill. It's a blast and the kids will love it. Soldier Hollow, 2002 Soldier Hollow Ln, Midway, UT 84049
If winter isn't your thing, don't worry, in the summer, this area is a gold course and Heber is alive with mountain biking, hiking, horseback adventures and fishing. I can't wait to come back in the warm weather to sample this area in a different season. It's a terrific alternative for families that want to come and play outdoors in Utah.
MORE SKI FEATURES FROM MOMTRENDS
PIN IT!
Use Pinterest to save your favorite family travel features. Be sure to follow our Ski Moms Pinterest Board.
Momtrends was not paid for this post