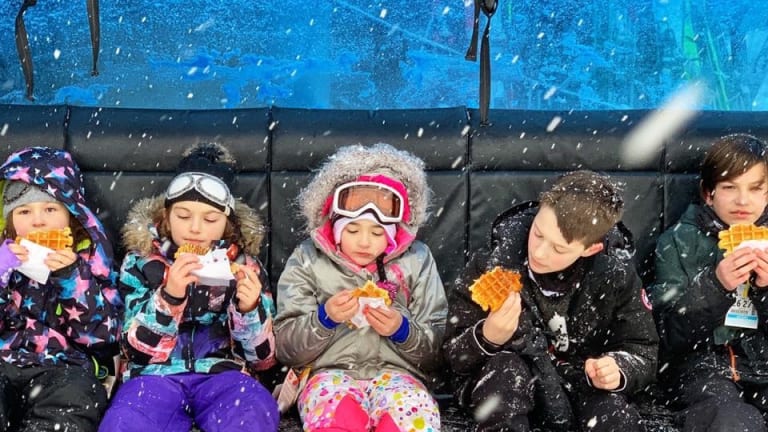 It may seem odd to be thinking about buying season passes now that ski season is over, but off-season is usually the best time to get a deal on your skiing adventures. The big question is: Should your family get a season pass? And if so, do you go for a multi-mountain pass or a single home mountain or both.
Related: Woodward offers families a cool new way to play in Park City
Should Your Family Get a Season Ski Pass?
It's time to think about getting your family outdoors during the winter. I know I am still enjoying shorts and flip flops, but I am also looking forward to playing in the snow.
Let me be the first to say I know skiing isn't the easy thing or the cheap thing. Mr. Momtrends and I like to joke that good training for ski parents is to send them to the middle of the Brooklyn Bridge, tell them to turn their wallets inside out and watch the money fly away.
It's easier to stay snuggled up all winter with your family plugged into favorite devices or "hanging out" with friends. It's certainly cheaper and easier to NOT be a ski family, but friends, the mountains are calling!
I'm in the business of romance and story telling. I've consumed the Kool Aid and am a bonafide nut job when it comes to getting my family on snow.
Why?
Here's Why Your Family Needs a Season Pass
Because I see the magic that happens when you put a family together in the cold and push them out of comfort zones.
I'm a Maryland girl. I grew up on lacrosse, not skiing. Thankfully Mr. Momtrends brought skiing into my life when he took me on a romantic trip to Montana to ski. For him, skiing was a deal breaker. He had visions of little skiers in his head.
At first, I was along for the ride. Not anymore. I'm an advocate.
I believe these lift passes we buy are an investment in family time.
Having a local hill or mountain you can call "home" is a beautiful thing. For the past six winters we've been getting season passes to our local hill, Mohawk Mountain in Connecticut. This pint-sized "mountain" has everything a young family needs to make winter memories. They've got quality instruction, a safe beginner area and easy access for beginners. This will be my 10th year as a ski mom. A badge I'm proud to have earned. I can say with 100% certainty that my girls would NOT have fallen in love with this sport without our local mountain.
TIP: Don't make the rookie mistake of trying to teach your kids to ski. Let the pros do it. After the lessons, that's your time to take the kids for a few runs and see what they've learned (and buy them some cocoa after).
When you take the plunge and commit to a season of skiing you are giving your family a gift that keeps on giving.
5 Reason to Buy a Season Ski Pass for Your Family
1. You'll stop resenting winter. When I'm a city dweller, snow is an inconvenience. It mucks up the transportation and turns grey in an instant. In the country, it's a source of wonder and delight. You'll start praying for snow and looking at the weather forecast in great anticipation.
2. Your kids will get to know the staff. Season passes mean your kids are likely to sign up for the local programs or at the very least make friends with other ski families. Relationships built on mountain foster a deep love of the sport.
3. Skiing for a 1/2 day suddenly makes sense. Little kids can be fickle. In the middle of a perfect ski day they can have an epic meltdown. Fret not. When meltdowns occur, pack it up for the day and try again tomorrow.
4. Say adios to waiting in the ticket line. When the snow gods smile on you the last thing you want to do is wait in a ticket line before hitting the fresh pow.
5. The family that skis together stays together. Chairlift chats are awesome, so are the fireside chats of the epic on-mountain fails. The family that skis together develops a common language. Yes, even your sulky teens will talk to you on a chairlift.
We Picked a Small Local Mountain
In Connecticut we get our Mohawk passes in the summer, when the rates are lowest. There are a variety of options from a night pass to a midweek pass and more, We need the weekend pass so we're in for $500+ each.
In Utah, they put a real focus on getting families to the slopes. Two mountains to check out are Sundance and Brian Head. At these two resorts you can get an adult pass that comes with three reciprocal passes at other Utah resorts. Be sure to ask about ALL the benefits of your passes.
At many places, prices go up on October 1st so don't wait to purchase your season pass! Remember, it's an investment in family time.
MORE SKI FEATURES FROM MOMTRENDS
PIN IT!
Use Pinterest to save your favorite family travel features. Be sure to follow our Ski Moms Pinterest Board.
Click here for the full article on multi-mountain passes and be sure to read this article about making skiing more budget friendly.
This is not a sponsored post.