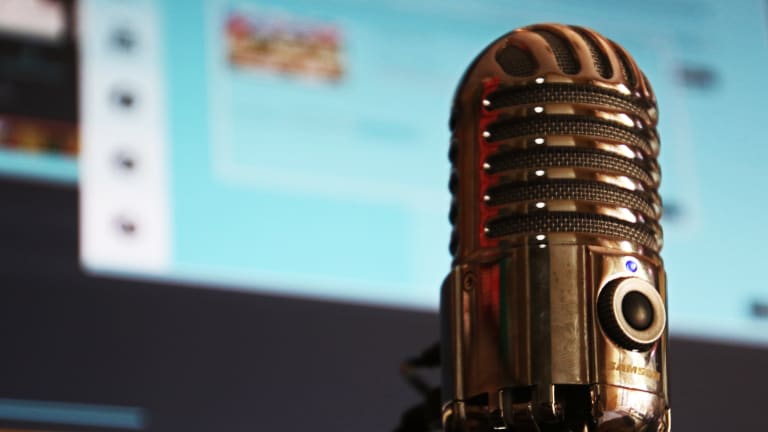 Science Podcasts for Kids
The magic of the spoken word is alive and well with these podcasts for kids that mix science and storytelling.
I don't think I'm alone in my love of podcasts. Millions of moms use them to fill the void in soccer practices, school pickup lines and our commutes. In fact, I've been boring my kids with them for years (for some reason they just don't connect with Terry Gross of Fresh Air). I've become a huge fan of science podcasts for kids and have a few to recommend. 
Related: 7 ways to keep your kids healthy and learning at home during school closures
Mars Patel Podcast
We recommend a podcast series called "The Unexplainable Disappearance of Mars Patel." Mars Patel is in 6th grade at a special school. Mysteriously his friends start to go missing. The gifted young student is determined to find them and bring them home safely. He and his band of middle-school misfits go on an amazing adventure that could take them to the stars and beyond. 
This podcast is perfect for grades 4-7 and extremely well cast. My daughter and I were hooked after the first episode. The show's writers  describe this serial mystery as "Goonies meets Spy Kids meets Stranger Things."  
You can listen to the first two episodes of seasons 2 & 3 at Apple Podcasts, MarsPatel.com, or wherever you like to listen. To stream the rest, head over to our friends at Pinna.fm and sign up to start listening now. The first thirty days are free and they have a ton of great content for kids ages 3-8.
More Science podcasts for kids at BestRobotEver.com
Best Robot Ever is the home of some pretty cool audio programming for kids and families. They offer a group of original podcasts produced by Gen-Z Media and distributed in partnership with PRX. Shows featured on Best Robot Ever have won nearly all of the major podcasting awards that stand for great quality programming, including the Peabody, Best Kids & Family Podcast from the Academy of Podcasters, and iTunes Best of the Year.
Best Robot Ever has a few more to check out like the addictive Six Minutes; The Mayan Crystal ( Parsec Award nominee); Tumble: Science Podcast for Kids, named a 2016 iTunes Best of the Year; The Ghost of Jessica Majors (Webby Best Family Series honoree); and Young Ben Franklin, The Weirdness and Becoming Mother Nature, distributed in conjunction with PRX.
All of the Podcasts can be downloaded here.
Wow in the World from NPR
Now there's a new NPR Science Podcasts for Kids called Wow in the World that promises to perk up young listeners. When I heard that NPR host Guy Raz was involved, I was intrigued. He's teaming up with SiriusXM's Mindy Thomas to co-host NPR's first-ever children's podcast. I got to chat with Guy and Mindy last week about the launch AND I was also able to score a teaser episode to listen to early.
This is the first time in NPR's 47-year history that it will release a children's program. And it's no wonder that the two talented individuals involved have kids that fit the demographic perfectly.
Guy Raz is the host and co-creator of two of my favorite podcasts: TED Radio Hour and How I Built This. Most importantly, Guy is a father of two boys. Mindy Thomas is the host of the Absolutely Mindy Show on SiriusXM's Kids Place Live. Guess what? She also has two kids!
Why we Love Wow in the World
Their goal is to make the news approachable and interesting to kids. "Wow in the World is a place where we can tap into the crazy cool things that are happening all around us, every day!" says Thomas.
Each episode begins with a series of questions that lead to an explanation about a new amazing scientific discovery or finding. For example, "How long would it take to get to the closest star outside our solar system?" or "How did we Homo sapiens come to dominate the planet?" or "How do astronauts poop in space?" Through comedy and conversation, along with voices from real kids, Mindy and Guy make the news fun and interesting.
When I asked Guy about the show, he said, "It's a way to talk about science and discovery and the news in a way that was interesting and that they can understand." His own kids don't listen to NPR as he feels it can make them feel as if they lack agency in the world. By breaking down science, he hopes to give kids encouragement to solve problems and feel empowered.
I loved what Mindy had to say about why science..."News is so dominated by current events. It's dominated by humans," she said. But when it comes to covering science, it's "a reminder that the world itself is so much bigger than us."
Wow in the World arrived at the perfect time to save us on our summer road trips.
How to Get Wow in the World
NPR will distribute the show and Tinkercast and Wow in the World can be downloaded wherever podcasts are available including Npr.org/Wow, Apple Podcasts, and at www.wowintheworld.com
I've only heard one episode, but I think this is going to be a hit. Wow in the World is perfect for kids ages 5-10. NPR suggests that 12 year olds might like it, but I think it might appeal to younger listeners more. Mindy has a voice full of personality--she's a vocal cartoon character--which my 9 year old loved. The duo plays off each other nicely--you wish you had science teachers this cool and zany back in 5th grade.
While still relying on technology, this podcast will force children to imagine the worlds the hosts are introducing. Make it a family listen and then ask probing questions after. 
MORE KID-CENTRIC FUN FROM MOMTRENDS
PIN IT!
Need more ideas on what to do with the kids? Be sure to follow our Activities to Do with the Kids board on Pinterest here.
This is not a sponsored post.