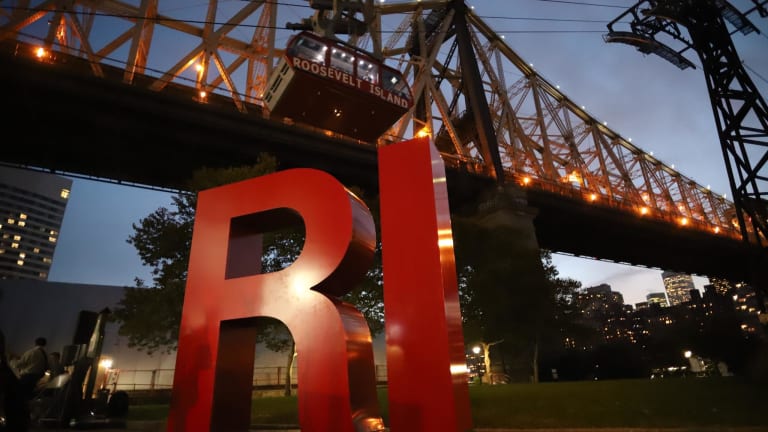 Roosevelt Island Tram
The Roosevelt Island Tramway provides families a sky view of NYC for the price of a subway ride.
City fun doesn't have to be expensive or involve long lines. Case in point: The Roosevelt Island Tram. Running every 15 minutes, the tram connects Manhattan with the cute little island. After renovations, the tram re-opened on November 30th, 2010. Now it's safer and faster to ride. Take in the views of the city as the tram chugs along at 16 mph. Part if the NYC public transit system, the tram rises up 250 feet above the East River and can be paid for with the iconic yellow metrocard.
Related: NYC's Little Island Park
All in the ride lasts but 3 minutes, but that's not the point. It's super cool. Once on Roosevelt Island grab an ice cream cone and walk along the sidewalk taking in the views--it's one of the few times in NYC you won't be jostled by folks rushing to get to work, meetings, etc. Each tram can carry 109 passengers at a time (and it does take strollers!) The Tram Station accepts Metrocards. Full Fare $2.25.
Tram History 
The Roosevelt Island Tramway provides the most modern aerial tramway in the world, running every 7-15 minutes from 59th Street and Second Avenue in Manhattan to Tramway Plaza on Roosevelt Island.
The tramway is the first commuter aerial tramway in North America, having opened in 1976. Since then, over 26 million passengers have ridden the tram.
Roosevelt Island Tram
Board at 59th St. at 2nd Avenue
Click here for more information and a schedule.
MORE NYC CENTRIC THINGS TO DO
PIN IT!
Use Pinterest to save your favorite NYC outings. Be sure to follow our New York City board here.