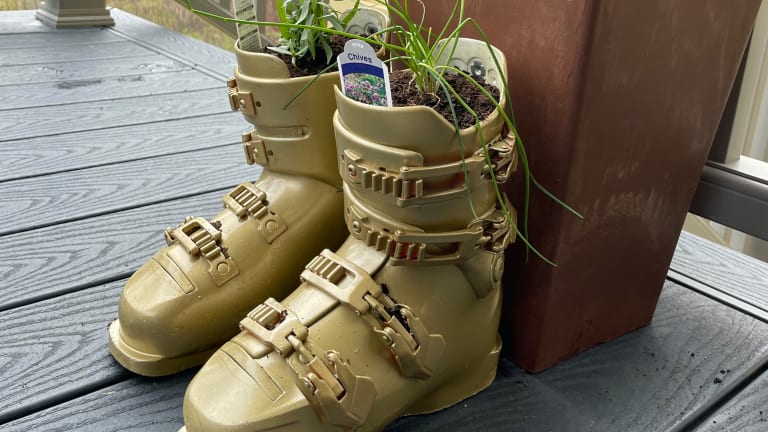 Recycle Your Old Ski Boots into Garden Planters
Turn your broken down ski boots into planters for your garden.
Wondering what to do with your old ski boots? Turn them into planters for your garden. This easy craft is a fun project for ski lovers. With a few simple steps, you can create a whimsical planter for your deck or yard.
Related: Kid craft safari animal garden markers
Recycle Your Old Ski Boots into Garden Planters
These boots have been through four seasons of use. They were beaten down and not fit for skiing. After a quick internet search, I couldn't find any place to recycle them, but I did get an idea on how to make my deck more attractive. I bought some gold spray paint and herbs and made a cute little ski boot planter. 
Ski Boot Planter Materials
Ski Boots (the older the better!)
Tarp or cloth (to contain the mess)
Spray paint
Rocks
Herbs
Ski Boot Planter Instructions
Check out our video here to get inspired to make this planter.
Remove liners from boots
Clean and dry exterior and interior of boots
Secure buckles. 
Optional: drill holes into the bottom of boots for drainage.
Add heavy stones into toes and heel of boots and spread out the tarp to protect your work surface.
Shake spray paint and follow instructions on can. My can instructed me to use two coats of paint. I allowed the boots to dry overnight before the second coat. 
Allow to dry overnight.
Fill boots with potting soil and your desired plant. Enjoy!
I hope this crafting project inspires you to look at old gear in a new way. Now I just need to figure out what to do with those ski poles that are lying around.
MORE HOME IMPROVEMENT IDEAS FROM MOMTRENDS
PIN IT!
Need more ideas on what to do with the kids? Be sure to follow our Home-Style Inspiration board on Pinterest here.
This is not a sponsored post.