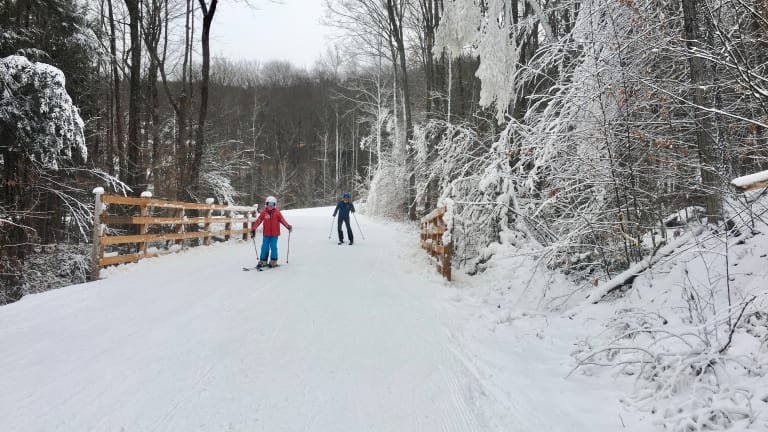 Publish date:
Plan a Perfect Okemo Ski Vacation
Mother Nature dumped nearly 20 inches of fresh snow on Okemo this week. That means it's time to plan a perfect Okemo Ski Vacation.
Mother Nature dumped nearly 20 inches of fresh snow on Okemo this week. That means it's time to plan a perfect Okemo Ski Vacation.
Mother Nature dumped nearly 20 inches of fresh snow on Okemo this week. That means it's time to plan a perfect Okemo Ski Vacation. 
This popular East Coast ski resort has been helping families create snowy fun with families for decades. A few years ago Vail Resorts bought the property and has continues to invest in the family-friendly fun. They focus on getting kids and outdoors - because ski moms know the best bonding happens in the snow! This month my family headed to Ludlow, Vermont to see what's new at Okemo.
Related: Where to eat near Okemo
Okemo Knows Snow
The resort has incredible snow making capabilities. When Mother Nature gets stingy, they snow cannons are blasting! First they are blessed with 200 inches annually. That's a lot of snow! When the good stuff stops coming down from the sky, Okemo's team can cover 98% of trails with snowmaking.
There's plenty of room to spread out and find some on-mountain bliss. They have 667 acres of terrain and 46 miles of trails.  FUN FACT:  Okemo's vertical drop is 2,200 feet the biggest vertical in southern Vermont. 
Foodie Delights for Skiers
Forget about chicken nuggets and soggy fries, Okemo is a foodie paradise. They'e doubled down on their efforts and have revamped menus and updated resources. 
Executive Chef Jason Tostrup's is all about finding the best local ingredients. He's committed to created an authentic dining experience that embraces the best of Vermont.  If you can wrangle a babysitter, book a dinner in the Coleman Brook Tavern's Wine Room. This dinner is for grownups only--the restaurant won Wine Spectator Best of Excellence Award. 
One trend I'm loving is the improvement of on-mountain dining. Break up your ski day with a lunch at EPIC. This spot is a great place to treat yourself to something savory. My suggestion? Order the trio specialties that provide a "sampling" of complementary morsels. Located at Okemo's Solitude Lodge. 
Jackson Gore Resort
When you plan a perfect Okemo ski vacation, you need to start with lodging. I love the Jackson Gore condos. They are incredibly convenient, have all the amenities I need AND give a family enough space to spread out and relax.
The Jackson Gore Inn is a luxury experience for families. You get the roominess of a condo with the full-service amenities of a hotel (like bellman service to help unload the eight million bags required to go skiing with kids. The decor is Vermont charming. We love that the rooms come with fully outfitted kitchens. And for those aging skier (that's me!) treat yourself to a soak in the jetted tubs. Guests get covered parking right below the inn (or you can use the valet parking)

Fun Ways to Discover Venice Italy with Your Family
Greetings from Italy wear the gelato is rich, the clothes divine and the scenery is inspiring. Now that I've been to this fine city in the north of Italy, twice, I've amassed a list of favorites to share. These are some fun ways to discover Venice, Italy with your family. ...read more
Here's What No One Tells You About Olive Oil
produce is at its absolute PEAK right now. It's the time to prepare fresh veggies and fruit with ease and simplicity. When it comes to cooking, the farmer's market is my muse. As I prepare some of my summer harvest favorites, I'm sharing a little secret, what you put ON the ...read more
Jackson Gore has a full-service restaurant and lounge, a health club, indoor/outdoor swimming pool and a great big lounge with a fireplace.
Here's a tour of our room
Ski School
Okemo has some of the friendliest instructors around. On our last trip to Okemo in 2015, the girls were little and I adored the patient instructors. They want to make it FUN so families keep coming back again and again. That's why we named them a BEST PLACE TO LEARN in our 2017 Family Ski Guide.
As a big supporter of getting moms on the snow, I think it's fabulous that Luna is partnering with Okemo to create Okemo's Women's Alpine Adventures. It's the place to find "Coaching, Camaraderie and Confidence."
The little ones can start at age 2 at Okemo with private lessons! There truly is something for everyone  when it comes to learning and getting better. Get all the details on the Okemo Ski + Ride school page.
Need a break from skiing (it happens!)? Okemo is so much more than a ski resort. They know families bond in many ways, so they offer a variety of options to make your stay special.
Ten Things to Do at Okemo Resort
You won't run out of things to do with the kids. Okemo has a ton of offerings to help parents when the weather isn't ski perfect. 
Cross Country Ski. Ski the Nordic Center take a break from downhill and try cross-country skiing. Explore the 22 km of tracked and skate-groomed cross-country skiing trails. Okemo's Nordic Center trails are groomed daily. Demos, equipment rentals, repairs and waxing are available on-site.
Go snow tubing. Located in Jackson Gore, the tubing area has chutes that keep snow-sliding tubes. Snow tubes are available for rent and a magic-carpet style.
Ride the Okemo snowcat. Hop in a specially-designed cabin attached to an all-terrain Okemo snowcat! Each ride departs from the Jackson Gore base area for an hour-long sojourn that includes time to get out at the summit, take pictures and learn a bit about the mountain and the area along the way. 
Rent a fat tire bike. Equipped with a light custom frame and those oversized tires you can ride the snow-covered bike trails around Jackson Gore. Demos are available too.
Sip Bloody Mary's at EPIC. Grab a seat by the fire and order a memorable meal. Located at the base of the Solitude lift, this is THE spot for a long lunch.
Ride the Mountain Coaster: Okemo's Timber Ripper Mountain Coaster is all about thrills. Glide on the tubular rails as you zip down the mountain. Passengers control their speed, go as fast as you dare!
Go Ice Skating: The Ice House features a covered skating rink that is maintained by an ice resurfacing machine. Skate rentals are available and skaters can enjoy a hot chocolate by the fireplace inside the attached warming room. 
Go on a snowshoe hike. There are 13 km of trails dedicated to snowshoers. Check in at the Nordic Center.
Eat S'mores by the fireplace. Coleman Brooke Tavern sets up families with do-'em-yourself on your own tabletop campfire. Take the treats to the fireplace indoors or out.
Eat local. Pop into Coleman Brook Tavern at Jackson Gorr for localvore dinner. Okemo works with many local farmers and food producers to bring the freshest ingredients to guests.
MORE SKI FEATURES FROM MOMTRENDS
PIN IT!
Use Pinterest to save your favorite family travel features. Be sure to follow our Ski Moms Pinterest Board.
This Plan a Perfect Okemo Ski Vacation feature is not a sponsored post. Lodging was provided to facilitate this review.