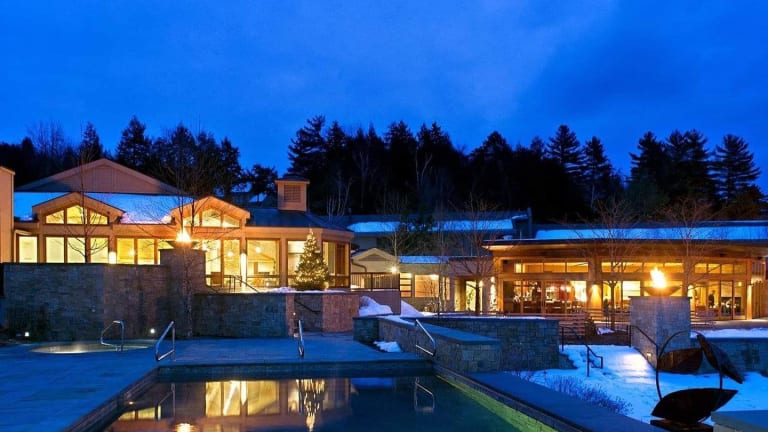 Plan a Visit to Topnotch Resort Vermont
Ideas on what to eat, what to do and how to spend a lovely family weekend at this luxurious resort.
Vermont has a rich connection with nature. When we were ready to plan a visit to Topnotch Resort Vermont, we thought about a winter trip, but decided to do something new and explore the New England mountains in the summer.
Book your Topnotch stay on Expedia here
Why Vermont? When I think about family time in Vermont I think about crisp clean air, mountains, and campfires. It's unplugged fun. And every family can use some of that.
We've spent quite a few winter weekends on holiday in Vermont, at Stratton and Okemo and most recently at Stowe. We were so smitten with the little town of Stowe last winter, that we decided to make a summer visit.
Plan a Visit to Topnotch Resort Vermont
Our trip fell well before the crowds are set to arrive for the fall foliage, and before the ski season begins. At Topnotch Resort, you can have a great time any season of the year. Yes, skiing is fabulous, but in the summer, it's equally grand.
At Topnotch you won't have to do much driving to find some fun. Surrounded by 120 wooded acres, this high-end mountain resort has everything a family needs right on property.
Start with a phone call to Carol the concierge, who rules the resort with benevolent efficiency. Before you check-in, Carol will give your the lay of the land. She knows what's what. TIP: You will want to book your Stowe Adventures and horseback in advance, don't sweat the dining reservations--we didn't have any troubles getting tables.
Family Time at the Topnotch
We did book a trail ride before we arrived. Unfortunately, Carol didn't warn us that the rather surly man who runs the stable is extremely punctual. Rides start promptly on the hour, we were 5 minutes late (I blame the sublime pool setting) and missed our ride. On the plus side, we weren't charged for it, on the downside, we got chewed out by a local for being late. Not fun.
Next to the stables you can also rent bikes to use on the nearby bike path. The Stowe Recreation Path is flat and easy for kiddos (it's also great for running--it's got a lot of shade). The trail runs five miles along West Branch River into Stowe's main town. If you want a challenge, stop along the trail at the corn maze. We didn't try it, but if you want to call to get info (802-371-9999).
Get Active at Topnotch
Topnotch has a huge fitness facility. They have lap-sized pools both indoors and outdoors, fitness classes, a room full of cardio machines, personal training and an enormous workout room with weights.
There's also a full spa and spa shop. I didn't have time to visit the spa, but did drool over the menu. Check out the offerings here http://www.topnotchresort.com/stowe-vermont-spa/treatments-services/
Topnotch also has a huge tennis program. With both indoor and outdoor courts, this is a great place to take a lesson or join a clinic. They are a highly-rated tennis resort and have a wonderful staff on hand.
For cyclists, Vermont offers lots of challenges. Mr.Momtrends brought along his road bike and got in three long rides. WARNING: Be careful of the local drivers, not all of them love tourists on expensive road bikes, but don't worry, if you take them on the rec path they will be fine. There's also plenty of mountain biking in the area too.
Your family won't get bored in Stowe. Just ask Carol at the concierge desk for ideas if you need help. We saw lots of families heading our for fishing, canoeing and kayaking. And we did a bunch of hikes.
Jesse, the Experience Manager, who oversees activities at the resort says many families discover the joy of the outdoors for the first time at Topnotch. If hiking is new to your family and you've got young kids, there's and convenient Mikey the Moose trail right on the property. It's an easy loop from the property where kids can safely spot wildlife and discover the fun of trail time without having to venture too far.
If your family is ready for more, Topnotch offers a free shuttle to Mt.Mansfield for hiking--they'll drop you at the trail head and come pick you up.
Topnotch Rooms
In 2013 Topnotch spent $15 million on a big renovation and it shows in the rooms. The design is clean and modern. There's lots of hardwood and the decor blends well with the natural surroundings.
Our room was on the third floor. It was quiet and spacious with plenty of storage (a must during ski season and note there is ski storage available). Our room had nice wooded views and was extremely comfortable.
Rooms come with wifi and coffee and water. In addition to the 68 rooms, you can also rent a variety of Resort Homes on the property.
Packages at Topnotch
Topnotch is 100% family friendly. When we checked this package for September weekends we found a rate of $432 a night for a family with two adults and two kids. Find our more about packages here http://www.topnotchresort.com/packages-specials/
Dining on Property
I never felt the need to research area restaurants on our Stowe visit. Our first dinner at Top Notch was so good that we decided to make it easy on ourselves and stay local. Top Notch has two spots for food--Flannel and The Roost. Our breakfast was included in the Mikey the Moose package--and it was awesome. Each morning we secured an outdoor table at Flannel. I had a great dish of eggs and kale one morning and then a chorizo egg plate the next. Both were equally delicious. The girls loved the fluffy pancakes. A hearty way to start your day!
We had both our dinners at The Roost. We were able to sit outdoors both nights and enjoy views of Mt. Mansfield. After ordering we enjoyed tossing a football on the grassy lawn as we waited for our meals. No squirmy kids thanks to the lawn games (the bean bag toss was also a huge hit--for the record, my team went undefeated, not that I am competitive or anything).
Roost makes great cocktails for the grown-ups and has a full kids menu. Our kids ventured into the adult menu with great success. The BLT was a huge hit as were the fish tacos. The food is fresh and packed with flavor. Many of the ingredients are sourced locally and you can tell.
Suggestions: Try a meat & cheese plate for starters. Pick from cured meats and local Vermont cheeses. The plate is served with pickles,mustard and Jan's Farmhouse Crisps. Be sure to try the Bijou a creamy, goat's milk from Butter and Cheese Creamer in Websterville, VT.
Now that you know about our favorite resort, check back on what to do in Stowe for more family-friendly fun.
Book your Topnotch stay on Expedia here
MORE TRAVEL FEATURES FROM MOMTRENDS
PIN IT!
Use Pinterest to save your favorite family travel features. Be sure to follow our Ski Moms Pinterest Board.