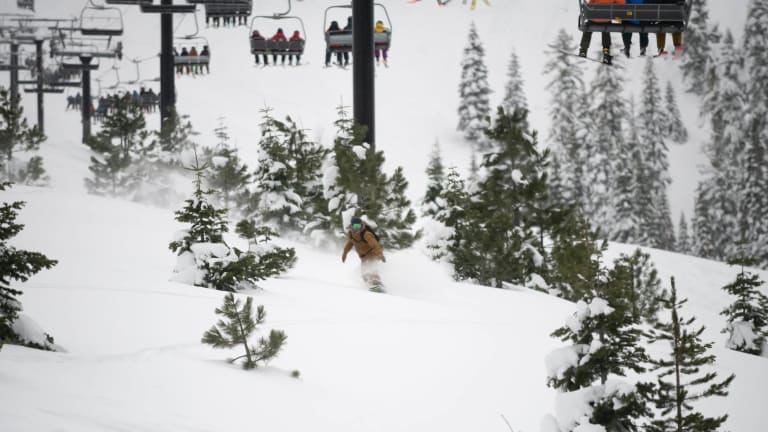 Plan a Palisades Tahoe Ski Trip
Palisades Tahoe offers skiing families miles of challenging terrain and gorgeous views of Lake Tahoe and the Sierra Nevada Mountains
California here we come! This spring break we skied Palisades Tahoe on our quest to cover some new terrain for Momtrends. The resort was founded in 1949 and hosted the 1960 Olympic Winter Games. For us, the Olympic heritage was nice...but we were more concerned about training our future Olympians. It's all about the ski school when you've got kids 6 & 4. I want to help you with your Palisades Tahoe ski trip!
Related: 13 Ways to recycle and resell old ski gear
Update on the Palisades Tahoe Name
Palisades Tahoe introduced its new name and logo in 2021. The new name honors the resort's history as a land of legends—home to freeskiing pioneers, Winter Olympians and cultural icons across more than seven decades of ski history. This change will bring both mountains of the former Squaw Valley Alpine Meadows together under one unified name.
The 2020 commitment by the resort to rename the destination was made after extensive research into the historical and current usage and regional history of the word "squaw," and discussions with the local Washoe Tribe, which affirmed the position that it is widely considered a racist and sexist slur against Indigenous women.
Plan a Palisades Tahoe Ski Trip
Palisades Tahoe offers skiing families miles of challenging terrain and gorgeous views of Lake Tahoe and the Sierra Nevada Mountains. For our spring skiing getaway, we flew into San Francisco and drove to Resort at Palisades Tahoe for a five-night adventure (read all about the lodge here).
Palisades Tahoe Lessons
Each year our family takes a ski vacation--the girls have each been skiing since age two--any resort that attracts us has to have a strong ski program. Palisades Tahoe fit the bill. From 3 to 13, kids can join the Palisades Tahoe Kids program. There are full and half-day options--though most parents opt for full days.
Check in starts with friendly greeters positioned at the entrance to Palisades Tahoe Kids. There is a bit of paperwork to be filled out--waivers and information about rentals. Palisades Tahoe Kids Snowsports School is a 12,000 square ft. facility so it's nice to have a bit of help navigating the space.
Palisades Tahoe Kids is split up by age. We had a Slider and an Exploerer. There are older groups as well. Here's how it breaks down:
Mtn Sliders Ski Program-ages 3 and 4
Mtn Explorers Ski Program -ages 5 to 7
Mtn Cruisers Ski Program -ages 8 to 12
Mtn Riders Snowboard Program-ages 5 to 7
Mtn Jibbers Snowboard Program-ages 8-12
After paperwork, the kids are given a lift pass and if applicable, rental set-up. It's quite convenient to have rental on the site so parents don't have to drag ski gear form a far-flung rental shop. The girls were given bright vests to wear over their ski jackets to keep them visible on the mountain.
With a quick kiss and a hug we were off. Our kids are used to ski school, so the farewells are never dramatic. But even the newbies were cheery. There weren't many tears spotted.
All pint-sized skiers undergo daily testing to sort them into groups. Once tested, the kids are brought to either the bunny hills close to the Squaw Kids building or in the case of more experienced skiers, sent tromping over to the Funitel (think gondola) to go up to the top level of Squaw Valley. Kids love the Funitel and getting to go up to the top of the mountain--a fun draw for beginners since they are normally relegated to the bottom of the mountains.
Our older girl got to try out plenty of the blacks and blues with her instructor--some times her class was as small as 2-1. The little one got up top a few days as well. We found the end of day feedback very thorough, plus, we relieved a daily report card with ratings of C (completed) or W (working on) so we know how much progress was made.
Lunch was provided and the girls had especially great things to say about a young Aussie instructor named Martin (they each had him lead a group on separate days). We spotted Martin with our daughters out on the mountain and he really had them skiing confidently and having a great time. It's most definitely NOT a ski school where they keep the kids on the easiest terrain.
Momtrends visits Palisades Tahoe Ski School
Here's a quick video of the ski school:
Palisades Tahoe Lift Tickets
What's it going to cost? Full Day Lesson (lesson, lift, rental) $179 skip the rentals and it'll run $149 for the day. Drop off 8:30 pick up at 3:15. Get more details on ski season passes here.
If jumps and tricks are requisite, Palisades Tahoe won't disappoint. There are 5 terrain parks and pipes for those craving freestyle excitement. Private and semi private lessons can also be set up separate from Squaw Kids.
Palisades Tahoe has a ton of excellent, groomed trails for moms like me who love steep, rolling trails. The runs off Shirley Lake Express were my favorites. For daredevils, don't miss the back bowls and the runs off of KT-22. (Mr. Momtrends favorite).
Terrain-wise, Palisades Tahoe Valley is a dream for advance ski and snowboarders. 
Palisades Tahoe Statistics
30 lifts including Aerial Tram: 1 (110-person tram)
Funitel: 1 (28-person gondola)
Trail Classification (total mountain acreage)
25% Beginner (this feels disproportionate to me)
45% Intermediate
30% Advanced
Skiable Acres: 3,600
Trails: 170+
Bowls: 16
And a few more tidbits: Longest Run: Mountain Run, 3.2 miles and the Peak elevation is 9,050. The average annual snowfall: 450 inches--during our visit (the last week of March) we received 2+ feet of snow.
TIP: The Squaw Mobile Smartphone app fun to use. We downloaded the Android App and had trail map at our fingertips. The app also gave lift status in real time. The iPhone app offers even more interaction.
Palisades Tahoe Insider Tips
NOTABLE: Palisades Tahoe boasts the first ski in ski out Starbucks, we mostly bring snacks to eat on the mountain so we don't have to stop long. But there were plenty of tasty options for those who want a heartier mean mid-day. The wood-fire pizza spot is a not-fail place with kids.
Overall this is a terrific place to get the kids hooked on skiing, but might not be the best place for complete newbies. While the instructors were patient, most of the families there had the ski bug big time and were devoted to the sport. Skiing is a magical sport--where generations can bond on the mountain. Palisades Tahoe is for adventurous types who want big powder, amazingly varied terrain and plenty of challenges.
For more information head to www.palisadestahoe.com/
MORE SKI FEATURES FROM MOMTRENDS
PIN IT!
Use Pinterest to save your favorite family travel features. Be sure to follow our Ski Moms Pinterest Board.
Momtrends was not paid for this post. We did get complementary lift tickets and ski school passes.