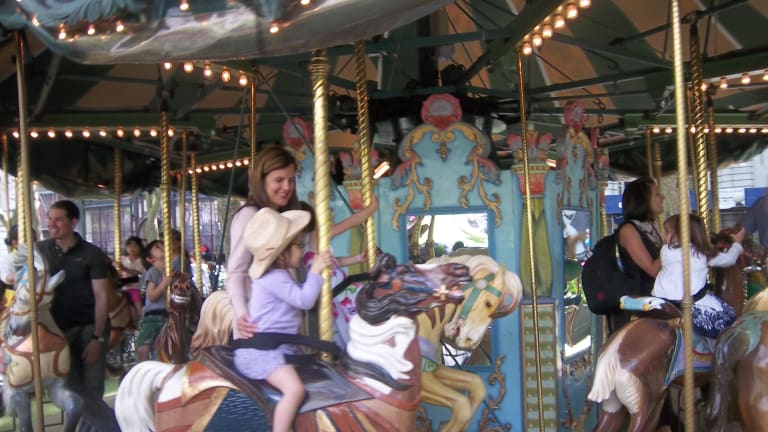 Plan a Fun Visit with Kids to Bryant Park NYC
Bryant Park is teeming with things to do with the kiddies, there are four seasons worth of fun at this iconic NYC park.
Most visitors know about Central Park in New York City, but they might not know about Bryant Park. What a treat! This park is teeming with things to do with the kiddies. If you plan on visiting New York City, here are our tips to plan a fun visit with kids to Bryant Park.
Related: Macy's flower show in NYC
Bryant Park History
This spiffy little park has nearly 10 acres of land for families to enjoy. it is located between  5th Ave and Avenue of the Americas between 40th and 42nd Streets.  The first park at the site was opened in 1847, and was for a time manage by the city of New York. Even though it is still owned by the New York City Department of Parks and Recreation, Bryant Park is now managed by the private not-for-profit organization Bryant Park Corporation. 
In 1980, the park went through a huge restoration and is now both a National Register of Historic Places listing and a NYC landmark.
Bryant Park Carousel 
A trip won't be complete without a visit to Le Carrousel.   The carousel was designed by Marvin Sylvor and installed in 2002. Specially created to complement the park's French classical style, this carousel is an homage to both European and American traditions. Its fourteen delightful animals, replicas of classic carousel creatures, revolve to the sounds of French cabaret music.
It's a gentle ride and a small structure, making it a delight for young children. 
This pint-sized ride is ideal for the 6 and under crowd. Stroll up to Bryant Park, enjoy a bit of time walking on the plush grass and then head for a few rides on the carousel. The location also features a small children's library for some quiet time in between rides.
Get details on the Bryant Park Carousel here (41 West 40th St).
Winter Village at Bryant Park
The park hosts several events, including a seasonal "Winter Village." Modeled on Europe's charming winter markets, in 2002 Bryant Park introduced the Holiday Shops in an effort to bring people to the park even during the colder months.
The skating rink is a highlight of the winter fun. In the winter, the green space of the park converts to an ice rink with free admission. Ice skating at Citi Pond Bryant Park is a great alternative to Rockefeller Center. The 17, 000-square-foot rink is family friendly and thanks to Citi's generosity, it continues to be free for all guests (you do have to pay to rent skates). Get details about the rink here: bryantpark.org/amenities/the-rink
After skating, families can spend some time at The Holiday Shops surrounding CitiPond with more than 125 retailers that offer unique boutique shops and specialty food stores. There are also several restaurants on the perimeter. 
More Fun at Bryant Park
Cultural Events: In the fall, Bryant Park holds a series of cultural arts performances that include fun events for kids, including workshops, hands-on activities, and more. 
Movies: Bryant Park Movie Nights, begun in the early 1990s, take place on Monday evenings during the summer
Gaming: Areas of the park are dedicated to public play. There are designated chess and backgammon tables as well as Petanque courts. 
New York Public Library
The eastern half of Bryant Park is occupied by the Main Branch of the New York Public Library. Fun fact: an underground structure houses the library's stash of research books. The carousel sits on top at street level. 
The library was renamed the Stephen A. Schwarzman Building, and is the flagship building in the New York Public Library system.  There are over 50 million books within the NYPL system, and this is one of the largest collections in the city's holding.
Fun Fact: Mayor Fiorello La Guardia nicknamed the Library Lions ( a great spot for a picture) Patience and Fortitude in the 1930s because he felt New Yorkers needed to possess these qualities in order to survive the Depression.
Get more details here: www.nypl.org/locations/schwarzman
476 5th Ave, New York, NY 10018
PLAN YOUR NYC VISIT
Check out our NYC page for things to see and do in NYC and don't miss these highlights.
PIN IT!
Use Pinterest to save your favorite NYC outings. Be sure to follow our New York City board here.