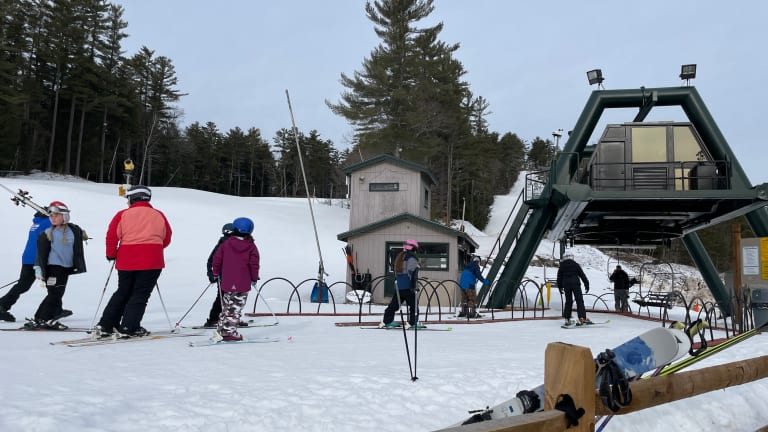 Plan a Family King Pine Ski Vacation
Find the joy in creating a ski family with a trip to King Pine in the White Mountains of New Hampshire.
Some of my favorite travel memories involve being outdoors in the snow with my girls. We have the best time on the lifts telling stories and plotting our perfect runs (and the perfect hot cocoa break). I work hard to carve out vacation time with the kids--time to connect and make memories. I know the size of the resort doesn't matter, it's all about the little things. Families have been heading to King Pine in the White Mountains to launch generations of skiers and riders because they know how to generate smiles. It's a charming New Hampshire spot that gets so many details right. They know how to make families happy. 
Related: Best skiing base layers for kids
Every ski family needs a safe place to pass on traditions. You don't need much to get your kids started. It takes a gentle pitch, a warm lodge, easy access to the slopes and a supportive learning environment. Many families feel overwhelmed when they think of skiing. All the gear to lug, expensive passes to buy and long lines to navigate. Places like King Pine exist to remove the friction and help families get up and running with snowsports.
King Pine has a big birthday this year. During the 2022-23 season, they turn 60. It's the perfect time to reflect on the magic that keeps families coming back to this resort.
Ski King Pine
Let's start with the snow. This is a hill that is perfect for families. It's cut from gentle slopes in the White Mountains. The designers left plenty of trees to give it character and charm. Almost every trail has the word pine in it. King Pine has 45 skiable acres, with three ski lifts and seventeen trails. The main base area is located by the Polar Bear Triple lift and the Cubby Rope Tow. Everything is easy to access and simple to navigate.
The ski area is split between two bases. The more difficult terrain is accessed by the Black Bear Triple lift. I started off my day on the the Polar Bear Triple lift. The liftie had some Clash playing as I loaded up...we were off to a good start. In front of me, a group of school boys mapped out their runs and shared a few giggles. 
When I got to the top, I saw an instructor leading another group of kiddos. His advice: "edge to edge...no wedge." This put a huge smile on my face. This is the spot where skiers are created. It doesn't take much vertical to create joy. It's a simple equation: snow + patience = skier.
I kept to myself as I watched memories being made around me. I saw moms guiding kiddos through the trees along Pine Spills and teachers helping load newbies on the Cubby Tow. Everywhere I looked there were kind adults helping to sprinkle the magic skiing dust required to get kids hooked.
As I took in the terrain, I remembered starting my own kiddos at Mohawk in CT. We ski moms desperately need these small places to exist. When I was done taking part in my nostalgia tour, I headed to the steeper pitches off the Black Bear lift. 
There's a small amount of parking here and Milt's Lodge is a nice place to warm up. I loved the steep runs off of the Black Bear lift, Jack Pine was nice and zippy. I made lap after lap over here and had most of the trails all to myself.
The snowmakers do an excellent job of evening out the snow coverage. Though there was no new snow, I didn't encounter any ice. Make sure you thank a snowmaker...I sure do!
Here's the scoop on King Pine by the numbers
Number of trails: 17
Vertical: 350 ft (110 m)
Longest run: Pokey Pine
Other Ways to Play in the Snow at King Pine
In addition to skiing, there's also a tubing park in the base area. Families can also enjoy free skating at the Tohko Dome, a covered skating rink that overlooks the lake. It's a slice of heaven to explore skate with these views.
For those who want to cross country ski, there are plenty of trails available (again, when the snow comes...). Take out snowshoes or skinny skis on the cut trails that wind through the forrest. When there's snow, the trails are groomed once a week. There are miles and miles of trails (20km in all) to explore through the New Hampshire Audobon sanctuary. 
The best spot to start your snowshoe or cross country ski is from the area near Purity Springs Resort. A day pass for the trails is $15.
Momtrends Tip: for $69 guests can get a season-long human-powered pass. It's the value play and gives you access to all the trails in the network that aren't lift-served.
History of King Pine
Ski historian Tom Eastman has done a great job capturing the spirit of the resort in his writing for The Conway Daily Sun. Tom walked me through the resort's timeline. It all started with a boys camp called Camp Tohkomeupog. The camp served children who were starved for the outdoors and needed a break from city life. The camp proved to be a huge success and there was clamor for camp to extend to holiday breaks too. To keep the kiddos busy over winter break, the camp founder, Milt Hoyt, installed a rope tow on his property to get kids skiing.
Here's a little timeline of the Hoyt's family development.
1939: The Hoyt's start an overnight ski camp for kids
1962: Milt Hoyt founds King Pine as an extension of Purity Springs resort.
1980: King Pine introduces snowmaking 
1982: King Pine installs night lights
Over the decades the family has continuously invested in on and off-mountain fun to make sure families keep coming back.
Purity Spring Resort
Many New Hampshire locals call King Pine home, but it's also a terrific destination resort for bigger New England towns and cities. If you plan to take a few days to ski, you can stay right at the Purity Spring Resort. 
Purity Spring has a variety of room offerings, from standard hotel rooms to apartments with kitchens. They are clean and well-appointed and extremely budget friendly. My room had a little coffee nook with a sink, mini fridge, microwave and coffee maker--everything needed for snack time! 
Check in at the friendly front desk. You can pick up games to bring back to your room too. They have a small coffee station and lots of information about the local area. 
Traditions restaurant is a wonderful place to start or end your day. Definitely order the vegetarian burrito for breakfast and the espresso is quite nice. The restaurant also has a small bar and a hearty dinner menu. My kale caesar salad was very good.
The resort has a large indoor lap pool and hot tub. Kids and adults love to congregate here after the ski day. And there's a small fitness center too.
Best Value: King Pine Ski Area and Purity Spring Resort offers lodging packages that deliver great value, with slopeside "ski in/ski out" rooms starting at just $219 per night. 
Find out more about the resort here Purity Spring.com
Trip Planning Details
I drove in from Vermont. It's a pretty drive through lots of forests. Drive slowly and take in the views along the winding roads.
King Pine Ski Area is located in Madison, Carroll County, New Hampshire. 1251 Eaton Rd, Madison, NH 03849
Pass details: King Pine is an Indy Pass Allied Resort. That means Indy Passholders receive discounts on daily lift tickets but NO FREE DAYS. As an "allied resort" you'll get 50% off posted midweek and non-peak weekend prices, 25% off posted holidays and peak weekends between December 24, 2022 and March 12, 2023. Only one discount ticket is allowed per passholder per day. Indy Passholders can also receive a 20% discount on non-holiday midweek lodging at Purity Spring Resort.
If you don't have a pass, lift tickets are $75 per day for adults and $50 for kids over 5. There are many deals and specials available. Check out the website for more. Rentals are $42/day.
Best Deal: $20 Tuesdays. Night lift tickets (3:30-8 p.m.) all ages are $20. Ski and Snowboard Rentals for Tuesday Night Twilight are also $20. 
Plan your trip here King Pine.com
Vibe of King Pine
There's a simple beauty in small resorts. When the lifties know the name of your kiddos, the little rippers are a LOT more likely to pull the bar down and stay out of trouble. And let's not forget how these small mountains support school kids. On my visit, the local grade school bused in for their weekly ski. They got passes, rentals and lessons at a subsidized rate...ensuring that the next generation of ski families can take root and grow.
Sure, you can find larger mountains in New Hampshire, but you are unlikely to find one with more heart than this place. If you are hunting for a sweet resort to introduce your young family to snowsports, you are going to ensure success at King Pine.
MORE SKIING RESOURCES FROM MOMTRENDS
PIN IT!
Use Pinterest to save your favorite family travel features. Be sure to follow our Ski Moms Pinterest Board.