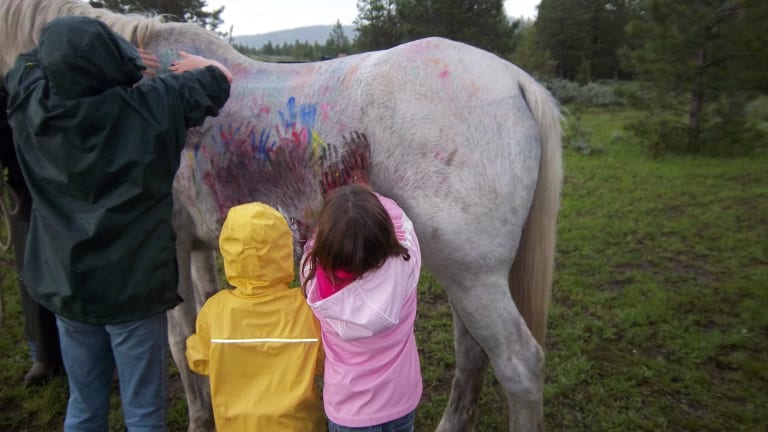 Paws Up Montana Family Fun
Adventurous Family Summer Destinations
For trip planning details head to Part II here
Paws Up is not your ordinary family camping trip. With 37,000 acres of premiere Montana real estate, this luxury travel destination combines the best of experiencing pristine wilderness with accommodations and services that rival some of the swankest boutique hotels we've experienced. The experience is so unique the folks at Paws Up came up with a new term--'Glamping' or glamor camping.
Dreamed up by a husband and wife team (I met one part of the couple, Nadine popped up several times during the press trip), Paws Up started with the land and built from there. Dave and Nadine found some incredible acreage along the Black Foot River. The terrain encompasses low-lying river valleys and sky-high peaks such as Look Out Rock--we promise you won't soon get bored of the Montana vistas. The owners clearly picked the right spot to show off the Northwest's finest outdoor activities.
Thanks to a 10-hour flight delay (curse you Delta), we arrived late at night into Pinnacle Camp. [Note: Pinnacle is one of the tented camps--we'll give more details on the different types of lodging on post #2]. We could hear the rushing Black Foot River, but couldn't see it. Wesley, our camp's "butler," showed us to our room. Weary from 22 hours of travel (I woke at 3am Montana time and didn't get to my tent until 1:30am the following day), I was gobsmacked by the elegance of my room. Only this level of luxury and wild west glamour could make my long journey with 6 year old in tow worthwhile. Paws Up exceeded expectations.
Keep in mind, I've been to some of the fanciest high-end dude ranches and safari tents in the world, and I was still impressed. Ralph Lauren has nothing on Nadine, the resident decorator. Each room ( housing, restaurants and entertainment areas) have her touch; think rustic refinement.
One in our tent, I quickly tucked my daughter into bed as the butler heated up the slate floor in the bathroom and set the independent bed heaters to make our sheets extra toasty. I have no doubt that Welsey would have read my daughter a bed-time story if she had stayed awake long enough to make that request. Left with the huge tent and the sound of the rushing river, I popped into the rain shower and washed off all the Delta airlines funk and slipped into the cozy bed. Bliss.
For the next three mornings, we joined the other the campers from Pinnacle camp for a communal breakfast in a large dining tent overlooking the river. This was our chance to get to know our temporary neighbors. We swapped backgrounds, and sized up the activities. We loved the social nature of the meal, almost as much as we loved the fluffy pancakes prepared in front of our eyes.
From there, shuttles were sent to collect us and take us over to the Wilderness Outpost (the WO) from where all activities and excursions are launched. The WO's menu can keep a family busy for a week with ease--you wouldn't even have to do the same activity twice. With all the gorgeous terrain, we think you'd be crazy to not book a horse ride and to get out on the water either for a raft trip or to fly fish.
What did we try?
Hiking a four mile guided trail and peeking down at the Black Foot River from atop of Look Out Rock.
Getting individual horseback instruction from Cowboy Max.
A chuck wagon dinner
A hot stone massage at Spa Town
Clay Pigeon shooting
Zorb--loading into a clear bubble ball and being rolled down hill
Each one was a winner and provided a unique experience for our outdoor-loving family. I cannot stress enough the quality of the staff and the experiences. Paws Up is expensive and it takes a LONG time to get there from NYC (add in a 10 hour layover in Minneapolis to the mix and it is even longer), but it is worth ever minute of travel time and every dollar of your travel budget.
This place is about making a lifetime of memories. I won't soon forget my daughter and I riding side-by-side during our riding lesson from Cowboy Max. While American Girl dolls are great and my girl's current obsession, I know that doll eventually will lose its charm. The image of mother and daughter riding majestic horses in the wide open Montana fields...well, that can't ever be put in the bottom of the toy bin or left in a taxi. That my friends in priceless.
On our last night at the resort, we got to head out on a chuck wagon dinner. Rolling through the fields of the resort, I felt a million miles away from Brooklyn and closer to my daughter than ever before. Along the trail we spotted a huge bald eagle aerie, marmots, and plenty of the resort's horses. When we set up camp along the river, we were greeted by a full bar and a roaring fire. The kids hung around the horses while the adults had cocktails.
Prime rib and chicken were thrown on the fire, plus traditional sides such as corn and beans. Roughing it? Not in the least. We had linen napkins, real silverware and some mighty tasty wines (we drink the Grgich Hills back at casa de Momtrends--yum). A late spring rain storm descended, and the Paws Up staff leapt into action. Two tents were quickly set up to keep the diners and the dinners dry (not that the kids cared in the least). The rain clouds rolled on and after dinner the kids joined Cowboy Mike and his dog Lady for some roping lessons.
Before we caught the sunset ride back, we roasted s'mores and savored our last night in Montana. It took some effort to get to Paws Up from NYC (add in a 10 hour layover in Minneapolis to the mix and it is even longer), but it was worth every minute of travel time. What's more, we say a family trip here is worth every dollar of your travel budget. Think of it as in investment in your family. This place is about making a lifetime of memories.

As my little girl and I snuggled in our fluffy down bed, she looked at me and said, "I love this place mommy." Right back at you Paws Up.
Pin it and Plan it!
PART II OF THIS REVIEW INCLUDES TRIP PLANNING. FOR MORE INFORMATION VISIT: www.pawsup.com
FULL DISCLOSURE: We were not paid for this review. We did receive airfare, lodging, food, etc. They were comped so we could fully experience the resort and write about it. I have no doubt that the Family Momtrends will be back in a few years on our own dime--it's that good.