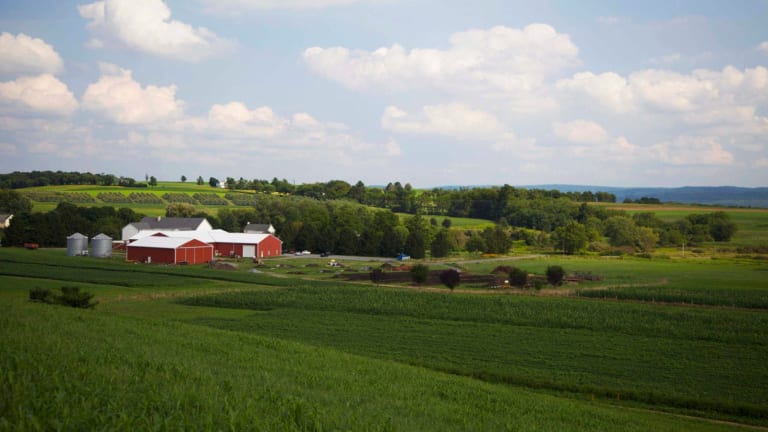 Organic Valley Farm Tour
A day at the farm to meet with a local organic dairy farmer in Pennsylvania.
I will never forget when I first incorporated organic foods into my home. Shortly after my first daughter was born I found myself cooking more at home and having always been interested in health and wellness, I started learning more about organic eating as well as reading books like Eating Animals and seeing profound films like Food, Inc where the notion of organic eating clicked with me and simply made sense. Since I was learning something new about it everyday, I didn't go "all or nothing" but rather, I slowly started to swap conventional items for organic products. When I was invited on this Organic Valley farm tour I was really interested.
Dairy Farm Tour
Although I understand the significance of organic food from what I have read and adapted as a lifestyle I have never actually been to an organic farm so I was thrilled when Organic Valley invited Momtrends to a day at the farm to meet with a local organic dairy farmer in Pennsylvania and then learn more about organic gardening from the equally fascinating Rodale Institute.
Leaving NYC bright and early, I started to learn more about the brands' organic model that is signified as a farmer-owned coop. No corporations are involved at all which is really amazing given how much the coop has grown since 1988 with a handful of farmers in Southwestern Wisconsin. Starting out producing milk, this farmer-owned coop now includes a full line of products from meat to produce to cheese who mantra is focused on "organic agriculture and building a future for sustainable family farming in America." 
Organic dairy farming in Pennsylvania
This also means that the coop is not funded by any corporate entities, but rather, it is owned 100% by the farmer whose model focuses on the small farmer and the rural community. While on the tour, Organic Valley employees were explaining how this is a sustainable model that is focused on preserving the environment while also providing jobs for the future generation of farmers.

While at the farm, our group was greeted by the Burkholder family who run and operate their organic dairy farm in Pennsylvania. A former conventional farmer (or those who feed their animals corn feed instead of grass), they decided to switch over when they realized that allowing cows to roam and explore the land seemed natural and the right thing to do. With the assistance of Organic Valley the family was able to transition their cows and provide them with daily movement, sunlight and the ability to freely roam around and eat grass at their leisure. This also means none of their grass is sprayed with pesticides or synthetic fertilizers and the cows are not given any hormones or antibiotics when they are sick. Organic Valley employs a vet who helps cows and other animals with holistic medicine, herbs massage, and acupuncture .
At the Burkholder family farm, we also viewed baby cows, who nursed from a bottle, as well watched how a cow was milk. Through this process, I learned how after the cows are milked, it is then stored and picked by Organic Valley who pasteurizes it and then packages the milk as well as uses it for other sources of dairy (cheese, butter, etc). 
This whole process means that milk from an organic farm is in your local supermarket store in about two days where I really enjoyed seeing the connection from animal-to-farmer and hearing how the whole process is actually beneficial to the organic farmer. Through Organic Valley they are paid better wages than a conventional farmer through their program that "shares a portion of the profits with the farmers, employees and the community." Farmers are also provided with incredible support and services through the coop and truly become a part of a community rather than a corporation whose sole purpose is to make money.
Following the tour, our group received an incredible tour at the nearby Rodale Institute where we toured their local garden and viewed the garden that included everything from kale to potatoes. We then enjoyed a delicious lunch that features products from Organic Valley as well as chat with the Burkholder family and the Organic Valley team.
While I was already drinking organic milk, I finally understood what differentiated Organic Valley from other organic dairy companies as indicated from their passion to agriculture, animals, health and to provide opportunities to future generations of farmers.
For more information, please visit: http://www.organicvalley.coop/
Momtrends was not paid for this Organic Valley Farm Tour post