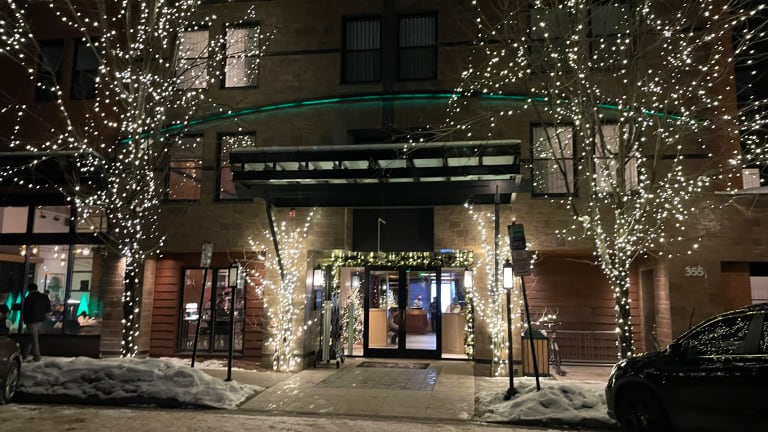 Limelight Family Friendly Aspen Hotel
Pick this perfect ski hotel to base your family on your trip to Colorado's premiere winter destination.
Family travel is simply easier at the Limelight hotels. About 7 years ago, Aspen offered me an introduction to the Limelight. I got to revisit the property this ski season with my teenage daughter and have all the scoop you need to plan your family ski holiday to the Limelight Aspen. The Limelight is within walking distance of the Aspen gondola and steps away from all the best shopping and restaurants.
We drove up from Aspen, but the hotel is most easily accessed from the nearby Aspen airport. If you fly in, you won't even need a car, thanks to a terrific shuttle system and a perfect location, you won't need to get behind the wheel on your stay. 
Momtrends recommends using Ski Butlers for your Aspen ski and snowboard rentals. Use our link for 20% off.
About the Limelight
Limelight Hotels are part of Aspen Skiing Company's hospitality division and the Limelight Hotel Aspen is its flagship property with 126 rooms and suites. The concept is meant to provide lots of bright cheerful spaces to discerning guests with a friendly, but lean staff. This is a spot for families that are self-sufficient, but who value a great location, excellent rooms and thoughtful design.
While the Limelight has a pared-down staff, they are also incredibly friendly and knowledgeable. A few examples: the shuttle ran promptly even on a busy weekend, the front desk always answered our calls quickly and provided helpful information, and the cleaning crew keeps things tidy. The most notable staff members were the food and beverage team. They were solicitous at breakfast making sure we had everything we wanted and I was so impressed with how they navigated a packed house at dinner time. 
The Limelight lobby is the hub of all the activity. During our stay there was a beautiful Christmas tree and all winter long you'll find a roaring fire. We also loved that friendly dogs weave in and out of the lobby adding and excellent energy to the space. There are big roomy sofas, comfy chairs and places to play games, read a book or enjoy your coffee. During the daily happy hour from 3 – 5 pm, enjoy drink and food specials. Live music or a DJ adds to the ambiance on weekends. I love sipping my mulled wine and watching some of the FIFA World Cup up on a large screen while kids sipped cocoa and played board games. It's a great spot to end a ski day no matter your age.
In addition to the inviting interior layouts, Limelight hotels always build out a cool outdoor space. The outdoor pool and hot tubs are a terrific spot to warm up after your time on the slopes. Both are heated and the deck has cute lights rigged up.
Active guests are here for the skiing and riding, but just in case you don't get enough of a workout on the mountain, you can head to the gym. It's open 24 hours and a has just enough room to stretch out on a yoga mat. There are a few cardio machines and a small strength area for motivated guests. 
Food at the Limelight
Food is the last element that is uniquely Limelight. They deliver guests a hearty breakfast every day. I'm come to have very low expectations from free breakfasts (every guest is treated to breakfast with a Limelight stay). Limelight breaks from the norm and puts in the effort to give guests a great start to the day. Begin with a steaming coffee or tea and then work your way through the buffet. Families will find an array of cold cereal favorites as well as an oatmeal bar. The baked goods were popular with plenty of muffins and donuts too. We gravitated towards the healthier options. We sipped delicious green juice and loaded up on steamed veggies and eggs. Most guests came down in ski gear and feasted before heading out to the mountains. Everything is mountain casual at the Limelight, feel free to wear your jammies down to breakfast too!
Dinner is casual and centered around wood-fired pizzas. We were not disappointed with our arugula and prosciutto selection. Paired with a crisp romaine salad, we had just what we wanted for a quick dinner after our shopping adventures. Guests can eat by the fire in the lobby or get food to bring back up to the room. There's also a full bar with lots of drink specials and reasonably priced wine and beer.
Skiing from the Limelight
As I shared, the Limelight Aspen has a primo location for ski families. It's about a 10 minute walk to the base of Ajax. Since ski boots can be clunky, I recommend the free Limelight Shuttle. The shuttle scoots back and forth to the base area throughout the day, making it MUCH easier to get the kids where they need to be. The shuttle also serves Aspen Highlands (about 10 minutes away). The drivers are safe and courteous and we loved this service. I'll share more in my mountain review, but be aware that both Aspen Highlands and Aspen (aka Ajax) are best suited to intermediate and advanced skiers. There is little to none beginner terrain at either of these mountains. It's a perfect spot for teens and tweens. If you are with small kiddos who are just getting up and running on the slopes, head to Buttermilk or Snowmass. The Limelight also has a location at Snowmass, I haven't been to that one yet, but I imagine it's a terrific spot for families skiing that mountain. 
When you finish your ski day, the Limelight Ski Valet will stash your skis, poles and snowboards. Then when you're ready to ski or pack up, you can easily retrieve them from the front of the hotel.
Art and Decor at the Limelight
The Aspen Limelight has a wonderful and colorful art collection. It's playful and thoughtful, integrating many environmental themes. The modern design is inviting and unfussy. Kids gravitate to the kiddo lounge off the breakfast area. There's room to spread out and play games or hook up the video station. The retro video game was a hit with big kids and their parents.
The rooms at the Limelight are extremely well thought-out. There's an incredible amount of storage for your gear. Skiing and riding require a lot of layers. There's room to hang them up on hooks, stash them in under-bed drawers or fold them up into deep drawers and shelves. Our beds had soft, fine linens and fluffy pillows, and our gas fireplace made the space extra cozy.
We had a small food station with a cute Smeg fridge, microwave, coffee brewer, sink and plates and utensils for 4. I requested a tea kettle and was brought one up right away. If you do order in food, you can set up at a small dining area. Our table could fit 4. We used the table more as a work station, and loved the extra space. 
The bathroom has a large soaking tub, dual sinks and again, plenty of shelf space for a family of 4. And they conveniently moved the toilet into a separate space for privacy and efficiency.
The room had soft robes, which we took to the pool and a a humidifier to make it easier on our bodies as we adjusted to elevation.
Special Limelight Aspen Offerings
The Limelight as a few offerings for families to create special memories on a ski vacation. These are a few of our favorites.
First Tracks: This is a complimentary program offering guests the chance to be guided by a ski school pro and ski freshly groomed terrain or powder before Aspen Mountain opens to the public.
Last Tracks: Join the Aspen Ski Patrol for a final run of the day and get a behind the scenes look at how they put Aspen Mountain to bed at the end of the day.
Parking at the Limelight
Upon check-in, the Limelight's helpful staff can unload your luggage while you check in at the front desk. Parking is available at $30/night for hotel guests. The garage also has electric car chargers available for guests. You'll find a spacious underground lot that is heated and secure. Unlike most resort parking lots you'll find high ceilings and space to maneuver your large SUV. Since I was in an enormous rental, I was very relieved not to have to squeeze into a tight spot.
Other Amenities at the Limelight
Though this hotel might not have all the features of a larger hotel, they supplied everything I needed. A few more notes"
Limelight offers free WiFi everywhere in the hotel (it works and it's fast).
Dogs are welcome.
Guest laundry is available in a clean and large laundry room located on the first floor near the pool.
Book Your Stay
The Limelight Aspen is located at 355 S. Monarch Street, Aspen, CO 81611. Book your trip at www.limelighthotels.com
Find out more about the Limelight Sun Valley here.
MORE SKI FEATURES FROM MOMTRENDS
PIN IT!
Use Pinterest to save your favorite family travel features. Be sure to follow our Ski Moms Pinterest Board.
Disclosure: Momtrends was not paid for this Limelight Hotel post, portion of our stay were hosted to facilitate this review.