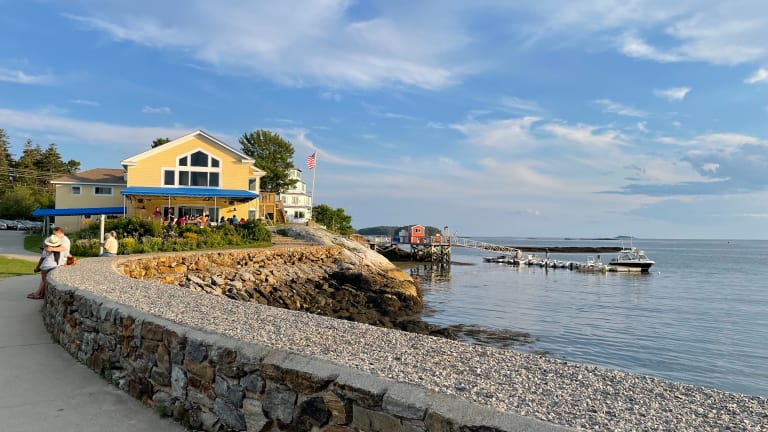 Lessons I've Learned Traveling to Sebasco Resort Maine
Tucked along Maine's rocky coastline, the Sebasco Resort has been  hosting families for outdoor fun for nearly 100 years.
When you think of a summer getaway to Maine, it's likely you are envisioning something akin to the Sebasco Harbor Resort. Tucked along Maine's rocky coastline, this family-style resort has been hosting families for nearly 100 years. If you're ready to travel, take a look at the travel tips I amassed when traveling to the Sebasco Resort in Maine,
Related: 10 Reasons You Should Go to Sanderling Resort
Best Suited To: Retirees and families with young children
Luxury Rating: 2.5 out of 5 stars
Best Feature: Stunning layout along the Casco Bay
Must-do Activities: Water sports and boat cruises
Sebasco Resort Maine
The 92nd summer of the resort was probably a little rockier than most. Nationwide we are experiencing a shortage of service industry workers. Many resorts like the Sebasco are stretched thin trying to serve the customers they've booked. Thus, this review should have an asterisk. In a year of full staffing, they will likely improve upon some of the guest experiences, but I do feel my time there revealed the essence of the resort.
Sebasco is situated on a prime piece of real estate. A lush golf course winds its way through the resort's cabins, lodge buildings and a few private homes. It's hard to find an ugly corner of the resort and nearly every building and room has a view. It's a spot to slow down and focus on family far from the stressors of work and home.
Lodging at Sebasco
We checked in a little late after a drive from Vermont and were given a warm welcome at the front desk. I confirmed my reservation and reminded them I had my dog with me. I was given a small goodie bag for my dog as they sorted out the room keys. While I had reserved a pet-friendly room, there had been a mix up. After a brief bit of panic, I was given a "upgraded" room with two double beds, a balcony, and a lovely view of a salt marsh.
We stayed in room 26 on the lower lever of the Main Lodge. The Main Lodge rooms are traditional and guests can enjoy a screened in porch and pretty lobby area to read, play board games or simply sip a coffee.
Our room was tidy and tastefully decorated with few luxury touches. I would call it nice, not fancy. The bathroom was spacious and the bedding clean and soft. The beds are on the mushy side, but after a full day of activities, it really didn't matter. On the upside, our room had a lovely cross breeze and ample space for three of us, plus dog to spread out.
From outward appearances, the best rooms would be the Harbor Village. These bay-facing rooms have decks and a grassy expanse right out the front door. There are also stand-alone cabins dotting the property that vary in size up to 10 bedrooms to accommodate larger families. They look like fantastic options for a reunion.
Dining at Sebasco 
There are a few dining options at Sebasco. We had both our dinners at the Pilot House Restaurant. The food is casual, with plenty of seafood options. We liked our fish tacos quite a bit and thought the view and staff were delightful. 
Momtrends Tip: Be sure to make reservations! They are understaffed and walk ins can't always be accommodated.
In addition to the restaurant, there's a great little takeout café open from 6:30am to 6pm. We picked up breakfast here each morning. The egg sandwiches and fresh baked muffins were fantastic.
It's not summer without ice cream. And Sebasco has an adorable ice cream stand on property. We couldn't quite time a visit to Patty's Sweet Scoops (we were given a range of closing times, and were disappointed we kept missing our treats), but judging from the happy kids we spotted with cones, it's a hit.
Activities for Kids
It's not just ice cream that put the kiddos into great moods--the entire resort is set up to maximize fun. There are young kids everywhere! The sweet spot seemed to be the 10 and under crowd. 
Families don't come to Sebasco for the food, they come for the activities. The grounds are loaded with lawn games (you can't walk 20 feet without coming across a corn hole game) and water sports.
There are daily activities planned for children (check the weekly calendar at the front desk) that range from arts and crafts to fishing derbies. Kids also love the Quarterdeck Recreation area. With the safe set up at Sebasco, you can fairly little kids roam with little fear they will find any trouble. The Rec center offers ping pong, bowling, and arcade games. If you need a break from the family time, sign the kids up for Camp Merritt.  Sessions are offered on Tuesday & Thursday from 10:00 am to 3:00 pm. A fee of $30 per child covers the cost of lunch and snacks. The recommended age for camp participants is children 5-12 years old.
The enormous saltwater pool occupies a spectacular spot on the property. It juts out along the inlet and is a magnet for small kids thanks to the large shallow area.
With the kiddos settled at camp, parents get a break to play tennis, get in a round of golf or head to the spa. We missed these activities, as we were visiting colleges on most of our visit, but there is no lack of things to do.
Fans of yoga can sign up for a daily 7:30 class. I didn't get a chance to pop into the spa, but a quick drop into the fitness area (also home to the boat bookings) revealed a rudimentary gym set up.
Water Sports at Sebasco
Water sports are big here. For many it's a BYOC (bring your own canoe) situation, but there are plenty of boats to hire or rent during your stay.
The newest addition to the fleet is the Sabre motor yacht called the Bay Dreamer. Guests can set up 4-hour excursions for up to 6 people. There are also sunset and scenic cruises offered nearly every day. Booking a boat trip is a must at this resort and really the best way to appreciate the spectacular setting.
In addition to the sailboats and power boats, kayaking is a BIG deal. Sebasco utilizes Seaspray Kayaking, who has been guiding sea kayaking expeditions on the coast of Maine for over 20 years. The half-day tours are a fantastic way to spend a summer day with family and friends. Daily tours depart in the morning and afternoon during the summer season.
Can you bring a dog to Sebasco?
Note to dog owners. I'm new to this traveling with dogs gig. I've learned there's a big difference between "pet-friendly" and "pets allowed" – this is definitely a pets allowed situation. Other than the welcome bag, there's nothing really on offer for pets. Thankfully, after a quick google search, I found a nearby kennel owned by Anita. I set our pup up there for the day when we had back-to-back college tours.
The trouble is finding a spot to eat. The Pilot outdoor patio doesn't allow dogs, which is a bit tricky. We had to eat in shifts. While I agree dogs don't belong outdoors, most restaurants allow well behaved dogs to sit outside with owners. Since there isn't room service, it's unclear how a dog owner would make this situation work. 
Final Thought
Wi-Fi is spotty at best, but really, this is not a place to stay up to date on work emails. Guests at Sebasco should give into the fun vibe and get outdoors. This is a terrific spot to beat the heat and enjoy the best of Maine with your young family.
Plan your visit
Sebasco Harbor Resort, 29 Kenyon Road, Phippsburg, ME, 207-389-1161 book at www.sebasco.com
BEACH TRAVEL INSPIRATION FROM MOMTRENDS
PIN IT!
Use Pinterest to save your favorite family travel articles, and be sure to follow our Travel with Kids board.
Momtrends was not paid for this post.