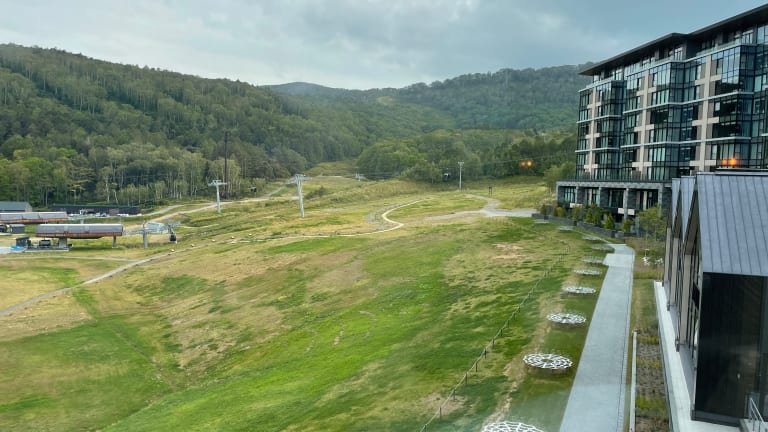 Japan Adventure Park Hyatt Hotel Niseko
A perfect full-service resort for your luxury family ski vacation in snowy Hokkaido, Japan.
Are you ready for an international ski adventure with your family? This new opened in January 2020, right before the big shutdown.  The Park Hyatt hotel is located 2 hours northeast of the New Chitose airport in the northern island of Hokkaido. We arrived via flight from Tokyo to the Park Hyatt Hotel Niseko and had five days of mountain adventures. I think this resort is perfect for a luxury family ski vacation.
Related: Tips for skiing Hokkaido, Japan
Snow in Niseko
Set in a spectacular natural landscape with stunning views across the Annupuri ranges and Mount Yotei, Park Hyatt Niseko Hanazono combines a high service standard and access to extraordinary snow.
Hokkaido, the northernmost of Japan's main islands, is known for its volcanoes, natural hot springs (onsen) and ski areas. The ski areas benefit from a weather pattern that produces major snowfall. The area is known for its powder. Just how much? For the 2021-22 season the mid-station at Hirafu received 1450cm of snow (that's 570 inches or over 47 feet).
Snow starts falling in late October but isn't enough to accumulate for skiing until November or December. Reliably, Christmas kicks off the season. 
What to Expect Park Hyatt Hotel Niseko
You'll find plenty of English-speaking staff on hand. In addition to expertly trained Japanese staff, the resort hires from Scotland, Australia, and New Zealand in addition to multi-lingual hosts from the Philippines.
The Park Hyatt opened just in time for COVID19 to arrive in Japan. Since Japan was largely closed to foreign visitors, the hotel never had a chance to hit anything near capacity. This will be the first winter they can welcome guests from around the world.
In addition to a beautifully designed hotel situated in natural splendor, you'll find an embarrassment of riches with the restaurants on the property. I'm going to walk you through trip planning and help you map out a perfect stay during the summer or winter season.
Skiing Hanazono Niseko
Let's start with the snowy season. Niseko is a popular destination for locals and international guests. There are four distinct base areas In Niseko and guests spread out at hotels and homes throughout the valleys that serve the base areas. The Park Hyatt is home to some awesome and exclusive access to the slopes located at the Hanazono base. The other four bases get much busier as they have more developed base areas. The Park Hyatt has ski-on/ski-off lodging, and near-private access to two lifts, and a magic carpet, making it perfect for families. 
This area is famous for its wide-open powder bowls and tree runs. The resort center "HANAZONO 308", offers all kinds of services, including a lift ticket office, a high-quality gear rental shop, ski lessons, and a variety of activities for all seasons. Plus, a cutting-edge slope-side restaurant "HANAZONO EDGE" serves resort guests with a restaurant, café, and bar.
Lift tickets are a little different in Japan. I advise an all-mountain ticket. It's a bargain compared to US prices. I converted a 7-Day peak season pass to be about $385 dollars. It's a steal! But exchange rates will change, so this is a ball park estimate.
There's good news for US Skiers, Niseko is on the Ikon Pass. With the full Ikon Pass you'll get 7 FREE Niseko United All Mountain tickets with no blackout dates. You an also purchase tickets in advance. In addition, Mountain Collective pass holders will get 2 days of skiing or riding with no blackout dates.
Wellness and Spa
When you aren't playing outdoors, there's a ton to do inside as well. Let's start with the water features. The swimming pool is world-class with music pumped in via submerged speakers. I suggest a lap swim as you take in views of the mountains. The swim area has built-in hot tubs and pool floats for the kids. There is a spacious deck and two full locker rooms.
For more grown-up fun, guests get access to the onsen as well. Onsens are restorative hot springs. At the Park Hyatt, they are divided by gender and open from 6am onwards. To use the onsen, start by stashing all your gear (and I mean all your gear…you go in naked). Then head to the washing stations for a good thorough scrub. Now you are ready for the deliciously warm water. Start with the warm pool and take in the views. When you are good and glowing, plunge into the cold pool. Then head into the warmest waters. It's rejuvenating and sublimely relaxing.
If you like a good spa treatment, they have plenty of facials and massages. During our visit, the spa was fully booked up, so I can't share the quality of the services. Take my advice and book your spa sessions in advance. We ended up over at the Ritz Carlton spa instead (also lovely) it's a MUCH smaller hotel with fewer services, but the Ritz did have a few openings.
Park Hyatt Niseko Restaurants
The food really sets this resort apart from other ski resorts. Reservations are always encouraged. Popular times book up, so please plan.
Deli Breakfast: The breakfast buffet ranks among the top 5 I've ever experienced. Start with your coffee order--they make a sublime coffee. Then head to the food stations. We started with eggs, and then made a green salad. Next up we tried some of the Japanese offerings including salmon and roe and seaweed salad. Thanks to a partnership with Pierre Herme, you'll find delicious baked treats. It's the best way to fuel your day of adventure and there's a nice kid-level buffet area as well. This spot is 100% ready for families. 
The Lounge: This is a terrific place to enjoy an afternoon tea or cocktail. You can also have a full-service dinner or lunch. During our stay there was a special art installation with Bruno Munro. We had a Mountain Lights four course dinner as we took in the light show. The light-based artwork blends with the natural surroundings. He's made a dreamlike walkway with 180,000 points of light. The artist calls them fireflies. It's just one example of the creative efforts the hotel is making to delight guests.
Olivio: This Italian restaurant was where we had our first dinner. We both had the four course tasting menu. We started with a salad, then had a delish pasta, plus a starter and dessert. It was very good.
Sushi Mitsukawa: This was our favorite meal. Sushi Mitsukawa is a leased space and it's expertly run. We reserved a seat the bar and started in on the best sushi meal I've ever enjoyed. We had fatty tuna, a hand roll and the best salmon pieces I've tasted. Each piece was expertly prepared in front of us and melted in our mouths. Our chef was charming and spoke excellent English. We loved spending time with him. It was expensive ($400 total), but well worth it!
The restaurant offerings also include Chinese (China Kitchen), French (Molière Montagne) and Teppan. We will have something to look forward to on our next visit.
Hanazono Adventure
Rich in nature and blessed with cool and comfortable summers. Hanazono is an ideal destination to enjoy outdoor activities. Head here for more details. During our stay, we enjoyed the summer offerings. Here are a few of our favorites.
Hiking: While we can't wait to get back to ski, for our visit it was a summer adventure. I love exploring ski areas in the summer, the views are just stunning. We took the gondola up to the first stop and then explored around the ski area. The views were stunning. 
Horseback Riding: In addition to hiking and running, we booked a Horse-Riding Tour. We took a taxi about 20 minutes to the adventure. We got a thorough lesion before being led on a gentle trail. The horses were kind and gentle and perfect for these novices. We loved our lesson and our tour. It's geared towards to beginners. Our guided trip was with Niseko Country Farm. 
Zip Lining: Take a three-stage zip-lining adventure in Japan's' first multi-stage dual zip line. Set aside two hours for the experience. The total distance is2,591 meters, the longest in Japan.
Water Sports: Guests can book rafting and kayak trips as well, check in at the 305 station to book (and please plan ahead).
Kids Center: The Indoor Kids Adventure Area - a world for children to have the ultimate freedom to play and investigate in a safe and challenging environment.
Other adventures from the Park Hyatt base include ropes course and a complementary Tree Walk with views of Mt. Yotei. 
Hotel Design 
The resort caters to affluent families and couples. It's packed with luxury and has a wonderful staff to help you create the mountain vacation of your dreams. When we arrived, we were greeted and given a mini tour of the property and walked through the restaurant options. 
The spaces are sleek and modern with great lighting and an awesome vibe. There are numerous fireplaces to warm up the spaces.
We stayed in room 629 with views of Mt. Yotei. It was a lovely suite with a dining area, seating area, bedroom and massive bathroom with tub and enormous closet. I always complain about ski hotels that are stingy with space, Park Hyatt got that right. 
This room would be large enough for a family of four. There are two closet areas and in addition to the master bath, there's a mini bathroom with a shower that would be great for the kiddos. 
And one more note, I loved the pajamas that came with the room. It was the perfect set for our stay!
Planning your Trip to the Park Hyatt Hotel Niseko
The most popular ski weeks are Christmas and Chinese New Year, when floods of Chinese tourists hit the slopes. For American skiers and riders, it's best to avoid these peak weeks.
Powder is at its deepest and most reliable in January, but storms keep freshening up the stashes well into April and even May.
For those of us who call New England home, our thin carving skis will be completely useless here. You'll need wide, fat skis to navigate the powder. The local towns are outfitted with rental shops to make getting your set-ups a breeze. If you want to spruce up your ski wardrobe, head to Niseko town to visit the Burton and Northface stores. In addition, there are two boutiques Rhythm and the iGate Shops that sell a variety of brands. We loved the assortment at the iGate and splurged on quite a few pieces from Perfect Moment.
MORE SKI FEATURES FROM MOMTRENDS
Mom recommended ski travel gear our picks to get you and your gear to the mountains.
Listen to the Ski Moms Fun Podcast each week in winter we bring you mom-friendly stories from the slopes.
12 Ways to Recycle and Resell Old Ski Gear ideas to save the environment and your budget.
PIN IT!
Use Pinterest to save your favorite family travel features. Be sure to follow our Ski Moms Pinterest Board.