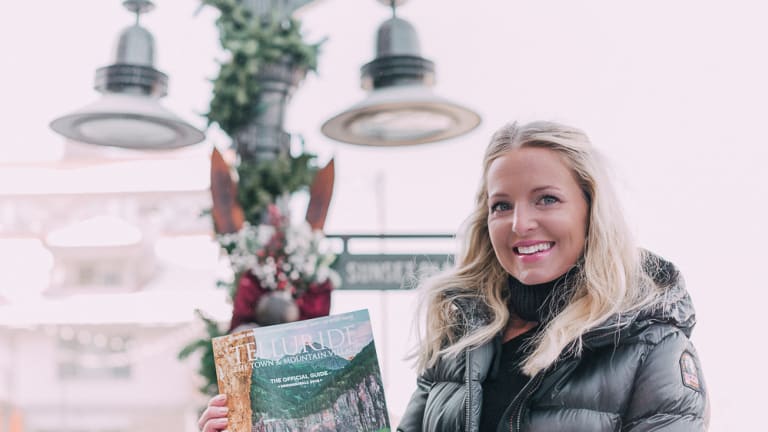 Publish date:
Insider's Travel Guide to Telluride
Family Ski Tips for Telluride Colorado
Family Ski Tips for Telluride Colorado
I'm so excited to share these Insider's Travel Guide to Telluride by Erin Busbee. Erin is the mom behind the popular style blog BusbeeStyle (follow her on Instagram @busbeestyle). We teamed up last fall to talk about Bogner fashion and now she's sharing tips for traveling to her hometown. 
Related: Luxury mountain life at Powder Mountain Utah
Insider's Travel Guide to Telluride
I am now one of the few thousand residents of this tiny town of Telluride, Colorado. After a year and a half of living here, I still feel like one of the luckiest women in the world.
It's a one-of-a-kind place, a jewel. Speaking of Jewel, she lives here… I think? I've never actually seen her. Oprah, Jerry Seinfeld and Tom Cruise also have homes here (Although again, you wouldn't know it). This isn't a super glam town like Aspen, it's much more low-key. I could go on and on about how my kids are learning Spanish, becoming amazing skiers, how there are programs here to push and challenge every interest. But, I want to get to the heart of the matter, or the headline, as I like to call it, and share my favorite spots in Telluride!
TWO TOWNS in ONE
There are two separate towns: Telluride and Mountain Village, which are connected by a free gondola. The ride takes about 15 minutes. In Mountain Village you'll find more great shops and restaurants. I love to pop into Heritage to shop, and eat at Tomboy Tavern and Tracks. The owner of Tracks, Erica, is one of my favorite people. I always order a healthy teriyaki or southwest rice bowl here. You can also head over to the Madeline and go ice-skating or grab a Starbuck's coffee. By design, this is one of the only chain stores you will see here.
Skiing in Telluride
One of the amazing things about this mountain, that sets it apart from its competitors; even during the busiest week of the year, the longest you will wait in a lift line is 15 minutes. I also think the set up for families is awesome, Telluride Ski Resort or Telski makes the process as simple and painless as possible.
Shopping in Telluride
Two Skirts: This beautiful boutique is co-owned by Kristin, a long-time Telluridian. She loves to buy very feminine and fashion-forward pieces. You'll find everything from popular contemporary designers like Rag & Bone and Alexis… to more obscure up-and-comers like Never a Wallflower. I'm always learning about new lines from Kristin.
Scarpe: Jenny's pieces are contemporary, edgy and functional. She carries a ton of amazing denim, boots, sweaters and scarves. She also has men's clothes, stuff for the kiddos, even gifts!

Lessons I've Learned Traveling to Sebasco Resort Maine
When you think of a summer getaway to Maine, it's likely you are envisioning something akin to the Sebasco Harbor resort. Tucked along Maine's rocky coastline, this family-style resort has been hosting families for nearly 100 years. If you're ready to travel, take a look at the ...read more
Five Tips To For a Girl's First Leg Shave
Do you remember your first time shaving? Mine wasn't pretty. I snuck my dad's razor and shaved my legs dry. It wasn't pretty. Get your daughter ready for this rite of passage with the right tools and a quick education. We've got five tips to help you navigate your daughter's ...read more
Why You Should Add Wild Blueberries to Your Diet
Do your New Year's goals involve healthier eating? Adding more fruits and vegetables to your diet? Or even adding tasty new recipes to your repertoire? We've got five reasons for you to add wild blueberries to your diet. Our friends from the Wild Blueberry Association have ...read more
Telluride Sports: If you want to stock up on some ski gear or anything sporty, be sure to stop by Telluride Sports. They have two locations: one in town and one in Mountain Village. The Mountain Village location now carries mostly high-end ski gear like Bogner and Sportalm. In town, there are options for every budget.
FOOD in Telluride
Erin's top picks for dining in Telluride.
Siam: Siam has incredible Thai food. I mean… really good. Getting a table here is the only issue. We usually pop by at 5pm to see if they can take us. They do not take reservations.
High Pie Pizzeria: Everyone in town will likely try to send you to Brown Dog, but my personal preference is High Pie. The wood-fired pizza with the thin crust is my favorite! I always order the goat cheese salad too.
Cosmopolitan: For a fancy night out, you should make a reservation at Cosmopolitan. The food is delicious. I wouldn't recommend bringing toddlers here.
Altezza: My family likes to go to Altezza at the Peaks and sit outside on warm summer evenings. The views are incredible.
Allred's: If there is a view better than this one while dining, I haven't seen it. This is THE place to come to have that quintessential mountain dining experience.
HIKING
Being active is more than just snow sports in Colorado. Download the All Trails app and finding a trail that makes sense for your ability and schedule. My favorites include: Hope Lake, Blue Lake and the Sneffels Highline Trails.
MORE SKI FEATURES FROM MOMTRENDS
PIN IT!
Use Pinterest to save your favorite family travel features. Be sure to follow our Ski Moms Pinterest Board.
This Insider's Travel Guide to Telluride feature is not sponsored.