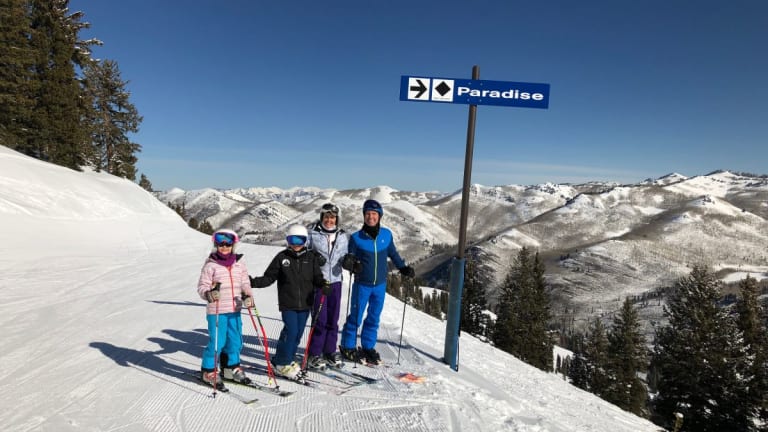 How to Get Kids to Ski for Free in Utah
Utah has more than a dozen ways your kiddos can ski free this winter. Here's a guide to starting your kids young.
I know skiing with kids can be expensive. That's why I'm always looking for an angle to save myself and my readers some money. My goal? Get us all out on the slopes more with the kiddos without having to tap into our retirement accounts. Sure, you can pack lunches and get used ski gear, but we all know the lift tickets are the big expense. With the Ski Utah Passport, you can get your 4th, 5th and 6th grade kids FREE ski days this season.
Related: 10 things you can do right now to get ready for ski season
Ski Utah Free 4th, 5th & 6th Grade Program
Students who sign up for the Ski Utah 4th, 5th or 6th Grade Passport at skiutah.com/passport can shred The Greatest Snow on Earth for FREE* this season. OK, so technically you do have to purchase a passport for $49, but once you are at the mountain, you won't pay a thing! All in, that's a lot of free family fun. Don't forget to sign up now! It takes about two weeks to process and opening day for a lot of mountains is right around the corner. Utah's season often runs through mid-April, there's lots of skiing to happen and warm weather makes it more fun to learn.
4th graders are new for the 2022–23 season. And this year all grades receive 3 days at each of Utah's 15 resorts.
Did you create an account last year? If you created an account last year, just sign in, and apply for a new pass for the 2022-2023 season! Either for a returning child or register a new child today!
How to Redeem Free Tickets
To obtain a lift ticket, students must provide their first and last name and date of birth at designated redemption locations at each resort. Please check the redemption information for each resort you visit, as each have specific redemption criteria. Get the details here.
When Can Kids Ski Free?
For the 2022–23 winter season, all resorts will have the following holidays blacked out: Dec. 26, 2022 - Dec. 31, 2022 | Jan. 14-15, 2023 | Feb. 18-19, 2023. But do check each resort for details before you head out to ski.
More Places Kids Ski Free in Utah
Alta: When parents purchase a family pass, children under the age of six years old will get an unlimited ski pass for free. 
Beaver Mountain: Children who visit Beaver Mountain with an adult who has purchased a season pass will get to ski for free if they are five years old or younger. 
Brian Head: Children ten and under ski free with the Power Kids Pass (also valid at Nordic Valley in Utah!). Advanced registration required.
Brighton: Brighton offers free skiing opportunities to children under the age of 10 years old. Up to two children can ski for free if they have a paying adult accompanying them on the slopes.
Cherry Peak: Children five and under ski free with a paying adult.
Park City: Offers five days of free skiing opportunities for children in grades K–5 as part of the Epic SchoolKids Utah Pack Program.  
Eagle Point: Children six and under ski free every day. 
Nordic Valley: Children ten and under ski free with the Power Kids Pass
Powder Mountain: Children six and under ski free every day on all chairlifts. 
Snowbasin: Children six and under ski free. 
Snowbird: Children six and under ski free.
Solitude: Children four and under ski free. 
Sundance: Children age five and under ski free.
Parents can get discounts too!
It's not just the 'tweens that are taken care of at Ski Utah. New this year, they have a Yeti pass. It's an adult pass that get you a day of skiing at each of Utah's 15 resorts for $699.
One of our favorite Ski Utah Passport deals is the deal at Alta. When you get your Passport you get a complimentary adult day pass at Alta. Then you just need to wait for a snow day at work (or have everyone call in sick) and head to one of my favorite places to ski. You can read the full Momtrends review here.
Five More Ways to Save Money When you Ski With Kids
Buy your season pass early. The best deals are available in April!
Head to gear swaps early in the season.
Pack lunches and skip the expensive burgers and fries.
Label EVERYTHING before you go to the mountain. This makes it easy to recover lost gear. Use code SKIMOMS for 10% off sitewide (excluding masks, stamps and sale items) at www.mabelslabels.com
Book a vacation during the off-season. If you can take your tots out of pre-K for a few days you can save big!
MORE SKI FEATURES FROM MOMTRENDS
PIN IT!
Use Pinterest to save your favorite family travel features. Be sure to follow our Ski Moms Pinterest Board.
*Note: There is a small administrative fee