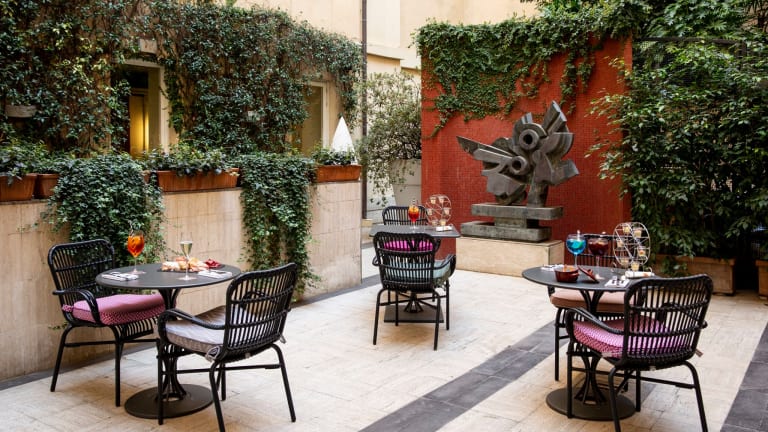 Hotel 47 Rome Family Travel Review
A stunning setting and a staff full of charm, you can't go wrong booking your family at this small Italian luxury hotel.
Rome can be overwhelming in scope and grandeur. Picking the right hotel can make all the difference on a family trip. Hotel 47 is the perfect place to base your excursions and to recharge your batteries.
Related: Summer travel trends for families
Location is everything. Hotel 47 is in Rome city center--the ideal location for your family. It is just a short walk to the Colosseum and the Roman Forum. A little further and you'll find the Pantheon and the Fountain of Trevi and some of the best gelato in Italy. No cabs required. [For more information on what to do with your family in Rome click this post]
The 4 star boutique hotel has earned some great reviews and its place in the portfolio of luxury family resorts in the Preferred Family collection. The setting certainly helps. Open your window and you'll see bits of history at your door. And you're just a few blocks from a stroll or jog along the Tiber River.
What makes the 47 so special is the warm staff and the attention to detail. The hotel combines old-world charm and modern conveniences. During our stay we were treated to the combination suite of rooms 409 and 410. The two rooms connect and provide a family a lot of privacy. The rooms have plush beds and plenty of space to spread out. The bathrooms are clean, crisp and ideal for cleaning up after a long day of touring.
The quiet hotel keeps things personal by limiting the number of guests. Keeping things small means your family will get plenty of attention. The staff had plenty of time to chat with my girls and give them some impromptu Italian lessons. Each morning we'd head down to the elaborate breakfast buffet to fuel up for a big day of exploring the sites. From grilled tomatoes and scrambled eggs to extremely fresh Italian pastries, there was something to keep every member of the family happy.
The staff helped us map out our daily itineraries. With only 61 rooms in the hotel, the staff can give each guest proper attention. For instance, we really wanted to track down some new Supergas (Italian sneakers) for the first day back to school. The store we found the previous day was closed for a holiday. The hotel found a store, got the opening hours and mapped the fastest route to the store.
They shared detailed maps and great ideas for meals. Speaking of meals, you don't have to leave the building to find a fabulous meal. We had a lovely dinner on the roof at Circus.We enjoyed fish and the kids devoured their pasta. The open-air restaurant has views of the river and offers a casually elegant spot to dine.
Another fun feature of the hotel is the art. Part museum, the hotel offers wonderful contemporary art on all the walls. It's a nice juxtaposition with all the antiquity surrounding the hotel.
Excellent service, a stunning setting and a staff full of charm you can't go wrong booking at this small luxury hotel. Blogger alert: There's high-speed wifi in all the rooms (free). For more details visit: www.fortysevenhotel.com
It's no surprise we had a successful trip. This is the third time we've travelled with Preferred Family [click here to see last year's visit to Malaysia]. They really know how to filter out resorts and only offer those that can give a truly exceptional experience. For more information about booking a Preferred Family vacation visit www.preferredfamily.com
MORE TRAVEL IDEAS FROM MOMTRENDS
PIN IT!
Use Pinterest to save your favorite family travel destinations to help inspire your next trip. Be sure to follow our Travel with Kids board here.
Momtrends was not paid for this post. Two night's stay was accommodated to facilitate this review.