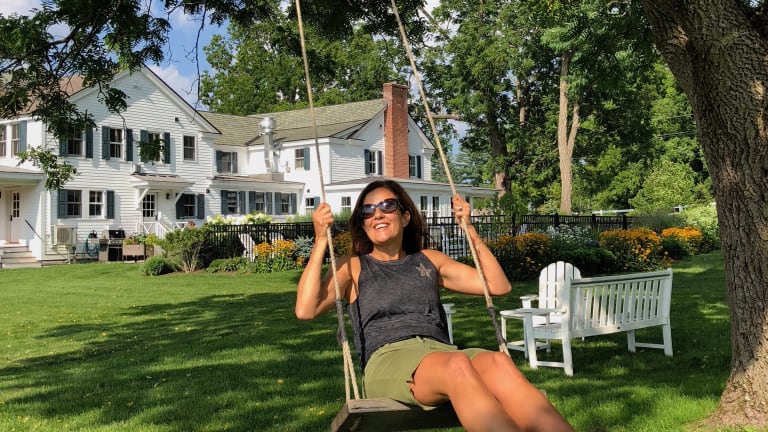 Hill Farm Inn Vermont Country Escape
Family-friendly and country chic weekend getaway
I went on many adventures this summer. While I love a good international trip, I also adore a good road trip. This summer I was lucky enough to stumble upon the delightful Hill Farm. The Hill Farm Inn, Vermont is a perfect country escape for this city girl.
Hill Farm Inn
The inn is spread out over 50 acres on a choice piece of property in Southern Vermont. It was a family-owned working farm for years. The Pollards took over a few years back when they found their dream country escape. They put a lot of TLC into the property and now it's one of the dreamiest inns in Vermont (I should know, I've tried a LOT of them).
The property is stunning. It includes a main house, a party barn, a working barn, the Farm House (perfect for families that need a full house), and the 1790 house. The staff is friendly and definitely low-key. They are there if you need them, but mostly in the background. This allows guests to really unwind. 
Here's a little tour of the property
I don't like being hovered over. One of the reasons I leave the city is to hear myself think. This is just the type of place where you can curl up with a book and a cup of tea and just BE. There's also the space for your family to play and explore. 
Hill Farm Inn is definitely connected to nature. My daughter loved visiting the animals. Milo, the big orange cat, roams the property and makes sure everyone feels welcome. There's sheep out in the pasture as well as five alpacas who were the sweetest.
Activities at Hill Farm Inn
The pool is a new addition to the inn. There's also an above-ground hot tub. We loved roaming the property, checking in on the animals and playing frisbee in the big wide open fields.
Hill Farm Inn Rooms
The rooms are spacious and light. Many Vermont inns go for dark interiors that are crammed with oversized furniture. Hill Farm keeps it light and let's the natural splendor of the setting be the focal point.
The beds are extremely comfortable with cushy duvets and fluffy towels. And my room even had a wood stove in it. Take a look at the slide show below for photos of our room.
Dig in at Hill Farm Inn
Morning coffee is served at 7:30am in the main house. If you need your fix earlier, there is a small coffee station in the guest houses outfitted with Keurigs. 
Breakfast can't be missed. From 8:30-10 guests can tuck into a delicious breakfast. There's usually one or two choices, served at your table and a nice selection of baked goods and fruit. My daughter and I loved our French toast and the bacon.
Take a look at breakfast
On Thursdays during the summer, the inn makes flatbread pizzas and serves drinks and pizza on the lawn and porch accompanied by live music. We took turns with other guests on the big rope swing as we nibbled away. For a casual dinner nearby, try the Perfect Wife. We had a lovely meal out on the patio.
For dessert, there's s'mores baskets that can be delivered to the fire pit, but be warned, the mosquitos are fierce, you'll want long sleeves AND some bug spray.
Ready for a cocktail? The Hill Farm Inn has a full liquor license. The Battenkill Pub is in the main house and offers cocktails, wine and beer.
Getting Fit in Vermont
In the summer, Vermont is a great place to mountain bike and hike. Check out the downhill options over at Okemo, there's nice runs nearby - the road traffic isn't very fierce - but be ready for hills. The inn has a small fitness room outfitted with a few cardio machines. We opted to take two of the yoga mats down to the barn and create our own little outdoor yoga studio. 
Ready to Plan Your Visit to Hill Farm Inn
Plan your visit to Hill Farm Inn Vermont 548 Hill Farm Road, Sunderland, VT 802.375.2269
What to do in Manchester Vermont
In addition to everything I shared here, we've covered a lot of activities in Southern Vermont. Here are some additional resources.
Shop the Designer Outlets: with more than 40 high-end outlets, shopping is a must.
Hit the Slopes:Okemo is 45 minutes away and Stratton Mountain is 25 minutes.
Culture and spa time. Check out our picks for your indoor time.
Pin it!
Use pinterest to inspire your next country escape.
This Hill Farm Inn Vermont Country Escape feature is not paid. We were hosted by the Manchester Designer Outlets.