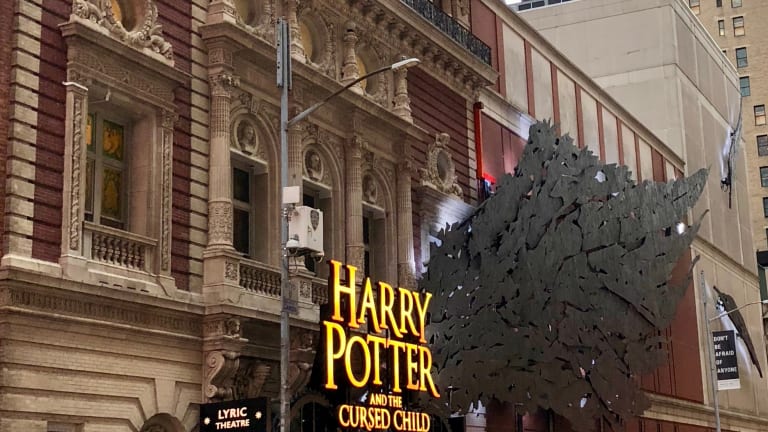 Harry Potter and the Cursed Child Review
Broadway with Kids: Harry Potter and the Cursed Child Review
"What the heck is a Slytherin?!" I knew the older couple behind us was in trouble from the start. For anyone not steeped in Harry Potter lore, seeing the new two-part play Harry Potter and the Cursed Child would be like getting hit with a confundus charm. Excuse me if I sound a bit like Sybill Trelawney: you need to know the history to see the future. For the poor muggles who known nothing of J.K.Rowling's world of witches and wizards, this nine hour commitment will be a slog, but for those of us who have been bought into her world, it's simply magical. This Harry Potter and the Cursed Child Review is for the believers.
Harry Potter and the Cursed Child Momtrends Review
The play picks up 19 years after year seven at Hogwarts. As you may recall, Harry and Ginny are married with three kids and Ron and Hermione have also tied the knot and have two of their own. We rejoin the cast at platform 9 3/4 as the next generation of Potters and Granger-Weasleys heads off on the Hogwarts Express. 
The action centers around Harry's middle child, Albus Severus Potter, but you can call him Al. Al is a bit of a misfit; he's not a brainiac or an athlete or especially popular. He's got a rocky relationship with his father, coming from his discomfort about his father's celebrity.
Al makes an unlikely alliance and becomes fast friends with Scorpius Malfoy (Draco's son). These two are our focus. There are two bits of conflict to work out. Of course, the forces of evil must be vanquished (it is a Harry Potter story after all), but it's also a story of raising teens. And this part hit home the most. I would've paid all the money just for the magical portion of the show, but it's not just gimmicky. Harry Potter and the Cursed Child gives us what all great theater gives us - all the feelings. I think this show will become a hit because of the larger theme of how families struggle to let teens find unique paths.
The poignant "break-up" scene between dad and son, brought me to tears. Harry can't seem to get the right words delivered at the right time to forge a relationship with his son. The words were so much more powerful when delivered on stage than in the book. Grown Harry doesn't have a spell to take on teenage angst. Bravery can't help you navigate the tricky business of raising teens. In his role, Parker wrestles with fatherhood and of course, the forces of evil. 
From here, young Al does what teens do when they figure out a parent isn't perfect...he rebels. The bulk of the action follows Al and Scorpius as they go back in time to try to rewrite history and prove themselves heroic. Hold on tight, you might get whiplash at this point, the action moves fast and there are MANY characters introduced. Like all Harry Potter movies, you have to pay close attention to keep up.
The final scenes and battles are captivating and provide a quite satisfying finish (Rowling is good at that isn't she?). I won't give away the magical tidbits, but suffice to say, they pull off extraordinary feats of costuming and special effects.
About the Sets
I'm pretty sure we have Hamilton to thank for this set. Clever stuff here. It's sparce and ingeniously uses props like staircases and luggage to serve multiple purposes. I admit to being skeptical about Hogwarts coming alive with such a  small footprint, but Broadway designers rarely disappoint. 
The hashtag for the play is #keepthesecrets and I shall, but I will leak that I was often whipping my head around to witness what was happening off stage. Be ready!
J.K. Rowling Special Request
Who Should See the Play
I think I've made it clear, if you know nothing of Harry Potter and just want the "hot Broadway ticket" well, good luck to you. I think you'll be lost. When it comes to how old kids need to be to enjoy this, there's a spectrum. In general, I think the show is suitable for kids 10 and up. There is violence and a lot of loud flashes, and the themes of loss and struggle can be complex. But if you have a kiddo who is eight and a total Potterhead, I think they will be fine.
About the Cast
I read Harry Potter and the Cursed Child as soon as it came out in print. It wasn't as gripping as the other seven books because it is entirely meant for stage. The cast brings the words alive. As a grown Harry, Jamie Parker is phenomenal; there isn't a moment of doubt he was meant for this role. 
The two young cast members who play Al and Scorpius are a delight. The standout? Anthony Boyle as Scorpius is mesmerizing, he's a joy to watch and brings a playfulness and sense of wonder to a role that could be otherwise dreary. I believe Boyle gets the most stage time in the show and his stamina and delivery are wonderful. The girls and I had a terrific conversation about how hard it would be to a.) learn all those lines b.) deliver them freshly day after day and c.) bring all the emotion and energy he brings. Bravo!
I would be remiss to not mention Noma Dumezweni as Hermione Granger. Like, Parker and Boyle, Dumezweni was part of the original London cast. She is an intelligent and bold Hermione. In her role, she is playful, brisk and officious all at once and I love that Rowling gave her the top job, Minister of Magic. 
And she's also black. I hesitated to mention this bit of casting, but I want to applaud the production. This is no question she is Hermione through and through. Once she stormed on stage and started barking orders, there was no explaining necessary. I'm just sad her daughter Rose (played by Susan Heyward) didn't have a larger role in the play. I would have loved it if Al and Scorpius brought along a third on the adventure. 
How to Manage the Day
Tickets can be split into two. There is no requirement to see Part I and Part II on the same day. That being said, I can't imagine heading home after Part I and waiting a week to reach the conclusion. This is one book you simply can't put down.
Our tickets suggested we arrive an hour early. Momtrends tip: give yourself 30 minutes. Surprisingly, there is relatively little Potter "merch" for sale. We perused the snack bar (yes, there is ginger beer and pumpkin juice) and grabbed a few snacks to tide us over until the dinner break and we took a few photos with the otter patronus (bonus points for you if you knew Hermione Granger was the one who casts an otter).
I thought there might be Harry Potter memorabilia about, there isn't. Grab your snack and settle in. NOTE: If you want to see Potter sets and costumes, you MUST make a pilgrimage to the Warner Brothers Studio Lots outside London. Click for all the details.
My advice is to get the heck away from Times Square with your two hour break. Bryant Park is nearby and if the weather is nice, head there and sit on the lawn. The is a Le Pain Quotidian, Pret a Manger and other sandwich shops nearby. Use your time to stretch your legs and get away from the crowds. 
The girls and I did a bit of shopping at Zara and grabbed a bite after. Whatever you do, make sure you get in a bit of walking. It's a marathon session of theater (maybe I'm ready for Wagner's Ring Cycle, a cycle of four German-language epic music dramas composed by Richard Wagner, now!)
Parents Guide to Harry Potter and the Cursed Child
My first tip, if you are an adult who hasn't read the books and seen the movies. Get on it ASAP. Not only will you be able to keep up with the action, you'll have a lot more to talk about with the kids. 
If you have time in the car or commuting, the Jim Dale audiobooks are spectacular (Jim Dale is the actor who performs all the parts on the official audiobooks and he is nothing short of genius). No one will ever know what you have on your headphones, and I promise the commute will get 10x more enjoyable.
If you buy tickets far enough in advance, you can listen to books 1-7 before you see the play. In case you decide to read the books, here's a Harry Potter DIY project just in time for summer reading.
Where the Magic Happens
Housed at the Lyric Theater in New York City, this production appears to be here for the long haul. The theater has been renovated from top to bottom with great care to blend seamlessly into Rowling's world. 
Get your tickets to Harry Potter and the Cursed Child here.
Want more Harry Potter? 
Pin it! 
Be sure to follow us on Pinterest and be sure to follow our New-York Mama board here.
This Harry Potter and the Cursed Child review is not sponsored.