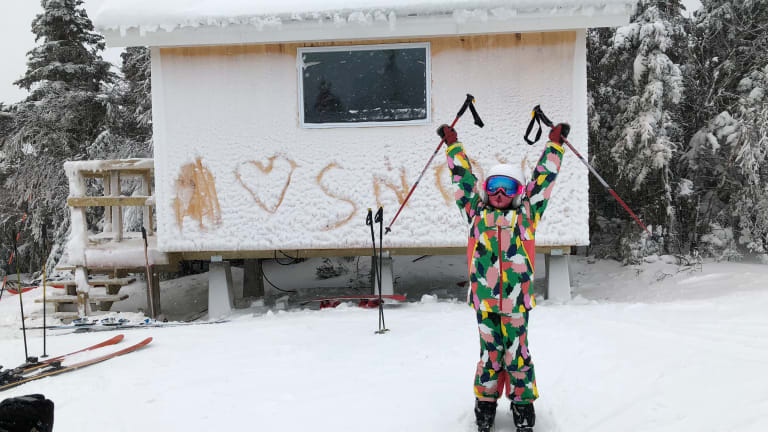 Get the Most Out of Your Sugarbush Vacation
Plan a perfect snow day with your kids with our Winter Fun Checklist
Vermont has so many great mountains, I'm lucky to have skied a lot of them. For the past three years, I've been fortunate to call Sugarbush my home mountain. In our Sugarbush Ski Review, we talked about the basics of the mountain. Now it's time to figure out how to make the most of your family vacation with some insider tips. Let's plan a perfect Sugarbush ski day.
Prepping for Your Trip to Sugarbush
Once you've decided on Sugarbush for your family vacation it's time to do a little bit of planning. Don't worry, I promise to make this fun and easy. Once you've completed these four tasks, you'll be set up for success. 
Download the app. The first thing you need to do is get the Sugarbush app. It's going to be your go-to resource for planning. The app features trail maps (and tracking), weather reports, parking information and an events calendar. You can even order to-go food from the restaurants in the village. Momtrends Tip: Don't miss the daily snow report. It's insightful and often tinged with Vermont wit.
Book your tickets. Ikon Pass is the way to go. Since Alterra purchased Sugarbush, you can head right to the lift with your pass. If you don't have an Ikon Pass, you'll want to head here to see the rates. The best rates are ALWAYS online, so don't wait until you arrive.
Get your gear. Ski and snowboard rentals must be reserved ahead of time. Use this link to secure your rentals. Momtrends Tip: Use the rental shop for an overnight tune. The Tuning & Repair shop uses top of the line Wintersteiger machines. Drop your skis off before 3:30 and you'll have them ready for the corduroy in the morning.
Book Your Lessons. Sugarbush has something for EVERYONE, from the never/evers to intermediates looking to advance to experts who want a challenge. They have world-class instructors ready to take your skiing and riding to the next level. Take a minute to look at all the options that range from racing camps to women's clinics to Boomers (65+) groups. Momtrends Tip: Don't miss out on the women's camps that are perfect for moms! 
How to Make Your Sugarbush Visit Awesome
Sugarbush is spread over two mountains (with the highest elevation 2,600'). All in, there's close to 600 acres to ski and 111 trails. That's a lot of terrain, and you might be happy just chasing snowflakes, but if you want to make everyone in the family happy, consider some of the things we find special about this mountain home.
Snowshoeing Sugarbush. If you need a break from skiing, consider a day in the woods on snowshoes. You and your kids can head off on a self-guided tour or you can book a guided tour. Either way, you can rent snowshoes at the Farmhouse at Lincoln Park. Plan your snowshoe adventure here.
Grilled Cheese at Walt's: This mid-mountain spot is located over on the Mt.Ellen side of Sugarbush (the locals call it "North" and Lincoln Peak "South"). This is home to the most amazing ooey-gooey grilled cheese sandwiches. It's a small spot, so come early or late, just skip the noon hour. 
Slidebrook Ride: The Slide Brook Express Quad is the longest and fastest detachable quad in the world. Installed in 1995, this chairlift travels a total of 11,012 feet between Lincoln Peak and Mt. Ellen. It wasn't open last year, but we're anticipating it spinning this season, and if you can get there, don't miss this ride that connects the Lincoln Peak and Mt. Ellen. The ride is 15-minutes long, so it's a great time to catch up with your teens!
Sunrise Cat: Snow cats are normally used to groom the mountains and prep them for safe skiing. The grooming happens when the lifts are closed. Sugarbush invested in a special snow cat that carries passengers and serves as a speedy ski shuttle. The sunrise cabin cat adventure is a private morning ski session. Your family gets to enjoy first tracks in a truly spectacular setting: you'll get access to the terrain off the North Lynx Triple before the lifts start spinning. Get all the details here.
Dinner at Allyn's: The mountain at dusk feels magical under moonlight and a coat of fresh snow. Head up to Allyn's on a two-mile guided hike or on a snowcat. Once there, enjoy a five course meal. Allyn's Lodge provides an intimate atmosphere lit by candles and a crackling fire. The evening typically lasts from 5:30 PM – 9:00 PM. Following the fireside dining, guests bundle up to either ski or ride down a freshly groomed trail led by their Chef, Jim Dinan, or descend to the base in the comfort of the heated Cat. The weather dependent ski/ride down is for advanced skiers and riders only.Book your dinner here.
Apres Ski in the Village: After a long ski day, you can't beat the vibe of the Lincoln Peak village. For the grown-ups there's no better place to be than Sugarbush's retro-themed Wünderbar. Fun Fact: The Wunderbar was the first bar to open at a ski resort. Enjoy a selection of local and retro beers, wines, and cocktails with German style sandwiches. If you've got young kiddos, I say head to Rumbles, sit outside and sip your adult beverage around the fire pits while the kids slurp hot cocoa and play corn hole. 
Hot-tubbing at Clay Brook: There are a lot of lodging options at Sugarbush, but families can't beat Clay Brook. This central condo building is home to an enormous heated outdoor pool and two outdoor hot tubs. 
Base Cabin: These gems were introduced during COVID times to help families warm up safely, and they were a hit! Now they are home base for families who visit the mountain. Base Cabins are available a half hour before lifts open and a half hour after lifts close, providing the flexibility to get a full day of skiing and riding in. There are four available at Lincoln Peak, three at the top of the Super Bravo stairs to the left and right of the skier statue, and one behind the Valley House Lodge. The two cabins located at Mt. Ellen are at the base, right outside the Mt. Ellen Base Lodge. Get information here.
Fireworks. Sugarbush knows how to ring in the New Year. Enjoy the light show with a torchlight parade on Spring Fling and awesome fireworks display to follow. There are also special snow shoe tours that will take you uphill to see the light show.
Hire a Guide. Get the most out of your ski day with a pro. Even expert skiers can benefit from a Sugarbush Guide. They can cater the day just to your needs and help you find those secret powder stashes. If you feel adventurous, you can get your guide to take you through the Slidebrook glades for a truly once-in-a-lifetime adventure. You can also hire a guide to teach you the basics of going uphill on skins. Get all the details here.
With this Sugarbush bucket list in hand, you'll be sure to create terrific memories this winter. One last way to enjoy Sugarbush...
#MySugarbush
This winter season, Sugarbush wants the ski community to be a BIG part of the conversation. However you do it best; poems, quotes, essays, video, photos, etc. they want to see how you celebrate the outdoors in the Mad River Valley. They'll be picking favorites to win awesome prizes. Guests can win prizes every week and month for submitting their photos. 
There are three main contests that all submissions will automatically be entered in:
Prizes will be awarded on a weekly basis from 11/19/22 – 5/7/23
Weekly Contest – winner gets a $20 Sugarbush gift card and non-holiday lift ticket
Monthly Contest – winner gets a $100 Sugarbush gift card and brand-new GoPro
Season Long Contest – winner gets a $500 gift card and a weekend ski or golf getaway for two (two nights in Clay Brook Hotel with two days of golf or skiing for two people, non-holiday)
There are two ways to participate. The easiest is to just post on your social media with #MySugarbush. You may see your posts displayed around the resort and on our website.

SUBMISSION GUIDELINES:
1. On social media, always tag your posts with #MySugarbush. They also encourage you to tag @sugarbush_vt.
2. Contest participants may have their content reshared on various Sugarbush communications channels.
3. Please do not include any explicit content or music in submissions.
4. Participants are only eligible to win one weekly contest per month.
Here's more info on it: https://www.sugarbush.com/about-us/my-sugarbush. 
MORE Vermont Fun FROM MOMTRENDS
PIN IT!
Use Pinterest to save your favorite family travel features. Be sure to follow our Ski Moms Pinterest Board.