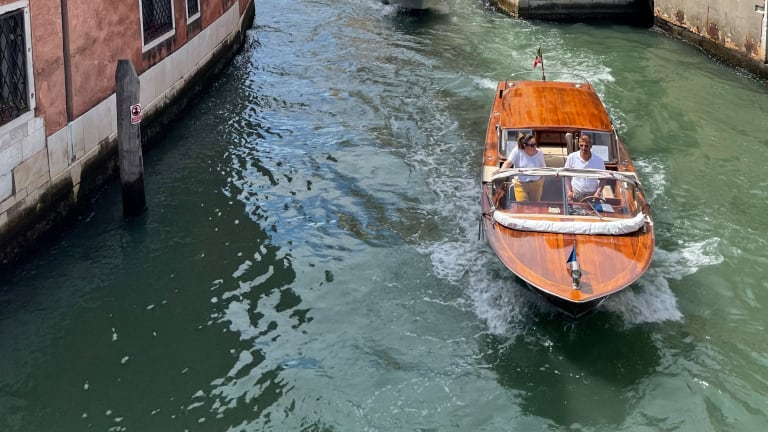 Fun Ways to Discover Venice Italy with Your Family
Plan the perfect trip to Venice with our list of must-sees for a family visit.
Greetings from Italy wear the gelato is rich, the clothes divine and the scenery is inspiring. Now that I've been to this fine city in the north of Italy, twice, I've amassed a list of favorites to share. These are some fun ways to discover Venice, Italy with your family.
Related: Best of Northern Italy Villa Cipriani Resort
On my first trip to Venice I can definitely understand why there is a NYC organization out to save the city (www.savevenice.org). How charming is it to arrive at your hotel via water taxi? The answer: very. On the second trip, I got to dive in a little deeper.
Note: getting lost in Venice is so easy and even more enjoyable. Toss the map and just give in to the amazing maze of the city. Walking over the bridges lit from above with white and blue sparkly lights...right out of a movie set. On our walk home from dinner to the hotel found we stumbled upon a tasty gelateria near San Marco square. Perfect night for a bit of kismet.
It's a twisty windy city and you've got to walk everywhere, so bring good shoes, don't rush and enjoy the adventure.
Museums
The city is chock full of culture. My first idea is to send you and the kiddos to the Peggy Guggenheim Collection. Book tickets ahead of time -- they sell out. It's great for kids since it's modern with indoor and outdoor spaces.  The Museum is located on the Grand Canal in the Dorsoduro sestiere of Venice, Italy. Dorsoduro, 701-704, 30123 Venezia VE, Italy www.guggenheim-venice.it/
Pop Ups. During the day I went to see Dali exhibit today to get a bit of a cultural fix. Since my taste leans towards the modern, I was thrilled to find this pop-up exhibit. Who knew Dali could draw so well? Evidence of his deft illustrations were on display. dalivenice.com
Smaller Museums. We went to see the latest exhibit at the Palazzo Franchetti. The building alone is worth a visit, but we also loved the art. Built in the second half of the XV Century by a historical venetian family, Palazzo Franchetti is one of the most prestigious examples of gothic architecture in Venice. They host temporary exhibits, On my most recent trip, it held the definitive collection of Massimo Campigli. San Marco 2842 - 30124 Venezia, closed on Tuesday. 
What to eat:
We were lucky to be guided by a local to Antica Locando Montin. This seafood restaurant also has amazing pastas and a dreamy outdoor courtyard. It's casual and perfect for families, as it can get boisterous. 
Antica Locando Montin, Venezia-S. Trovaso, +39 0415227151, www.locandamontin.com
For a fancier dinner, with an excellent Italian wine selection try Fiaschetteria Toscana--order fish and don't miss the octopus. Divine.
Fiaschetteria Toscana
Cannaregio 5719 San G Grisotomo 30212 Venezia
041 5285281
www.fiaschetteriatoscana.it
Don't forget the gelato! Our favorite was the creamy Gelatoteca Suso by the Rialto Bridge. Sotoportego de la Bissa, 5453, 30124 Venezia VE, Italy
Venice Bucket List
Definitely do a boat cruise (or two or three). If you want to ride a gondola (and you should!) check out this article fullsuitcase.com/venice-gondola-ride -- lots of good tips, like go in the morning!
St. Marks Square. Piazza San Marco, often known in English as St Mark's Square, is the principal public square of Venice, Italy. It's loaded with tourists and pigeons and the Basilica is the center of all the action. You'll find loads of shops and restaurants here too. P.za San Marco, 30100 Venezia VE, Italy
Rialto Bridge. The Rialto Bridge is the oldest of the four bridges spanning the Grand Canal in Venice, Italy. It's ornate and unique to Venice. The bridge connects the sestieri of San Marco and San Polo, Sestiere San Polo, 30125 Venezia VE, Italy. 
At least one museum: you can use my list above to get started or try a google search. Artsy kids might to experience the glass blowing arts at the Murano Museum, located on the island of Murano. Find our more https://museovetro.visitmuve.it/en/home/
Drinks?

Harry's Bar is the original. Order a Bellini. It's a combo of white peaches and Italian sparkling wine. It's fresh, sweet and tasty. Story has it that the first Bellini was poured in the summer of 1948 by Giuseppe Cipriani, founder and barman of the legendary Harry's Bar in Venezia.
Harry's Bar
www.cipriani.com
Calle Vallaresso, 1323 30124 Venice, Italy
Where to stay:

On my first trip, I stayed at the Hotel Bauers near St. Marks. The service is unparalleled and our room was charming and the perfect blend of vintage and luxe. It's quite fancy and probably NOT where I'd take kids, try to get an Airbnb if you can. If you are solo or on a romantic trip, you'd love the Bauers. its got old world charm, new world service.
MORE TRAVEL TRENDS TO CONSIDER
PIN IT!
Use Pinterest to start your bucket list travel ideas. Be sure to follow our Travel with Kids board here.
Momtrends was not paid for this post.