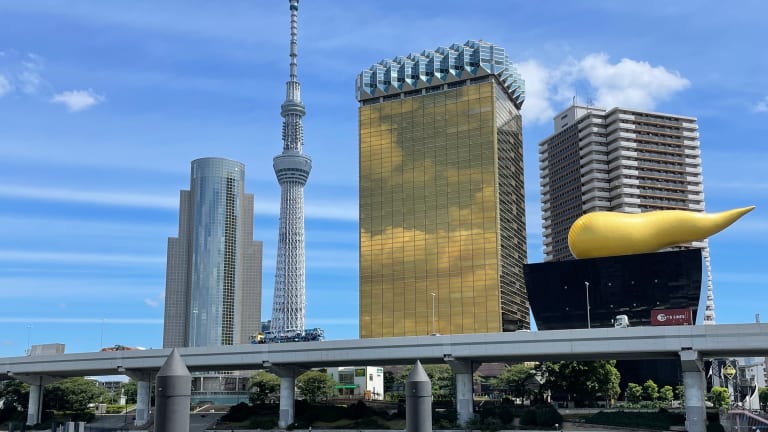 Five Days in Tokyo Travel Itinerary
Favorite finds for shoppers and tourists in the largest Japanese city.
Tokyo is an incredible city for work and leisure. With five days to plan, you can see and do a lot and even explore outside main tourist spots. I put together this list of highlights from my recent trip. I hope you find them inspiring and helpful as you dream about your trip to Japan.
Related: Checking in to the TWA hotel at JFK airport
Five Days in Tokyo Travel Itinerary
Japan has a population of 125 million people. 14 million of them live in Tokyo. While you might think that many people in one place would be INSANE, in fact the city runs beautifully thanks to an efficient metro system and excellent city planning. Pocket parks and shrines dot the landscape and traffic patterns are well-established and safe. You'll feel the energy of the city without feeling overwhelmed. As a New Yorker, I can attest that Tokyo feels 100x more zen than the Big Apple.
The Tokyo Subway
Before I launch into the neighborhoods to visit, I want to encourage you to walk and take the subway whenever you can. The public transportation system is a big part of this city. While bullet trains and the JR (Japan Rail) are noteworthy, for your everyday excursions, try the metro.
Subway announcements are made in English and Japanese. The cost is pennies compared to the efficient, safe and CLEAN ride you will experience. A day pass costs less than $10 and will give you 24 hour access to this amazing city. 
Your smart phone maps will be able to help you plan your trip, or use the helpful subway maps located at every station. 
When you ride the subway, you'll note that there is a definite method. Everyone waits for passengers to get off before loading the subway. When riding the escalators at stations, stay left, leave space for those in a hurry to pass on the right. Like in the UK, traffic patterns are on the left of the road. It takes a bit to get used to, but you'll figure it out.
Shibuya
Day 1: Shibuya is colorful and lively district. It's home to major train hubs and the busiest pedestrian intersection in Tokyo. You'll find some shopping and many restaurants where business people frequent.
Shibuya Crossing: As a major commercial and finance center, many pedestrians flood this area for work. Two of the busiest railway stations in the world, Shinjuku Station and Shibuya Station, feed into this intersection, making it the busiest spot for foot traffic in Tokyo. I found a quiet place to watch the street crossing from a train overpass. When the lights switch to allow pedestrians, it's time to watch the show.
Tea Experience: Japanese tea is divine. There are so many rich flavors from smokey to sweet. This is a great area to stop for tea and a treat. I sought out the Sakurai Tea Experience. It's located on the 5th floor of a mall and offers a tea tasting that is elaborate and beautiful. You will even EAT some of the tea. It is located in the Spiral shopping center. 107-0062 Tokyo, Minato City, Minamiaoyama, 5. More here sakurai-tea.shop/
Pachinko: These Japanese pinball machines are a fun activity to try with kids. For about $8 you get multiple plays. There are plenty of safe, well-lit pachinko halls right by the train station.
Harajuku
Day 2: Think Gwen Stefani in the 1990's when you conjure up this colorful, urban and playful district. This is THE place to shop and eat.
Japanese Crepes: These sweets were all the rage, you'll find food trucks and small sweet shops dotting the neighborhood. Don't miss a chance to get a crepe!
B-Side Label stickers: This is the place to pick up perfect small souvenirs! They make cool stickers with favorite Japanese characters and fun and kitchy options too.
Lush: The cosmetic brand has a few outposts in Japan and I found lots of items that aren't carried in the USA.
Cosme Tokyo: This is the Sephora of Tokyo. I loved seeing all the teens and college-age students sampling beauty products. There were many brands that were new to me. 
Hedgehog Cafe 
One of my most favorite things from this trip. The cafe was located in Harajuku and deserves it's own mention. Located on the 4th floor of a nondescript building, the cafe is a delight for animal lovers. For about $20, you'll get to spend one-on-one time with a few new delightful friends. The animals are clean and well cared for in this hushed environment. The cafe management limits the number of guests as time.
After you pay, you'll be escorted to a lounge area and assigned a seat. Someone will greet you and offer etiquette lessons. Speak softly and move slowly. You'll get gloves to protect your hands. Gently lift your hedgehog with two hands and allow him to cuddle into your palms and greet you. They have poor eyesight, so they really want to nestle. 
While I loved, Albie, my new hedgehog friend, I was most smitten with the two Japanese ladies seated near me who were silently weeping with joy. As they held their prickly friends, tears of happiness leaked from their eyes. It was so touching to witness. 
Located at 150-0001 Tokyo, Shibuya City, Jingumae, 1. More details here www.harinezumi-cafe.com/en/
Asakusa
Day 3: The Asakusa district has an older, more traditional feel. It is home to the Senso-ji Temple, the must-see shrine in Japan. It is the oldest temple in the city, it was completed in 645. Formerly associated with the Tendai sect of Buddhism, it became independent after World War II. All are welcome to this popular spot.
Enter through the Kaminarimon (Thunder Gate). You'll likely see locals in traditional kimonos making offerings and paying respects. Be sure to get purified at the smoking pot and to visit all the little shrines to the side of the main building. Legend has it that the incense from the temple will help cure what ails you. Why not!
There's also a cute fish pond stocked with koi. Koi fish are a symbol of good fortune and are known to be very lucky. It is free to explore.
2 Chome-3-1 Asakusa, Taito City, Tokyo 111-0032
Visit the shopping area called Nakamise. Market stalls line the entrance to the shrine and it's an excellent place to get small trinkets and to sample local treats--many sweets are served on a stick for carrying convenience. I tried a cutlet of spicy chicken and lemon bubble tea. Look for the stalls with lines! You can't go wrong.
How to Make an Offering of Luck
While at the shrines, I encourage you to make a donation and try for good luck with an Omikuji. Omikujis are random fortunes written on a piece of paper held in labelled drawer. The rules are simple.
Put your coin in.
Shake the container.
Match up your number
Open the drawer.
Bad luck? Tie it on the nearby rack to leave your bad luck behind.
Good luck? Take it with you, but be humble!
Tokyo Cruise
Day 4: See the Bay and River and get a new perspective of the city on the Suijo Water Bus. This was a bargain at $8 for a one-way ticket. In the summer, boats leave hourly. I started at the Hinode Pier (a five minute walk north from Hinode Station) and went  on the Yurikamome Line, which can be accessed from Shimbashi Station along the Sumida River up to the stop right by the Senso-ji Shrine.
It's fascinating to see the city by water, and to note may of this waterway is underdeveloped. You'll pass under many modern bridges and get a good look at the Tokyo Sky Tower.
Book here: www.suijobus.co.jp/en/
With your 4th day, I also advise getting outside the bustling city. I took the subway to the Kyu Furukawa Gardens. Japan has loads of beautiful gardens to explore. This one is easy to digest in a few hours and is a delightful blend of Western and Eastern design. 1 Chome-27-39 Nishigahara, Kita City, Tokyo 114-0024
Ginza
Day 5: The Ginza district is all about shopping! It's the fancy neighborhood, but don't worry window shopping is allowed and there are affordable places to find treasures that are uniquely Japanese.
Muji: This is the Ikea of Japan. They made home goods that are perfectly designed and well priced. The first floor is full of dried foods and a small fresh market. Above, you'll find floors and floors of home goods. I loved the hair brushes, the organizing supplies and the cleaning supplies.
Itoya: This stationery store is one of the oldest shops in Japan. For scrapbookers, letter writers and crafters, this place is a must-visit. It too has a cafe and often has special exhibits.
Uniqlo: This is the GAP of Japan. You'll find inexpensive cashmere and other basics, but the best bet is limited edition gear you'll only find in Japan like my GINZA sweatshirt. They also have a wonderful fresh flower market outside and a coffee shop inside.
I hope you like my ideas. Of course, you can't go wrong with a visit to the Imperial Palace and the food ideas are too numerous to recommend. Go eat everything and have a blast!
MORE TRAVEL TRENDS TO CONSIDER
PIN IT!
Use Pinterest to start your bucket list travel ideas. Be sure to follow our Travel with Kids board here.